Friends around the oval

Oct 19, 2016 10:28AM, Published by J. Chambless, Categories: Recreation, News, Today
---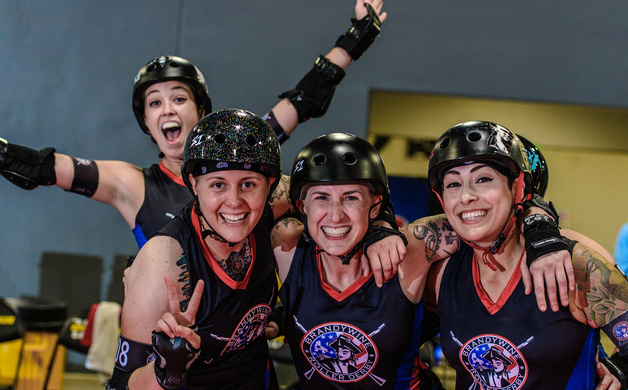 ---
Gallery: Roller Derby [5 Images] Click any image to expand.
---
---
By Richard L. Gaw
Staff Writer
It is an early fall Sunday morning at the Chester County Sports Arena, and Squirrelly Quinn, the jammer for the Brandywine Roller Derby Brawlers, is fully adorned with protective gear, a dark helmet with a star on it, and a whoosh of black lipstick and eye make-up. She is the Rebel Girl on roller skates, the Dark Angel of the home team and, in the whipped-up scrum of female bodies whirling around the hard plastic playing surface, she is scoring at will.

The Parlor City Tricks, the visiting team from Binghamton, N.Y., cannot seem to hold back the diminutive Quinn, who slips between teammates Don't Bea Baby, B.B. Sting, Fear N. Loathin' and Poison Abbey. Occasionally, Quinn becomes the recipient of a body block, and on one trip around the course, Ms. Anne Thrope blindsides Quinn against the protective plastic glass that rims the oval playing surface. The hit sends the crowd of more than 150 into a home-team rage. To thunderous cheers, Quinn balances herself, gets back up, and pedals furiously back into the action.
There is no need for Sunday morning coffee here; the aggressive spin of the players around the rink is enough jet fuel to start anyone's day, and it's ramped up even more by the rink announcers Thurston Howl III and Mr. Rat.
With less than eight minutes remaining in the second half of the bout, the Brawlers are beating the Tricks 194-107, and after a final and furious conclusion, the Brawlers take a victory lap, giving high fives to the crowd. They smile through multicolored mouthpieces.
They have won, 234-129.
Begun in 2010, Brandywine Roller Derby, a non-profit organization sanctioned by the Womens' Flat Track Derby Association (WFTDA), is Chester County's first and only, all-womens', flat track roller derby team. The team's mission is simple: to develop women of strength, athleticism and passion to play the hard-hitting sport of roller derby on the flat track.
Quinn, whose real name is Lauren Ruggiero, is a student at Immaculata University. She belongs to a team of women who take on aliases as members of the Brandywine Roller Derby, but whose real identities are away from the rink.
"We've had doctors, lawyers, counselors, teachers, women from all kinds of professions, and everyone brings their special talents to the league, and we utilize their talents," said club leadership committee member Mia Fabrizio, who is also a sixth-grade art teacher.
For every member of both the Brawlers – the 'B' squad – and the Belligerents, the 'A' team – there is a different journey they took that got them to the sport, and eventually, the team. In high school, Ruggiero saw a film called 'Whip It,' which introduced film-goers to the world of womens' roller derby. When she was 21, her mother approached her and said that she should try joining the Brandywine Roller Derby. She's been on the team for a year.
"When I first saw it, I thought it was just hitting and hoping for the best," she said. "After playing for a year, I've learned that it's more about strategy. The thing I enjoy most about playing roller derby are the people. When I am at the rink, I know I am with my best friends. On and off the track, my teammates are incredible."
Originally, Fabrizio wanted nothing to do with roller derby. She thought it was too violent. One night after a softball game, she saw a pair of roller skates in her teammate's car. She tried them on, and began to swirl around the parking lot.
"She told me that I need to come and skate," Fabrizio said. "I came one day to see a bout, and then I saw a skater named 'Skinny Guinea,' one of he best jammers I've ever seen, and I was pretty much sold after that."
Fabrizio was immediately attracted to the speed, intensity and teamwork of the roller derby, but quickly learned something else.
"It's a really cerebral game, and when you add in the strategy and the 43 pages of rules, in order to find loopholes and technicalities, and find the ability to play within the rules with a degree of savvy, that's what makes it so rewarding," she said.
This past August, the Belligerent team brought the gold to Chester County, after they came in first place in the Division 2 tournament in Wichita, KS. They entered the tournament as the fourth seed, and ranked 47th out of 450 full-member and apprentice leagues around the world. Brandywine dominated the first day of the tournament, beating fifth-seeded Kansas City Roller Warriors, 223-112. The next day, they defeated the number one-seeded Jet City Roller Girls, from Everett, WA, 198-170. The Belligerents Brandywine then beat the Blue Ridge Rollergirls from Asheville, N.C., 146-123.
The three wins in Wichita qualified the team to compete in the WFTDA international championships, which will take place on November 4-6 in Portland, OR, and be broadcast on ESPN 3.
While racking up championships and wins is a major component of the Brandywine Roller Derby, it's not the most important.
"We believe that all women can become role models and leaders in their communities regardless of age, race, size, sexual orientation, religious beliefs, and athletic ability," its mission statement reads. "Our goal is to provide a safe and encouraging environment of sisterhood and loyalty where women are ultimately empowered to embrace their differences, give back to their communities and families, and improve their lives.
"What is most important to us – the only thing that makes us The Brandywine Roller Girls – is our people. The women and men; the skaters, referees, officers, coaches, production staff, all of the bout day staff – the 100+ people who give their heart and soul to make this league and all of its dreams and aspirations come true. We have come together to build something unique, something we are very proud of. Women and men, gay, straight, bisexual, transgender, cisgender, U.S. citizens, citizens of other countries, members of all religious affiliations, full-body abled, disabled, young and old, educated by professors, educated by life, and everything in-between. Our members come from all walks of life and encompass many demographics and we love and support them all."
Marissa Berlin grew up in a sports-minded family in Bryn Mawr. After high school, she attended college in Wisconsin, and then went to graduate school in Colorado ten years ago, where she was introduced to the sport at a time when roller derby was experiencing a renaissance.
"I had some friends in Milwaukee who were enjoying it," Berlin said. " When I moved to Boulder after graduate school, Denver had become the hotbed of womens' roller derby, so I decided I was gong to put up or shut up. I bought a pair of skates, found a team, and started skating. Five years later, here I am."
Berlin said that when she returned to the Philadelphia area a few years ago, she was not sure that she would continue playing.
"I came to Brandywine Roller Derby and immediately knew that I was home," she said. "They are what keeps me coming to the rink on time. I am not one of the more physical players on the team, but knowing that I need to keep up with the rest of them physically has challenged me to be in better shape. Consequently, I am in better shape now than I ever have been in my entire life. Being a part of roller derby makes me want to take better care of myself, not only for me, but for my teammates, who I know who are relying on me."
It does not take long for Fabrizio to list the reasons that keep her on skates.
"We put in some so many hours and work so hard," she said, "but when you see a certain strategy come to fruition, or you you see your teammates improve and succeed – that's the most gratifying part of about this sport and being a part of these women.
"It's also about being able to hit the snot out of someone. That's pretty gratifying, too."
To learn more about the Brandywine Roller Derby, visit www.brandywinerollerderby.com.
The Brandywine Roller Derby's Brawlers will face the visiting Reading Derby Girls on Sun., Nov. 20, beginning at 10:15 a.m. at the Chester County Sports Arena, 4533 W. Lincoln Highway, Downingtown, Pa 19335. Tickets are $15 for VIP seating, $12 for adults, and $6 for children 7-11. Children under 6 are admitted for free. Doors open at 9:30 a.m.

To contact Staff Writer Richard L. Gaw, e-mail rgaw@chestercounty.com.

CAPS (In desired order)
All photos by Andrew Keyes
roller derby 7 (lead photo, no caption)
roller derby 9 The Brandywine Roller Derby Club has been competing since 2010, and is Chester County's first and only all-womens', flat track roller derby team.
roller derby 1 The team consists of women from a wide variety of backgrounds and several occupations.
roller derby 2 A Brandywine jammer earns some points.
roller derby 3 Life in the rink can occasionally become aggressive.
roller derby 4 Good sportsmanship is the hallmark of roller derby competition.
roller derby 5 This past August, the club earned a first-place finish in a national Division II tournament in Wichita, KS.
---
---
---