The amazing history of Painter's Folly

Oct 12, 2016 01:44PM, Published by J. Chambless, Categories: Local History, News, Today
---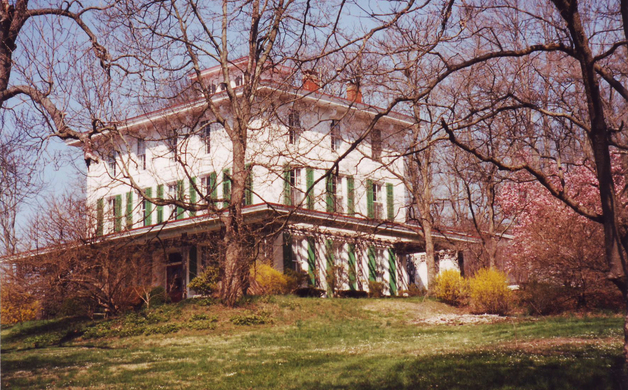 One of the many photographs that the Sipalas have of the home.
---
Gallery: Painter's Folly [3 Images] Click any image to expand.
---
---
By Steven Hoffman
Staff Writer
George and Helen Sipala will never forget the day in early March of 1989 when they looked out an upstairs window of their Chadds Ford home and saw Andrew Wyeth painting in the backyard, out by their pool. The world-renowned artist would paint on his canvas, look up at whatever subject it was that had caught his eye, and then return to the painting.
Helen thought they should go out and introduce themselves right away, but George said that it would be better just to leave him to his work and make the introductions at another time. The couple would only find out later on that Wyeth made it a practice to stroll through the bucolic Chadds Ford countryside that he knew with such intimacy to find interesting and inspiring places to paint.
The Sipalas didn't realize it at the time, but on the day that they met Wyeth, an exciting new chapter in the history of their house, Painter's Folly, was about to begin.
*******
Samuel Painter was a member of one of Chadds Ford's most prominent families in the mid-19th century. At that time, the Painter family lived in a home at the intersection of Route 1 and Route 202, and the sprawling property stretched out over more than 500 acres of land from Route 202 south to the Brandywine Creek. There were eight sons in the Painter family, and they all traveled extensively. During a trip to France, Samuel Painter brought back some very specific ideas for a home that he wanted to build.
Samuel Painter envisioned an ornate house in the Italianate style of American Bracketed Villa. The Italianate style was popular during this period due to the writings of popular authors who romanticized not only the exterior style home with elevated gardens, but also the highly fashionable interiors. Work on the home began in 1856.
As per the Italianate style, the house is three stories high, with a low-hipped roof supported by brackets. It was constructed with a stone exterior that covered all three floors. The stone was then covered with stucco, similar to the homes that Painter had liked in France.
When the neighbors saw the immense home going up in the midst of the modest farmhouses that were in the area at the time, they began to tease Painter, calling the home "Painter's Folly."
Painter forged ahead with the project. Beautiful, ornate, wrought iron railings were imported from France to outline the sweeping wrap-around veranda. The original oak crates that the wrought iron was shipped in were used as bookcases that line the library walls. The house was built to be a summer home so long windows were installed in descending order with the tallest ones on the first floor. Exterior shutters were mounted on the first two floors, while interior shutters were added to rooms on the third floor for privacy. By the time the gorgeous home was completed in 1857, Painter had decided to adopt the name Painter's Folly for the home.
*******
George and Helen both worked in real estate during their careers. They were living in north Wilmington and looked at a lot of different houses before deciding that they would purchase Painter's Folly—though the house wasn't being called that at the time they purchased it in 1974.
"We looked at a lot of houses on the market," Helen explained.
They were understandably impressed by the 7,000-square-foot home with its 16 magnificent rooms that feature high ceilings and a very open layout.
"The layout was perfect for entertaining, and we wanted to do a lot of entertaining," she explained.
The couple also liked the home because they had five children, and the Unionville-Chadds Ford School District would be ideal for them. They decided it was the home for them.
"One of my friends said, 'you're moving to Wyeth country,'" Helen explained.
George said that the family loved the house right away, and as they got settled into the new home they started learning more about its history—and the history of the area, which included the Battle of the Brandywine. Painter's Folly had different uses through the years, and it had been renamed at various times. It was known as Lafayette Homestead, Lafayette Farm, and Whispering Pines for awhile. The Sipalas renamed it Lafayette Manor.
*******
Painter's Folly has a long history of being a place of inspiration for artists. Howard Pyle, the illustrator and author who lived from 1853 to 1911, rented the home and used it as an art studio where he would teach many talented artists—including NC. Wyeth and other members of the famous artist family.
Richard and Abby Atwater purchased the home in 1906. He was the mayor of Sea Isle City, New Jersey, and the family had spent time in Paris, France. The Atwaters made some changes to the house, including sealing up a door in the living room and adding a door that goes into the den. They also cut open a doorway from the second floor hallway into the main staircase and built two windows in the bathrooms.
Big changes came in 1916, when electricity was added to the house. Route 1, which had been a dirt road up to that point, was modernized when a concrete surface was added. For a time, the home was utilized as a productive dairy farm that shipped milk to Philadelphia.
The Atwater and Cleveland families, which were united through marriage, owned the home for decades. A member of the Cleveland family who was a physician utilized the home as a doctor's office. Andrew Wyeth had visited the home to see Dr. Cleveland throughout his childhood.
"It had a lot of memories and connections to his life," Helen explained.
That helps explain why, on a day in 1989, Andrew Wyeth showed up on the property with a paintbrush in his hands.
*******
 The Sipalas opened up the home to Wyeth, inviting him to paint there whenever he wanted. It's easy to understand why an artist would find the home to be conducive to good work. With its large windows, the home is bathed in natural light and offers great views of the countryside. The third-story drawing rooms overlook expansive vistas. Perched atop the home is the glass-enclosed cupola, or Widow's Walk, that was immortalized by Wyeth in numerous works. He completed some of his most touching portraits in the home. A room on the third floor came to be a favorite place to work. George and Helen remember that Wyeth, who was known to be guarded about his privacy, felt comfortable with them almost immediately. He entertained them with stories about growing up in Chadds Ford, including his remembrances of his visits to Painter's Folly.
Helen explained that the artist liked to have the same light to work with each day, so Wyeth would frequently be working on multiple paintings simultaneously and would go back to each one at the same time every day so that the light would be similar.
"He'd be working on two or three paintings in a day, not necessarily all here, and he would come back at the same time of the day to work on them because of the lighting," she said. "He was almost here on a daily basis."
Wyeth was there so often, in fact, that they ended up giving him a key.
And they were doing much more than opening their home to a famous artist so that he could work there. They were forming a friendship with Wyeth. The home was a place where he could relax and be himself.
"I'm a jokester, and he's a jokester," George explained. "We always got along really well."
One of the traditions that the Sipalas established with Wyeth was throwing a party for him each year around Christmas. They kept it very private, and would invite people that they knew Wyeth would enjoy seeing. Sometimes, he would make requests that certain people be invited.
Helen explained that when she sent out the invitations, she would start off the invite by noting that it was Andrew Wyeth who was requesting their company.
"We could get almost anyone with those words," Helen recalled, explaining that many special guests from all walks of life would come to the parties, including many members of Wyeth's own family.
"For 20 years, they came to Christmas with different people," Helen said. "It was a whole new life for us."
During the course of the year, George and Helen would listen carefully to Wyeth to see if he would mention someone that he hadn't seen in a while, and they would select one person as a mystery guest for the Christmas party. George and Helen always liked to surprise Wyeth with the mystery guest.
The Sipalas were always respectful of Wyeth's privacy, and made sure that he always felt comfortable. Wyeth's friendship meant a lot to the Sipalas, and it seemed to mean a lot to the artist as well. A few weeks before Wyeth's death on Jan. 16, 2009, he showed up at the Sipalas' house for the final time. George and Helen were touched that, despite his failing health, the artist wanted to come visit them.
"What greater compliment could you ever possibly get than that?" Helen asked rhetorically.
*******
George and Helen Sipala are in the 42nd year of owning Painter's Folly. They are both in their eighties now, and are as lively and charming as could be. They love the home as much as they ever did, too, but it's a lot of house to care for, and they have Painter's Folly with its three-plus acres listed for sale.
They hope that the next owners will appreciate the unique history of the home.
"In my heart, I would want a young couple who likes to entertain to own this home," Helen explained. "We came in as a young couple."
Their best memories are of all those evenings that they spent entertaining, especially those times when one particular artist friend stopped by. Andrew Wyeth certainly added an interesting chapter to the history of the home.
"We didn't build this place," explained George, "but we certainly enjoyed a lot of history here. We love it. We truly love it."
"It's just a wonderful house, and when you think of all the history and of the people involved, it makes it very interesting," Helen added. "This house has so much history and Chadds Ford has so much history."
To contact Staff Writer Steven Hoffman, email editor@chestercounty.com.
---
---
---