A legacy of art

Jul 29, 2015 10:07AM, Published by J. Chambless, Categories: News, Arts+Entertainment, Today
---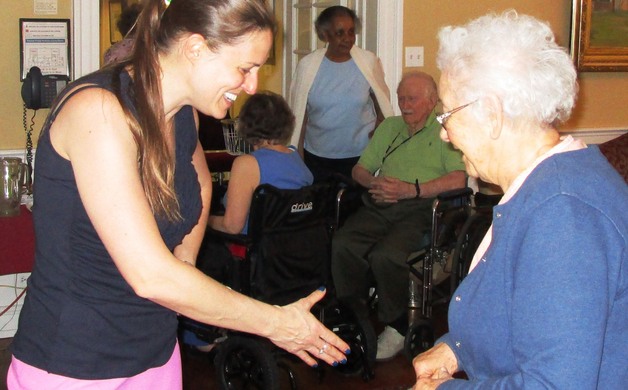 Victoria Wyeth meets residents of The Hickman.
---
---
Victoria Wyeth recently visited The Hickman Friends Senior Community of West Chester, where she spoke to a packed house of residents and guests about her family's rich legacy of art. 
Two Wyeth paintings are on display at The Hickman: Andrew Wyeth's painting "Cushing Window" was a gift from Andrew and Betsy Wyeth to the residence in 1960; and N.C. Wyeth's painting "On the Good Ship Rose" was a gift from N.C. and Carolyn Wyeth in 1963. Andrew Wyeth's maternal aunt, Esther Bockius, also lived at The Hickman from 1937 through the early 1950s.  
What prompted you to accept the invitation to give a presentation to residents at The Hickman about your family's art?
Victoria Wyeth: "I was so taken by the idea that my grandparents and great grandmother had donated my family's work to The Hickman. I also was quite moved to know that my relatives had lived there at one point."
 Were there any particular memorable/enjoyable moments from your visit with Hickman residents? 
Victoria Wyeth: "I really enjoyed meeting all the residents. Their spirit & spunk was so fantastic."
You have done a great job of telling the story of your family and their legacy. What advice would you give to other people who want to do the same thing with their families?
Victoria Wyeth: "I would tell them to write EVERYTHING down -- every thought, every memory, and every emotion." 
Wyeth will be giving a benefit lecture on Nov. 21 at the Westtown School to benefit the Chadds Ford Historical Society. For more information about Victoria Wyeth and the Wyeth art legacy, visit www.victoriawyeth.com. For more information about The Hickman Friends Senior Community of West Chester, visit www.thehickman.org. 
---
---
---