2014 SCCCC Outstanding Citizen of the Year Recipient Announced

Mar 31, 2015 02:29PM, Published by Kevin, Categories: News, Business
---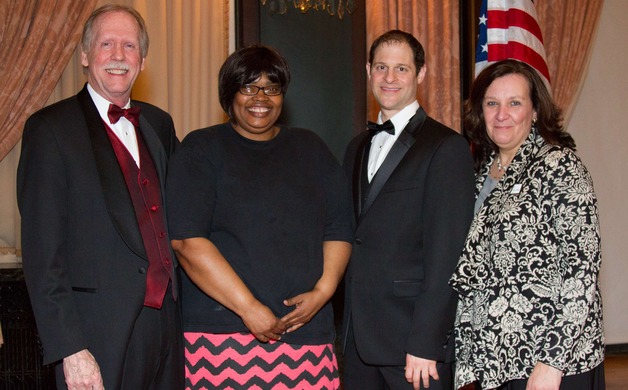 (l to r): Dennis Melton, past SCCCC Chairman of the Board (accepted the Award); Esther Rochester; Dr. Chad Laurence, 2014 Award Nominator; Cheryl B. Kuhn, SCCCC President.
---
Attached PDFs
---
---
The Southern Chester County Chamber of Commerce announced the recipient of the 2014 Outstanding Citizen of the Year Award at the Chamber's 48th Annual Dinner, held at Longwood Gardens on Friday evening, March 20. The Award recognizes individuals who unselfishly contribute to the community's quality of life and display exemplary volunteer efforts demonstrating vision, leadership and citizenship that positively impact the Southern Chester County community.
The Outstanding Citizen of the Year Award has been presented annually since 1968. Always a highlight of the event, Chamber members and guests gather together annually to honor the men and women who have served the community in this capacity.
This year, the Chamber recognized Joan Holliday as the 2014 Outstanding Citizen of the Year. Joan Holliday has served the community for more than 23 years. Holliday is the founder of Study Buddies, a program dedicated to helping at-risk children perform to their best abilities in school; Bridging the Community, a non-profit organization linking volunteers with community organizations; and ACTIVATE Chester County, a collaboration among hospitals, health and recreation organizations, school districts, municipalities, and community service organizations advocating for policy and behavior changes that decrease the obesity rate in Chester County.
Holliday was unavailable to accept the award because, as Dennis Melton, past Chairman of the Board of the Southern Chester County Chamber shared to the more than 220 attendees, "she was doing what she does best, helping someone else." In this case, it was her ailing 90-year old Mother. Melton was selected by Holliday to accept the award on her behalf. In a speech prepared by her, Melton shared the following, "From 1998 to present, initiating and leading gatherings for community members to make their voice heard, while working toward a vision, has become my personal mission. From these forums, there is nothing that makes me happier than seeing minority persons become empowered to take on leadership roles and make a difference." Holliday's final remark summed it up, "This award belongs to the citizens of Southern Chester County. They are the ones joining together creating visions and crossing boundaries to make a difference in a peaceful, progressive and inclusive manner." 
Joining Melton at the podium was Esther Rochester, a recipient of Holliday's community service efforts. Today Rochester and Holliday are long-time friends for more than 25 years. The Study Buddies program provided the setting and structure that allowed Rochester to get her high school GED and today helps her children in much the same way. "Joan is more than a friend to me, she is like a mother, a mentor and a sister", said Rochester.
The 2014 Outstanding Citizen will share the honor with these recent past recipients: 2003 Michael Perna, Esq., 2004 John W. Singer, 2005 Kathleen Lafferty, 2006 Doris Haley, 2007 Eva Verplanck, 2008 James T.
Horn, 2009 Michael R. Walker, 2010 Janice Taylor, 2011 Terence Farrell, 2012 Stacie A. Kucera, and in 2013 Ken Goddu.
"The Outstanding Citizen Award is a celebration of the love and dedication that people have for this community," said Ken Goddu, the 2013 award recipient and this year's Working committee chair. "We are proud of the accomplishments of all past recipients and we look forward to continuing this longstanding tradition of service."
"The nominees each demonstrated remarkable character and dedication in supporting and serving our community," said Jim Horn, chairman of the Discernment committee and past award recipient. "The contributions made by these individuals are an inspiration to all. This year's recipient, Joan Holliday, is an exemplary model of the successes of true community service. We are proud that Joan was selected as this year's Outstanding Citizen award recipient."
About SCCCC
The Southern Chester County Chamber of Commerce seeks to strengthen, support and promote business and economic development in the Southern Chester County region. Our Purpose is to strengthen the development of business and industry, provide means for communication among local appointed and elected officials and regional business leaders; offer relevant and timely professional development opportunities for members and the business community, and foster community spirit.  
See the above, attached PDF's for past recipients and a biography on this year's winner. All information contained courtesy of SCCCC.

---
---
---
chamber of commerce outstanding citizens sponsors ceremonies awards
---