Surrounded by art, a collector documents 700 years of history

Sep 01, 2014 11:01AM, Published by J. Chambless, Categories: Arts+Entertainment
---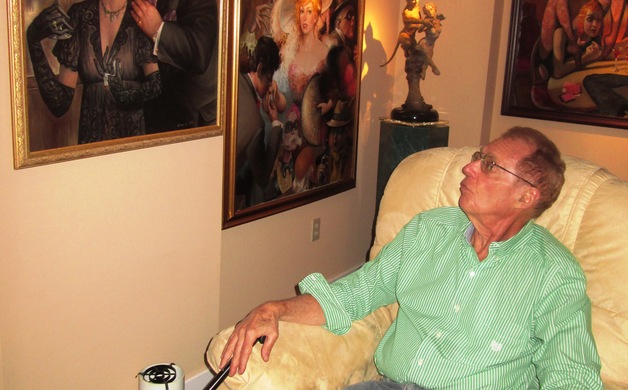 Seated in a recliner in his own downstairs art gallery, Fred Dixon admires some of his favorite paintings and sculptures.
---
Gallery: Fred Dixon [6 Images] Click any image to expand.
---
---
(Editor's note: This article first appeared in our Fall 2014 issue)


By John Chambless
Staff Writer
In 1976, Fred Dixon spotted a couple of small watercolors of lions being sold on a sidewalk in New York City. He liked lions, so he gave the artist, Sandy Finkenberg, her asking price of $10 each.
Those two lions still hang in Dixon's Chadds Ford home, but they have company now. 
A lot of company.
Today, Dixon and his wife, Martha, display some 130 paintings and sculptures throughout what has become a home art gallery. At an open house to benefit the Bayard Taylor Library in Kennett Square several years ago, 450 people took the Dixon art tour.
"We've never sold anything, because we never bought anything we didn't like," Dixon said during a tour of the home. So the walls are full, and there's no room to expand. 
At this point, the collection is complete, but Dixon's passion for art continues. Last year, he wrote "700 Years of Art History: Pre-Renaissance to Modernism," a 266-page book that takes a detailed but breezy stroll through the major figures and trends of art history. 
The book is just one highlight of a life and career in which art has propelled the Dixons to some unexpected places. Just how Dixon came to love art so much "is the biggest mystery of my life," he said with a smile. His parents didn't foster any interest in art, and Fred didn't buy any original artwork until that fateful day in 1976. He pursued a career in economics, eventually getting a master's degree and a Ph.D., and working for Merrill Lynch in New York. He traveled in some impressive circles, though, and a small photo on a bar in his home shows Dixon with George H.W. Bush at an economics conference.
Martha had a liberal arts background but worked for Mobil, and the two lived in north Jersey, so they visited New York City frequently. 
"Something must have stuck," Dixon said. "Martha's sister lived in Manhattan and we used to visit. I started going to the art galleries. Over the years, we've never bought a painting that we both did not see first."
As he became a familiar face in Manhattan galleries, Dixon said he and Martha worked out a system for negotiating with dealers. "I would negotiate the price, and when we got to a price that we thought we could afford, Martha would give me an elbow in the side," Dixon said, smiling at his wife. "That meant, 'OK, we'll take it.' It was always a mutual venture."
At first, they paced themselves. "It was very slow," Dixon said, "because the paintings were in four figures -- this is not $100 art. But I enjoyed the hunt."
In many ways, he said, he was fortunate that his financial career had come first. By the time he discovered artwork, he was able to afford to buy it.
The Dixons started out buying realistic artworks, but not still lifes or landscapes. For them, a painting has to tell a story, so they gravitated to narrative works that suggested a story in progress about the person in the frame. Their collection includes photorealism and street art, but centers on images of beautiful women by artists including Robert Sarsony, Howard Behrens, Gerald Larribas, Harry McCormick and Alexander Sheversky. A stunningly good Bo Bartlett painting hangs in one bedroom where there are other works by artists from 25 countries. But there's also the abstract acrylic sculpture by Norman Mercer that casts rainbows around the living room when the light is right. And near it is a 2004 bronze bust by Glenna Goodacre, a sculptor known locally for the Irish Famine Memorial in Philadelphia. 
The Dixons sought out the artists themselves and had the paintings explained. One of them, Dixon said with a laugh, eventually got tired of all the questions and told him, "Fred, sometimes I just paint things! All the brush strokes may not mean anything!"
Eventually, the Dixons built up personal relationships with some of the artists and bought directly from them. They could afford to travel, so while visiting museums in Italy or traveling in Europe, they would buy from street artists whose work struck their fancy. At the annual Art Expo in New York City, they would browse through hundreds of dealer booths and pick out paintings they loved by artists from South Korea, Russia and elsewhere. 
"The idea was to get there late in the day on Saturday, because the artists had to ship the stuff back home," Dixon said. "Then you could negotiate a deal. We had a routine -- we'd go up and down the aisles and pick out eight pieces or so. Then we crossed three off, then got down to two. Then we started negotiations. Every year, we bought something."
The artwork wasn't purchased as an investment, Dixon said, because both he and Martha didn't intend to ever let any of the works get away. 
The latest addition to the Dixon art collection – and the last bit of space in the house – is a basement room added specifically to display Fred's favorite pieces. There's a sign on the door that reads, "Fred's World," and indeed it is. 
Settling into the armchair in the center of the room, Dixon can swivel around to admire allegorical and surrealist paintings and sculptures by Valeriy Belenkin, Martin Eichinger, Luis Soler and Mindy Knight. Each one has a story he can relate in person, or there's a typewritten booklet by the front door of the home so visitors can read about the collection for themselves. Each work is numbered and displayed under gallery lighting. Sculptures are placed on pedestals that can be pivoted by visitors who want to see every side of a piece.
As Dixon continued his professional career and kept acquiring new artworks, he decided to further his exploration of art with a two-year study program at the Barnes Foundation, which was then located in Merion, Pa. He followed that with training as a docent, and he and Martha both led tours of the Barnes for 10 years. Along the way, they explained artwork to guests including Robert Redford, Alec Baldwin and Pablo Picasso's granddaughter.
Fred's depth of knowledge on the various artists in the Barnes collection led him to type up speeches he could give. Over the decades, those presentations amounted to almost a book.
"I'd put together a lecture on Picasso, for instance, and use that as a presentation to docents at the Barnes," he said. "So I had all these lectures with Power Point images. I realized I had half a book written already. All I had to do was add a few things. We'd already been to Europe and seen many museums there, so I started to put it all together."
Given the impossibly large scope of 700 years of art history, Dixon zeroes in on central figures and how they connect across the centuries. "There's nothing analytical in the book," he said. "It's done in a very conversational, down-to-earth style. You won't need a dictionary to read it."
The volume could function as a textbook for an art history course, and it's written in short sections that bring the artworks – and their creators – into focus. There are hundreds of color reproductions throughout. 
In contrast to the world touring and all the walking during his decades of collecting, Dixon is now slowed by multiple sclerosis, which is progressively taking away his mobility. He walks with a cane and has difficulty climbing stairs, but he sees the disease as something of a positive.
"Two or three years ago, I wasn't even using a cane," he said. "But if I didn't have MS and was more active, I would have probably been traveling and wouldn't have had time to sit down and do the book." 
The 2013 hardback book is beautifully printed on good paper, with the artworks depicted clearly and analyzed in terms that everyone can understand. But once the finished books arrived from the publisher in Lancaster, Dixon had to sell them. Without any kind of agent or promoter, that meant scheduling illustrated lectures wherever he could go, and selling copies of the book afterwards. 
"Neither one of us are marketers," Dixon said of he and Martha, "So I started out doing talks at retirement homes. Well, they loved the talks, but didn't buy the book. So now I do libraries, and I sell something at every library, at a discount from the price on Amazon."
Looking back at the unlikely arc of his life, Dixon said he's glad he wasn't bitten by the art bug earlier. "If I had the same interest in art that I do today when I started college many years ago, I would have taken up art history," he said. "Then what would I do when I got out? This way, I got an advanced degree and made enough money that I could pursue art. I could never have assembled this collection being an art history major. It worked out for me. The art came in at the right time."
E-mail ecinsights@verizon.net for more information.
---
---
---