New cafe gives students a chance to learn

Sep 01, 2014 04:55PM, Published by Kerigan Butt, Categories: Business
---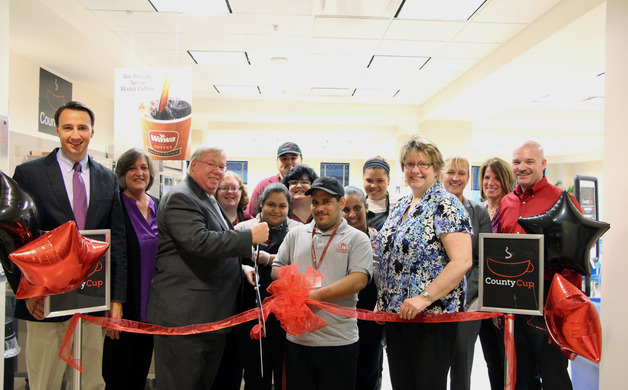 Students, CCIU staff and county employees celebrate the ribbon cutting of the County Cup in the Justice Center.
---
---
(Editor's note: This article first appeared in our Fall 2014 issue)

By ordering something as simple as a cup of coffee or a ham sandwich, customers at the County Cup Justice Center become key players in the education of students in Chester County Intermediate Unit (CCIU) programs.
The grab-and-go café at the Justice Center in West Chester is the second location of the CCIU's County Cup, which first opened in December 2012 as a kiosk in the Government Services Center (GSC).
A ribbon-cutting ceremony on Sept. 15 at the Justice Center marked its official grand opening. County commissioners, superintendents, Justice Center directors and staff, students and members of the public attended the celebration, which featured remarks from former CCIU student and current County Cup employee Rafael Lugo.
"It's been great working with the CCIU," said Lugo, who graduated from the Child and Career Development Center (CCDC) in 2014. Thanks to the guidance of CCIU job coaches, who provide on-the-job support for students with special needs, Lugo said he is prepared for different types of work environments, from the YMCA to the County Cup. "I love meeting people and talking to customers. Every day I work really hard to do my best," Lugo added.
The ceremony also included remarks from CCIU executive director Joseph O'Brien, CCIU board president Bonnie Wolff, and Chester County commissioners Ryan Costello and Kathi Cozzone, followed by a ribbon cutting and samples of items that are sold at the café.
"The county is pleased to be a partner in this laudable endeavor," Costello said. "Most importantly, the County Cup is making a difference in lives and creating career opportunities."
Costello was joined by commissioner Cozzone, who praised students for the job they have done over the past two years at GSC, and called the expansion to the Justice Center a tremendous opportunity.
"The opening of a second County Cup location is truly a milestone for Chester County students," O'Brien said.
For aspiring chefs and food-service workers, the County Cup offers a hands-on learning experience. It features food prepared by culinary arts students from CCDC and the three campuses of the Technical College High School (TCHS). Student workers and volunteers from the Discover program, with guidance from CCIU job coaches, support the day-to-day operation of the café.
"During its first two years of operation, over 45 Chester County students completed volunteer or paid work experience at the County Cup," O'Brien said. "This opportunity will benefit an even greater number of students with our expansion to a new location."
Obstacles to finding employment for a person with disabilities include the lack of volunteer/work experience, training and job skills. Through the Discover program, these obstacles are eliminated to benefit students and employers alike. Discover has identified 185 partnerships with community businesses to support its vocational exploration and work experience programs. The County Cup and other organizations provide valuable real-life experiences to practice skills through potential future employment or meaningful volunteer experiences.
"The food and customer service fields are booming. If students can find their niche in one of those areas by working at the County Cup, they are headed in the right direction as far as picking up valuable skills," said Scot Semple, project manager of the County Cup.
The County Cup Justice Center is open Monday through Friday from 7:45 a.m. to 2 p.m.. and serves breakfast sandwiches, bagels, muffins, soups, sandwiches, salads, desserts, Wawa coffee and cold beverages.
---
---
---