The pages of our history

Sep 01, 2014 04:54PM, Published by Kerigan Butt, Categories: Local History
---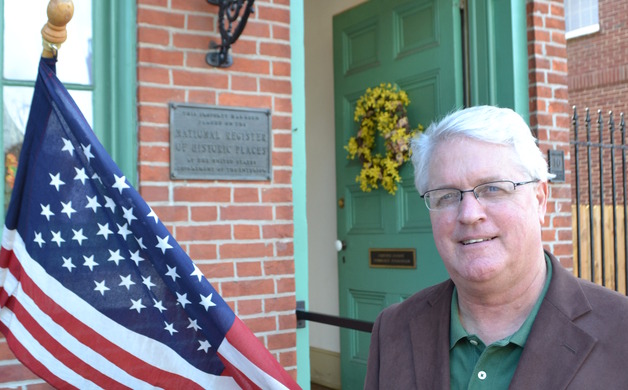 Photo by Richard L. Gaw Malcome Johnstone, executive director of the West Chester Business Improvement District, stands at the entrance of the Lincoln Building on Market Street.
---
---
(Editor's note: This article first appeared in our Fall 2014 issue)

By Richard L. Gaw
Staff Writer

There are 4,200 structures in West Chester that are listed in the National Register of Historic Places. Each one of them tells a story, but none better than the Lincoln Building, the skinny brick structure tucked in the middle of a busy Market Street, where one of the most important stories told about American history was written, published and preserved.
It was said that William Everheart, a congressman, philanthropist and a resident of West Chester, was the richest man in town, and he wanted to have an office structure built that would proudly display his prominence. In 1829, Everheart purchased what is now the southeastern part of West Chester's downtown district, and over the next several years, oversaw the construction of 100 brick buildings in the vicinity, and in 1833, The Everheart Building became West Chester's first office building. By 1860, the Chester County Times set up shop there, as did an attorney by the name of Joseph J. Lewis.
In that same year, Samuel Downing, the publisher of the Times, and Lewis received a three-page, handwritten autobiographical profile written by a midwestern politician named Abraham Lincoln. At the urging of his friend, Jesse Fell, Lincoln wrote the autobiography as a means of publicity that would hopefully serve as a means of introducing him to the residents of the eastern portion of the United States. There was a reason for the writing: Lincoln was running for the Presidency of the United States, and his fear was that east of the Ohio River, no one even knew who he was.
"Downing and Lewis and Fell colluded together so that Lincoln could be properly introduced during his run for the presidency," said Malcolm Johnstone, executive director of the West Chester Business Improvement District. "He'd never been to Pennsylvania or New York, and he thought that the Republicans in this area were going to soundly beat him. It was purely on the advice of others that Lincoln even wrote this autobiography. He wasn't going to step on peoples toes, but he was also absolutely dedicated to the mission of becoming president.
Downing and Lewis cobbled together Lincoln's words, and the autobiography was first published in the Times on Feb. 11, 1860. Eventually, it was made into pamphlet form in the building and shipped to New York City, in advance of Lincoln's famous speech at Cooper Union in lower Manhattan. Its impact on its readers was immediate, and it ignited the interest of the capacity crowd that awaited Lincoln at nearly every stop on the campaign trail.
"The response to the bio was huge," Johnstone said. "The biography primed the audience for the Cooper Union speech, and the timing could not have been better. When they received this biography, they knew about his politics but didn't know anything about Lincoln, and his notes were nothing about politics but all about him. When that got to New York, it was like a city had absorbed all there was to know about Lincoln, like a vacuum.
"My personal contention is that Abraham Lincoln would not have been our 16th President without this book."
The Lincoln Building was purchased in 1977 by businessman David Kirby, who saved it from demolition. Over the next year, Kirby supervised a restoration of the building, and petitioned for it to be added to the National Register of Historic Places in 1979.
The first time Johnstone first entered the Lincoln Building, it was 2001, the same year Karen Simmons, president and chief executive officer for the Chester County Community Foundation, began her position. The Foundation was considering a move to the old building, and conversations between Johnstone and Simmons floated around the idea of how to retrofit the workings of a modern-day foundation with the stubborn and creaky confines of a structure that was built in 1833.
It has turned out that nearly 14 years later, the Foundation could not have found a more perfect home.
"At first when I came here in 2001, I thought, 'This is an old building, and it's going to take so much care,' and we were a young mission at the time without a a lot of resources to do the needed repairs," Simmons said. "But as our mission has gotten more stable as an organization, it began to make perfect sense for us to be in this historic building. When families want to talk about their legacies for the future, and they come to the building and see how much we care for and respect a building that was built in 1833, that is an easy jump for them and also care for and respect what they wish to achieve for their legacy."
"There are too many communities that do not recognize where they've come from," Johnstone said. "Without associating the historical context with a place, you don't have a chance to save that place. To to the Foundation's credit, they are the saviors of this building, because they not only understand what they have to do to preserve it, but they understand why they have to preserve it."
During the many walking tours he gives of West Chester's history, Johnstone eventually makes a stop at the Lincoln Building, and points to the many plaques bolted to its exterior that indicate its importance in the historical framework of the town.
"I joke that the plaques on the front of the building are holding it up," he said. "It's only half a joke, because those plaques are, in a way, keeping the Lincoln Building standing, because they associate us with our history. There is a culture of understanding of where we came from here in West Chester. It's part of our story, and it links us to who we are."

The Lincoln Building is located at 28 West Market Street, West Chester, Pa. 19382. To learn more about the Lincoln Building, visit www.chescocf.org .

To contact Staff Writer Richard L. Gaw, e-mail rgaw@chestercounty.com .

---
---
---