Wines added to lineup

Sep 01, 2014 04:52PM, Published by Kerigan Butt, Categories: Business
---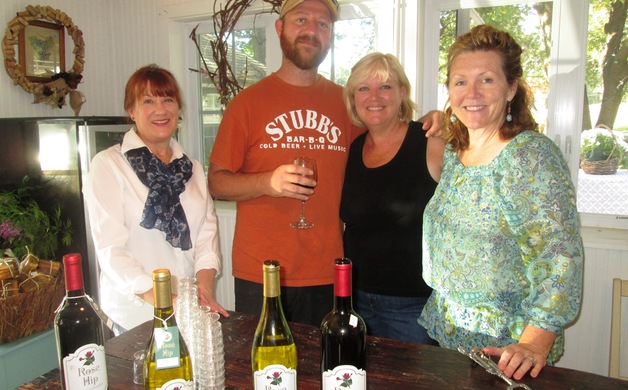 From left: Karen Donnelly, Jess Margera, April Margera and Donna Wetterlund at the kickoff party.
---
---
(Editor's note: This article first appeared in our Fall 2014 issue)

By John Chambless
Staff Writer
On Sept. 12, shoppers got another good reason to go to the Rose Hip Barn in Thornton. The shop unveiled its own two reserve wines, a chardonnay and a merlot.
Store owner April Margera -- known for being the mother and sometimes target of "Jackass" prankster Bam Margera – runs the shop one weekend each month with her longtime friend Donna Wetterlund. She said that the wines grew out of their mutual love of the products of Penns Woods Winery.
"Donna and I decided to do the Wine Trail and we loved everything we tasted at Penns Woods, " Margera said. The snag was that Penns Woods never makes private-label wines. Until this time.
"They don't do it," Margera said. "Then, Gino Razzi, who owns Penns Woods and is very passionate about his wines, said, 'I have to see your place.' So he came out and fell in love with the barn and said, 'OK, I'll do it.'
"We pretty much told them what we liked personally, and they did a great job," Margera added.
The bottles have labels designed by Margera, and there's a brief history of the Rose Hip Barn on the back. The whole process of getting the bottles into the shop took about a year.
"They're doing 200 bottles to start," she said. "And they could do more, since they think this will be a nice product. Once it starts, they keep rolling."
The merlot is $32 and the chardonnay is $28, and they both will be served at Rose Hip Barn opening events, and offered for sale through the shop or through Penns Woods, which will ship the wines anywhere. "We wanted to offer really high-end wine for a reasonable price," Margera said. "And if this goes well, we may do more evening wine parties."
For more information, visit www.rosehipbarn.com.

To contact Staff Writer John Chambless, e-mail jchambless@chestercounty.com.

---
---
---