A new home for art in West Chester

Sep 01, 2014 04:50PM, Published by Kerigan Butt, Categories: Arts+Entertainment
---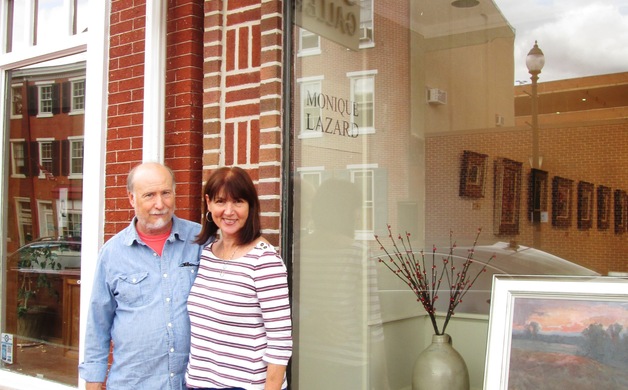 The storefront has a handmade sign that welcomes visitors to the sleek, modern gallery.
---
Gallery: A new home for art in West Chester [6 Images] Click any image to expand.
---
---
(Editor's note: This article first appeared in our Fall 2014 issue)

By John Chambless
Staff Writer
In his three decades of working as a professional artist, John Suplee has learned a thing or two about hanging art. But now he's taken that experience to a new level.
In April, Suplee's wife, Carol, opened the Church Street Gallery in West Chester, showcasing original art in the kind of sleek, sophisticated space that fills a niche in the downtown gallery scene.
The Suplees really hadn't planned to be gallery owners. They were simply shopping at Pages, the card and gift store that used to fill the storefront on South Church Street. Last January, they spotted a table of sale items and asked about it. They found out that the store owner, artist Buff Ranalli, didn't want to operate the store anymore and would be selling off the store's stock.
"He told us, 'You and John should start a gallery,'" Carol recalled during an interview in September. "I said, 'No, it's too hard to sell art.'"
She and John shared a smile at that initial reaction. Fate clearly had other ideas. Carol was close to retirement from her career as an engineer with Comcast, and the chance to run a gallery had been in the back of her mind for years. After a lot of discussions, "we signed the lease in March, and we opened by the end of April," John said. Carol retired in June, freeing her up to devote more time to the gallery.
There was a lot of work to do inside the storefront, which retains its original wooden display windows and its elegant pressed-tin ceiling. The Suplees did all the repainting themselves, and had a professional install a new floor.
"The gallery sign is handmade by Pete Shaw, a friend of ours," Carol said. "Everything is really home-grown. It's one of those places where people can bring the kids and the dogs -- it's fine. Especially the kids. When you go to Europe, people bring their children to all the art openings, to the museums, and they go to each piece, look at it, think about it. That's what we're trying to bring here. It's not just about selling. It's about educating."
The Suplees lease the space from the Masonic Lodge which occupies the center of the building. "They're such good people, and very reasonable. I don't think we could do this otherwise," Carol said. "We're fortunate to be their tenant."
John praised the modern track lighting in the space, which was once the exhibition and sales location for photographer Red Hamer before it was home to Pages.
"This building is kind of a prototype of the current vogue of mixing residential with retail," John said. "This is the quaint 1920s version of that."
Although the space has a clean museum look, the Suplees agreed that they didn't want the gallery to be stuffy or intimidating. "The inviting, walk-in street exposure helps this. We didn't want to hang things all the way to the ceiling," Carol said. "We wanted to keep it a traditional gallery -- no framing, nothing else."
Carol said the Church Street Gallery mission statement is, "To pay the rent," but admitted with a laugh that it's also about showing people that good, original art can be an affordable investment.
"We look for high-quality work that avoids extreme pricing," John said. "So the motto that I like is, 'Art worth owning, at a reasonable price.'"
That means paintings usually don't go above $1,000, and there are no framed prints or posters for sale. The works are beautifully arranged on the walls as well.
"While we collaborate on the placement, most of the physical hanging of the work is from my own experience," John said. "Basically, I'm doing what I always did for myself, but now I'm doing it for other artists. And I do it out of love for the work we show."
The Suplees do have one problem, in that they know many artists in West Chester, so there's an expectation that their friends will be in line for an exhibition at some point. "That can be hard," Carol admitted, "but this can't be just about friendship. It has to be about really high-level art. ... We only put on the walls what we really believe is worth owning."
So far, there have been exhibitions featuring Robert Bohne, Emmy Krick and Monique Lazard. Suplee's own work has been noticeably downplayed. "John will have a solo show in late November at the gallery," Carol said, "but for the most part, the spotlight is on other artists, not him."
After so many years in the art world, the Suplees have good working relationships with other gallery owners in West Chester. "We think it's not like shoes or aluminum siding," John said. "The more galleries there are, the better it is for everybody.".
"We're trying to bring in artists who are from the Pennsylvania Academy," Carol said. Those young artists tend to be eager for a gallery show, and their works are still affordable.
Since the gallery is a two-person effort, visitors will find either John or Carol behind the desk every day. They're happy to greet everyone who stops by.
"I've had children outside, looking at pieces in the window, and they drag their parents in here for a look," Carol said, smiling. "And that is a really good thing."
The Church Street Gallery (12 S. Church St., West Chester) is open Wednesday to Saturday from 1 to 6 p.m., and Friday until 7 p.m. Visit www.churchstreetgallerywc.com.

To contact Staff Writer John Chambless, e-mail jchambless@chestercounty.com.

---
---
---