Nicole Ehinger

Sep 01, 2014 04:49PM, Published by Kerigan Butt, Categories: Arts+Entertainment
---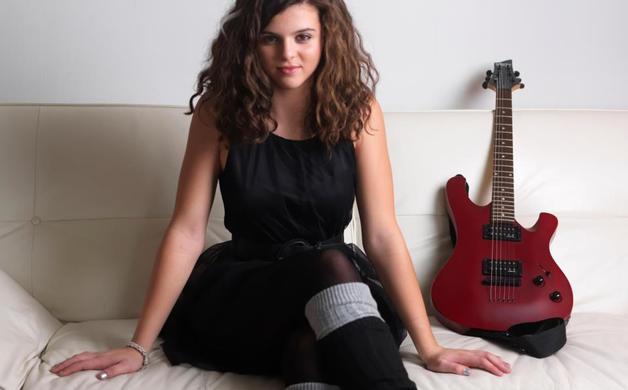 Ehinger has a website that showcases both her music and her film appearances.
---
Gallery: Nicole Ehinger [6 Images] Click any image to expand.
---
---
(Editor's note: This article first appeared in our Fall 2014 issue)

By John Chambless
Staff Writer
Just down the hallway in a row home on High Street in West Chester, Nicole Ehinger is intently strumming her acoustic guitar, watching carefully as instructor Jay Scott shows her the fingering for a new cover song.
"I met her when she was 13," Scott said, "and it was clear that she had a lot more going on than most kids her age. She was more focused, had much more of a grip on how to put a song together. She knew she wanted to be a performer. And she's a quick study."
Ehinger smiles warmly but doesn't deviate from the task at hand.
A few minutes later, still poised and utterly at ease, she carried her guitar into an adjoining room and sat down with her mother, Joanne, for an interview. At the ripe old age of 17, it's something she's used to.
Her mother said Nicole has always loved dressing up, singing and acting, and took her first modeling class at the age of 6, when the family was living in Tennessee. "It was just for fun," Joanne said, "and she had a great time. The owner said we needed to get her involved in acting. She recommended participating in the Actors, Models and Talent for Christ convention in Florida to compete and meet agents, and she placed in the top three in both modeling and acting.
"She had this big, round face and all this curly hair," Joanne added with a laugh, admitting that the mop of curls was sometimes a detriment, since it tended to dominate the tiny girl. "She's not a typical Broadway kid. When we went and auditioned in New York for managers, when she was 6 or 7, she'd be a little reserved. She just wanted to have fun, pretending to be somebody else or memorizing a script. They go into rooms by themselves with the casting directors, which is something I can't imagine doing."
"I remember my first acting class, and it was all adults," Nicole said. "I was going in there with these really tall people when I was about 6 years old."
Nicole's adorable looks, compelling stage presence and her ease in front of a camera landed her a small – but memorable – role in the 2010 Disney film, "The Sorcerer's Apprentice," starring Nicolas Cage. She played young witch Abigail Williams in a sequence in the film, stalking through her few minutes of screen time with sheer malevolence.
"They built a lot of the sets in an armory in Brooklyn," Nicole recalled. "I remember talking to Nicolas Cage about why they had this giant pool in the middle of this living room. They had it covered with a rug that he had to stand on and sink into it. I shot for about two days, one with Teresa Palmer, and one with Alfred Molina, who kills me."
Nicole's role in the film had initially been bigger, and she remembers practicing scenes in which she pretended to spit out a deadly swarm of bees. "That was supposed to be my super power," she said. Rewrites eventually reduced the role to Nicole's few scenes.
But the experience of working on a big-budget film was invaluable for the budding actress. "I remember getting my costume made -- the ridiculous, huge pilgrim dress and the shoes," she said. "The shoes were never seen -- I could have worn Nikes. Of course, I grew so much they had to remake the dress and the shoes by the time we actually started filming."
The excitement of a red-carpet New York City premiere and the success of the film made her the coolest kid in school "for a while," she said with a smile and a shrug.
Being part of a big-budget Disney production put Nicole close to the star-making machinery that propels young stars like Selena Gomez into TV, music and movie roles, but that path never opened for her. "I don't dance very well," she admitted. "I always auditioned for Disney shows and Nickelodeon shows, but I was never the right kid. I remember getting really close to a pilot called 'Janet Saves the Planet.' I got three callbacks for that, I got to do a skit, and they completely dropped the show and never filmed it."
Working in front of the cameras taught Nicole to relate through the lens, though. It's a skill that she's putting to good use as a singer/songwriter. "My earliest musical memory is singing along to Faith Hill's 'This Kiss' in the supermarket," she said. "I'd get up and dance. And it's still a good song."
On her own website and on YouTube, Nicole has showcased many of her homemade videos – even the ones where she's wearing braces at the age of 12. Her country-pop style is perhaps rooted in her Tennessee upbringing, but there's no mistaking the crystal-clear twang in her voice when she's singing.
Many of the videos are covers of other artists, and it's a shock to see her burning her way through Carrie Underwood's fiery retribution song "Before He Cheats," for instance, with her baby-faced looks. She fits comfortably into the mold of Taylor Swift, an artist she admires.
But it's the video of Nicole at her middle-school talent show that clearly shows a star being born. Standing with her guitar next to a railing decorated with gold balloons, she confidently performs her own "Tennessee Is Us," pretty much blowing away every other middle-school talent show in history. The bouncy yet poignant look back at a country childhood could have been written by a grown woman, and the whoop in the audience as the chorus kicks in is a genuine outburst of awe. She was 15 at the time.
Many of the videos are literally homemade, filmed in the family's Downingtown home where Nicole has a small studio space. Just strumming her guitar, occasionally looking up to draw the viewer in, she shows a songwriting ability that is decades ahead of her actual age.
In "Camouflage and a Black Dress," she sings as a military widow at a funeral:
Your handwritten letters in a box in my back seat
Blind optimism with you telling me not to worry.
Long nights of never knowing
that's what kept me going.
And I never thought that we would end like this,
you in camouflage
and me in a black dress.
"Think About It Now" is a song about faded friendships that gets to the heart of losing someone at any age:
How is it that two people who knew everything about each other
act like strangers now
We were going on the third year, suddenly it disappeared
and not a single word, and I don't know how
And I watch your life in pictures
and you forget about me
And I don't even know if I miss it, or you,
or if you miss me.
It's the saddest little story
that I've ever heard myself
and all I can think about
is if you think about it now.
"Whiskey," a 2013 original about domestic abuse, alcoholism and despair, is told with empathy and depth of life experience that actually scared Nicole's drama coach when she heard it. "She got really worried and asked me, 'Hey, are you OK? Is there anything you want to talk about?'" Nicole said, laughing.
She has copyrighted 60 songs, she said, "and there's always more." The ability to write, perform and post her own music makes her website a great calling card. She has performed at local wineries and coffee houses, delivering an acoustic set of cover songs and originals that's perhaps a bit too forceful to function as background music. She knows how to work a room.
There are plenty of silly moments in her collection of videos – she's still a teen, after all – and the video for "Deep Blue," which was made by her older brother, Erik, is a sunny salute to summer that stars Nicole and her friends frolicking in a borrowed backyard pool.
Nicole said the video hits got a little carried away. "It got like 4,000 views and people would ask me to play it. At the end of that year, I think I played that some over 3 million times. I'm done with that. I listen to it now and think, 'What was I thinking writing this song?'"
Nicole went to Downingtown Middle School and now attends the Pennsylvania Leadership Charter School, a cyberschool based in West Chester. She'll finish her senior year early this year, and she's looking at colleges in either New York or California. Show business is still part of the plan.
For now, there are high-school classes, weekend concerts, songwriting and guitar lessons. She has acting agents in New York and California. Nicole also volunteers in the emergency room at Brandywine Hospital, gaining exposure to nursing as a possible career.
"There's definitely a lot of experiences there," she noted with a grin. "Always a lot going on at the hospital, especially the emergency room. I do patient transport, cleaning rooms. I'm not sticking anybody with needles. The hospital uses me because I'm young, and if anybody else comes in who's young and needs help, they ask me to help them. But all the nurses are great, and it's been great to see what everybody does."
As an actress who is accustomed to commanding attention on stage, Nicole is getting used to being only background music at some of her performances. "I try to involve people in the shows whenever I can," she said. "But you know how, when you're in Starbucks and there's an mp3 player playing? That's kind of what I am in those circumstances. But that's OK. If somebody wants to be left alone, I just connect with someone else in the crowd. All my friends have been really supportive and it's been a lot of fun. Hey, we'll just see where it goes."
For more information, visit www.nicoleehinger.com.

To contact Staff Writer John Chambless, e-mail jchambless@chestercounty.com.

---
---
---