Meandering her way through the countryside

Sep 01, 2014 04:46PM, Published by Kerigan Butt, Categories: Arts+Entertainment
---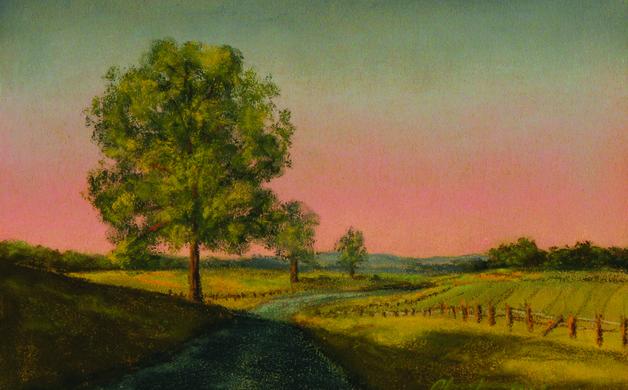 Courtesy art "Meandering the Countryside."
---
Gallery: Meandering her way through the countryside [7 Images] Click any image to expand.
---
---
(Editor's note: This article first appeared in our Fall 2014 issue)

Although her travels, appreciation for the natural world and love of painting have shaped her vision as an artist, Christina Oddo will be the the first person to say that her art is heavily influenced by Chester County. Oddo's landscapes of this rich and expansive landscape capture fleeting moments of rich color and luminosity, affected by the transformation of light. Using earth tones and highlights of vivid color, she guides the viewer's eye toward an emotional response to each work of art.
Over the course of the next several pages, we invite you to enjoy Oddo's vivid exploration of mood and space...and home. We also invite you meet the artist at one of the several upcoming gallery shows Oddo will be having in the next few months:

Flying Colors Fine Artists Annual Art Show
Oct. 24 to 26
Opening reception on Friday from 6 to 9 p.m.
($10 per person, benefitting a local charity)
and Sunday from 10 a.m. to 5 p.m.
The Montgomery School, 1141 Route 113, Chester Springs, Pa.
www.flyingcolors.us
Hockessin Fall Classic Art Show
Oct, 31 -- 5 to 8 p.m. preview
Nov. 1 -- 10 a.m. to 5 p.m.
Nov. 2 -- 11 a.m. to 4 p.m.
Hockessin Memorial Hall, 1225 Old Lancaster Pike, Hockessin, Del.
Benefitting the Wilmington & Western Railroad.
www.wwrr.com

The Centre for Vibrant Living
Through November
Reception: Nov. 7 from 6 to 9 p.m.
331 E. State St., Kennett Square, Pa.
Www.thecentreforvibrantliving.com

Chester County Art Association
Exton Square Studio Solo Show
Nov. 15 to Jan. 7
Exton Square Mall, Exton Square Parkway, Exton, Pa.
(First floor between Boscov's and H&M.)
www.chestercountyarts.org

---
---
---