Getting lost in the moment of creation

Sep 01, 2014 04:45PM, Published by Kerigan Butt, Categories: Arts+Entertainment
---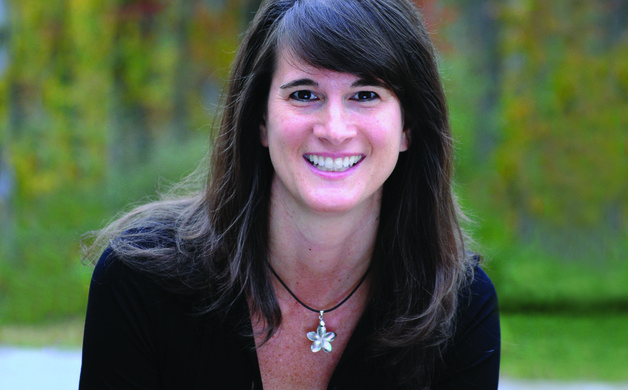 Courtesy photo Artist Christina Oddo is a member of the Chester County Art Association.
---
---
(Editor's note: This article first appeared in our Fall 2014 issue)

By Richard L. Gaw
Staff Writer

It is a little after five o'clock in the middle of the week, and you have left your office and merged onto the late afternoon cattle drive of Routes 1, 202 and 30.
You count. There are 19 cars ahead of you, and you are all waiting for a light to turn green at an intersection. Then it hits you broadside. There is a better way to go home.
With the flick of a directional and the spirit of a seeker, you vanish from the vehicular livestock and find yourself on a country road in Chester County. The decision is pure genius on your part and you drive through it, a seemingly endless burst of vista that is splashed with the eggshell gold of a dying sun. You drive past fields transformed into whispering wheat. Instead of neon signs and billboards, you see the theater of nature playing itself out on a big screen; trees bend, wildlife scampers in the distance; and seasonal flowerings emerge from stone walls.
You pull into your driveway 20 minutes later than you normally do, but you have been renewed by the narrative of places that have never uttered a single word but have made all the difference.
These are the places that define the work of local artist Christina Oddo.
"Every artist looks at landscapes a different way, but for me, it's a purely emotional response to what I see," Oddo said. "It's the mystique of the landscape that I wish to make a connection with, particularly at dusk, that magical time of day."
Inspired by 19th century landscape painters, Oddo's pastel work strives to capture moments through the use of rich textures created in earth tones, that are highlighted by touches of vivid color that bend reality to evoke emotion. The result is a luminous and romantic interpretation of reality, as seen in her Chester County landscapes, "Highspire Farm," "Across the Clouds," "Meandering the Countryside," and her most recent work, "Embrace."
The conversation among many landscape artists' circles is, 'To what degree should we rely on the photographs we take of a particular landscape?' When she began to seriously take up painting eight years ago, Oddo used her photos as a guide, "but I realized that I was merely recreating what people see on an every day basis," she said. "I wasn't putting myself into my work. Now, I always want to strive to capture something more than just the technical side, to illuminate that sense of place."
In "Embrace," for instance, Oddo saw that the bare branches of a tree outside her studio window had given off the impression that they were wrapping themselves around the moon. By twisting reality, the painting clearly suggests that the distant moon is being cuddled by the branches.
Lessons like this have all been part of Oddo's artistic journey, one that first began soon after she graduated with BFA in illustration and graphic design from Moore College of Art and Design in Philadelphia. In between a 13-year career as a graphic designer, Oddo continued painting, and even sold her first work in West Chester, at the Chester County Art Association in 2006. After she left the graphic design world in 2009, her husband encouraged her to live out her dream and become a full-time artist.
"Of all the times to begin doing this, to do it right during the massive market drop in 2009 was considered a big risk, but I stuck with it and just kept going," she said. "It's definitely been amazing how much it's grown. I learned early on that a true artist doesn't follow the trends. He or she simply does what he or she loves, so that the people who view the work will recognize it."
In the past five years, Oddo has been recognized as an award winner by the John James Audubon Society, and is a member of several art alliances, including the Chester County Art Association.
"I owe the Association everything," she said. "The Association brings together the business side of the art, which has allowed me to know and work with so many other artists. It's given me the exposure that every artist needs, in order to afford more opportunities."
This past September, Oddo exhibited her paintings at the Brandywine Festival of the Arts in Wilmington, and at the Rittenhouse Square Fine Art Show in Philadelphia. In October, she will be showcasing her paintings at the Flying Colors Fine Artists Art Show in Chester Springs, and through the month of November, her work will be displayed at The Centre for Vibrant Living in Kennett Square.
To many fine artists, the idea of self-promotion is a necessary evil of the trade -- the other side of the bargain -- and the idea of having to stand by their work and make small talk at a festival or gallery opening reception is akin to the worst type of punishment. Recognizing the need for marketing her art and enjoying it as a good balance with her creative work, Oddo splits her time evenly between her studio and art galleries, festivals and making connections with other artists and art lovers in the West Chester area. The biggest thrill Oddo receives from the public side of her art are the moments when the viewer first sees her art.
"When they stop dead in their tracks and are transported to some place different, that's when I know that they've made an emotional connection. It brings them to a place they've been before, to a moment or a place in their lives."
A month ago, one of her regular clients who owns several of Oddo's pieces, was talking with her about non-representational art. "Kim turned to me and said that when she sees non-representational art at a gallery or an art festival, she does not stop," Oddo said. "KIm said that she just keeps walking. She said that it looks too busy, and that her life is busy enough. My art, she said, has a calming effect, and when she looks at it, the world seems to vanish for awhile. If I can get a viewer to be a part of that process and connect in that way, I've done my job."
When Oddo is in her home studio working, often the only sound is that of a CD, playing tranquil sounds. She loves when the compilation of everything -- sketches, photography, and the tactile purity of pastels on a textured board -- allows her to get lost in her work, as if she is about to leap into the landscape she is making.
"Sometimes I am so enthralled with the process that I have no idea that the CD has played through its entirety two or three times," she said. "Pastels are so hands on that it allows me to become truly connected to what I'm creating. It's the thrill of getting lost in the moment of creation."
To learn more about Christina Oddo, visit her website at www.costudios.com.

To contact Staff Writer Richard L. Gaw, e-mail rgaw@chestercounty.com.

---
---
---