A room to slow down in

Sep 01, 2014 04:37PM, Published by Kerigan Butt, Categories: Business
---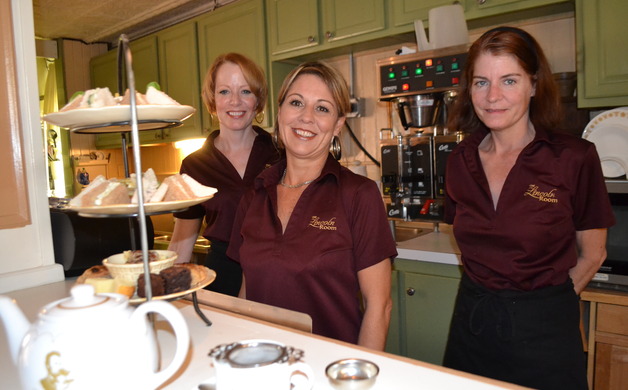 Jane Liberi, left, Amy Hamlet, center, and Jo Ellen Crampsey of The Lincoln Room in West Chester.
---
---
(Editor's note: This article first appeared in our Fall 2014 issue)

It's a mid-morning in early autumn on the campus of West Chester University, and classes have just let out. The falling leaves -- long a part of the postcard imagery of what a college campus should look like at this time of the year -- now share space with cellphones, which nearly every student fumbles with while walking to their next class. 
Along Gay Street, professionals on their lunch break engage their iPhones as if they are a lifeline to their beating hearts. They text. They tweet, they Google and they Facebook, and in less than an hour they will go back to their offices and do the same thing all over again.
On the bottom floor of the Lincoln Building on West Market Street, two women sit at a quaintly decorated table in The Lincoln Room, and over a tea sandwich plate and hot tea served in china cups, they listen to each other speak while lilting classical music plays softly in the background.
This past May, Amy Hamlet and her mother, Val Eisinger-Pickett, came into the Lincoln Tea Room for lunch, and were among the many who had heard that it was soon to close. Instead of lamenting the loss of a valuable part of West Chester life, they decided to take it over, and reopened the room in early October to gracious thanks from the community.
"I want to create an experience, to allow guests to settle in and not rush out, as you do with lunch so often," Hamlet said. "I want our guests to feel and see the experience – to make having tea become a destination."
The Lincoln Room is out to defy the common misconception that a tea room is bound to leave one undernourished. Guests can order from a wide selection of starters, soups, salads and pairings, which include sandwiches and quiches and scones. Young tea lovers can have tea as well as tea sandwiches with a parent, and a sampler includes favorites like soup, scones, salads, sandwiches and desserts.
Eisinger-Pickett welcomed the early lunch arrivals with a smile. "You're not rushed in and not rushed out here," she said. "You get a chance to visit with friends and family. That's conversation. That's not texting. That's not your iPad or your laptop. In many ways, it's connecting again with people, and we've lost that connection."
Guest by guest, pot by pot, and scone by scone, the sense of connection with each other that we have lost is being re-found.
The Lincoln Room is at 28 W. Market St., West Chester. Hours are Tuesdays through Saturdays from 10 a.m. to 2 p.m. For reservations and takeout orders, call 610-696-2102. For more information, visit www.LincolnRoomWestChester.com.

To contact Staff Writer Richard L. Gaw, e-mail rgaw@chestercounty.com.

---
---
---