Golden Rams all around the big blue marble

Sep 01, 2014 04:33PM, Published by Kerigan Butt, Categories: News
---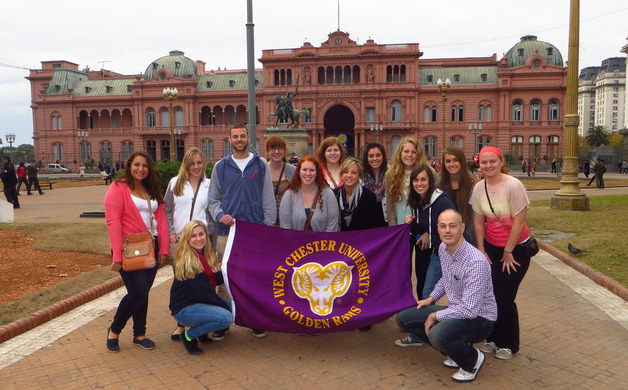 Courtesy photo More than 300 students at West Chester University are currently involved in international programs.
---
---
(Editor's note: This article first appeared in our Fall 2014 issue)

By Richard L. Gaw
Staff Writer

On December 24, 1968, United States astronaut William Anders, aboard Apollo 8 on the first human mission to the Moon. He called it "Earthrise."
Anders' photograph shows the glowing azure-colored Earth emerging in the distance over the craggy surface of the Moon. Since its first appearance, it has served as the most stunning visual evidence that the world is, indeed, a small place, a precursor to the age of technology that can send the imagination and ingenuity of the human spirit around the world in a matter of seconds, and virtually erase borders that divide country from country.
For over 300 students at West Chester University currently participating in the university's international study programs, that sense of adventure, learning and connection is not only changing their lives, but the lives of others -- in more than 50 countries of the world.
From short-term programs to semester and year-long programs, the number of West Chester University students participating in international programs has more than doubled, spurred on by university President Greg Weisenstein and spelled out in the university's strategic plan, "Building on Excellence," which called for WCU to establish a foothold in international study.
"Dr. Weisenstein outlined several international initiatives that prepares our students to become global citizens, to provide more opportunities for students, to bring more international students to West Chester, and to develop partnerships with colleges and universities in other countries," said Dr. Peter Loedel, assistant vice president at WCU's Center for International Programs. "The strategic plan has really framed it for us to take that plan and give it life, to facilitate what we say we're going to do. Having that support at the highest level allows us to take it to the next level."
The numbers are the clearest sign that WCU is becoming a part of the global community. Jeff Conradi, the department's project director, recently shared that the number of students enrolled in study abroad and international programs increased from 150 in the 2011-12 academic year, to 250 in 2012-13, to an all-time high of 340 in 2013-14. In addition to seeing Weisenstein's vision through, WCU has also joined 240 other colleges and universities in the U/S. who have committed to increasing their international study participation by becoming a part of the Institute for International Generation Study Abroad Initiative.
"In the pre-9/11 days, there was a larger international student population, but after the tragedy, new rules and VISA polices were introduced," Loedel said. "As a result, there was a lot of uncertainty and a paralysis in students wanting to participate in international study, or for students wishing to come here to study. Over time, the global conflicts continued, but the over arching tension in the post 9/11 world dissipated.
"Also, the growing middle class has created a demand of students who have the financial means to come to the US who are seeking furthering their study here."
The Center for International Programs has enjoyed many long-term relationships with colleges and universities around the globe, among them Guizhou University in China; the Amazon Center for Environmental Education and Research in Peru; the Universidad Nacional de Costa Rica in Heredia, Costa Rica; as well as nursing programs in South Africa; special education programs in the Bahamas; media and physics in London; language in Arentina; sports science in Germany and Trinidad and Tobago; and culture and language in Cuba.
Recently, WCU began its latest international partnership with Mary Immaculate College in Limerick, Ireland. Ken Witmer, WCU's Dean of Education, served as a visiting professor at the college earlier in his career, and was instrumental in helping bring the two schools together.
The potential for programs in Ireland isn't stopping in Limerick. West Chester is also in discussion with two other Ireland institutions to become partners: St. Patrick's College and Trinity College, both located in Dublin, Ireland's largest city.
The dynamic of the international study program at WCU is that it's a two-way street: currently, there are 126 international students studying on campus this fall -- 80 of whom are graduate students, most of whom are pursuing advanced degrees in public health, applied statistics and computer science. The Center facilitates the admissions process, manages English language training; coordinates VISA paperwork; and finds on- and off-campus housing for these students.
"The first connection they have when they come to campus is our office," Loedel said. "We want to make sure these students are integrated into the fabric of the campus as much as possible. It's also good for recruiting, because they will go back home and tell their fellow students that they received a great education and had a positive experience."
In today's global marketplace, Loedel and Conradi believe that prospective employers look for international experience more and more on the resumes of college graduates.
"Our international programs are about developing global competencies," Loedel said. "Many of our students realize that in order to succeed in today's world professionally, that they need to have some kind of global experience, and studying abroad is a vehicle for giving them that experience. They may be able to talk to potential employer about the specific challenges they faced overseas and how they dealt with those challenges."
"Employers will say to thee students, 'We're hiring you to do this job but six months from now, we may assign you to a new team in another country,'" Conradi said. "Seeing that the students had already proven that they have done something unique, that speaks well for them."
For Conradi, one of his greatest satisfactions is helping to facilitate a young person's dream to explore the world, and seeing that student come back with a new sense of confidence.
"There are some students who have already traveled a lot, so they feel comfortable with international travel, while we also have students who have never held a passport in their hands before," Conradi said. "I see in them a sense of uncertainty before they embark on their international study program, and yet, hearing later that when they got to their destination, their realizing that life is still life, even in another part of the world.
"It's so crucial to give them a sense that they can do anything they want with their life. Instead of spending the same money to go to Disney World, they can choose to go to a small Mexican village and help serve the community as a volunteer. It is a lifetime gift to be able to know that they can do this, that they have done this, and most importantly, to know just how important an impact they can make or have made with those whom they've helped."
To learn more about the Center for International Programs at West Chester University, call 610-436-3515, e-mail international@wcupa.edu, or visit www.wcupa.edu/international
To contact Staff Writer Richard L. Gaw, e-mail rgaw@chestercounty.com.
---
---
---