A refuge from the Margera mayhem

Apr 07, 2014 05:29PM, Published by Kerigan Butt, Categories: Arts+Entertainment, Business
---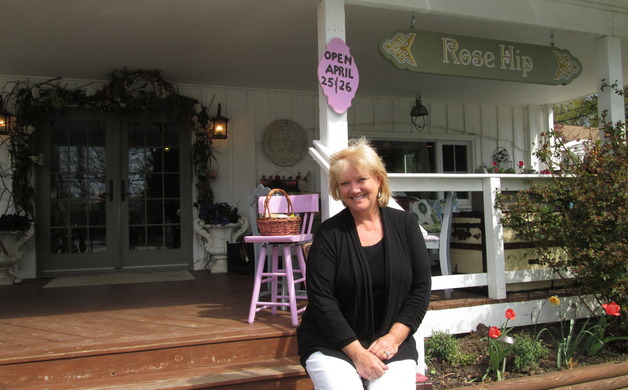 The Rose Hip Barn is open one weekend each month, offering an array of refurbished furniture and decorator items.
---
---
(Editor's note: This article first appeared in our Spring 2014 edition)

By John Chambless
Staff Writer
Sometimes, when April Margera is sanding furniture at the Rose Hip Barn, looking sweaty and unphotogenic, people will drive up and look at her.
"We had people who drove here from Michigan," Margera said during an interview last month. "I'm 58, and I'm not exactly having a good hair day, and people are like, 'Are you that lady?'"
 She grinned and shrugged. "Hey, this is what I've always wanted to do. If the show gave me nothing else, it gave me the ability to buy this barn."
The show – or, to be more accurate, the shows and movies and websites and cultural phenomenon – revolves around Margera's son, Bam. Since he was 13 years old, the 35-year-old Bam has been the gleeful Tasmanian Devil of mayhem on MTV's "Jackass" series as well as his own "Viva La Bam" and "Bam's Unholy Union" series, where he good-naturedly pranks everyone around him and usually destroys their belongings.
It's turned the Margera family and friends into celebrities. While April usually stays away from the worst of the pandemonium, she and her long-suffering husband, Phil, have been the targets of pranks that go well beyond the norm. Bam has turned the first floor of their home into a skate park. He has put a stranger into bed beside April in the middle of the night. He has blindfolded her and taken her on a hot-air balloon ride against her will. He has repeatedly filmed himself pummeling Phil for no particular reason. And then there was the paint.
"People ask me, 'What's the worst thing Bam ever did to you?'" Margera said. "It was that damn blue kitchen. Here's the deal: Everything in your kitchen is now blue. So you go into your pantry, and all the cans are painted blue. Could be tuna fish, could be cat food. We had a crew cleaning it up and repainting it, but still, to this day, I find bits of that gray-blue paint."
And that's not to mention the time Bam placed a live alligator in the kitchen, so that when April came home, she would freak out for the cameras.
So that makes the Rose Hip Barn, the business that April runs with her longtime friend, Donna Wetterlund, a serene haven. Now marking its three-year anniversary, the business in Thornton is packed with fun and tastefully designed furniture and accessories, arranged in room settings. The store is open only the last Friday and Saturday of each month, and offers a constantly changing array of bargain-priced antiques and refurnished auction finds that are impeccably selected and lovingly presented. It's kind of the opposite of the trail of debris that seems to follow her son.
Asked if Bam had ever pulled a prank on her at the store, Margera's eyes narrowed. "He knows he would be a dead man," she said.
The barn that houses the business was built in 1906, Margera said. The raw wood interior beams soaked up layer after layer of paint during renovations, and the back of the store was a workshop area "that was all oil and critters" when she bought the place, she said.
Margera has always been creative, and painted and sewed during high school in the early 1970s. She later learned furniture repainting in the 1980s "by trial and error," she said. "I'm always at the school of my own hard knocks."
Marrying Phil in 1976, when she was 19 and he was 18, Margera learned to scrimp and save, so turning castoff items into useable furniture was a necessity. "We worked three jobs between us," she said.
Phil managed a tuxedo rental store and later worked at the Acme grocery store bakeries in West Goshen and Westtown. April also sold her painted furniture at regional craft shows, under the name Enchanted April. With the birth of their first son, Jess, in 1978, followed in 1979 by Brandon – who was nicknamed Bam for his habit of running into things – the Margeras were a hard-working family that had no idea what lay in store for them.
Bam and his friends began videotaping themselves skateboarding around West Chester, as well as pulling off increasingly complicated stunts and pranks, usually involving somebody getting hurt. The early group name was CKY, for Camp Kill Yourself.
"It was not only him, it was the pack of friends," Margera recalled. "I remember being in my pajamas in the middle of a snowstorm, when Dico was riding a bicycle down South Concord Road at 2 a.m. with a tiki torch, yelling 'The British are coming!'"
The early videos of Bam and his friends riding in shopping cards and slamming into the curb or shrubs were filmed at the Acme stores where Phil worked, Margera said. Seeing her children hitting the ground, driving their bikes off the roof or plunging through tree branches was more than Phil and April could stand to watch, she admitted. "It's very hard," she said. "I can't watch some of it sometimes when he's jumping off bridges, or off hotel balconies into the pool. I've had a million heart attacks."
And grounding Bam and Jess never seemed to work.
"I'd say, 'You need to mow the lawn, and not ride the mower on the street,'" Margera said. "I came home one day from work and he'd written his name in cursive in the front yard. Then he'd mow the lawn doing 90 miles and hour and it would look like crap. He'd say, 'I knew you'd just ask Jess to do it because I stink at it.'
"He was always trying to make a deal," Margera said. "Even as a little kid, he'd say, 'So I was thinking, since it's four o'clock, I should finish the day out, and then tomorrow, because it's going to rain, I'll be grounded and be sad all day. You won't have to deal with me in the house for two days.' It actually made sense to me, which is scary.
"I punished him in very interesting ways. I remember I grounded both Jesse and Bam. I told them they didn't have to do anything but watch me all day. So I made breakfast, I cleaned up breakfast, I cleaned the bathroom, folded clothes, hung laundry. They were so bored. But they came to appreciate what I did."
With Bam's notoriety growing through his videos posted on the internet, "we'd have screenings with half of West Chester sitting in our tiny little house, and I'm like, 'I think they've got something here,'" Margera said.
"I was a hairdresser for 32 years, but I retired when we started to do the show," she said. "I never included myself in the show, but sometimes I had to show up, so I was finding myself trying to work two jobs, and I was cancelling appointments."
MTV realized a phenomenon when they saw it, and picked up Bam and company for the first "Jackass" season in 2000. That series has spawned spinoff TV shows and feature films that have made the Margera family very wealthy. Bam is equally renowned for his skateboarding, and he sells a wide range of gear under his own name. He built a castle-like home in Pocopson, and still presides over a global empire of destruction – and more than a little unheralded kindness.
"He's had Make a Wish Foundation through his home, he's done so much charitable work," Margera said. "The things he's done -- like pulling up to a skate spot, popping his trunk and giving all these kids boards and clothes. I've had people tell me how much stuff Bam has given them and I'm like, 'Really? I had no idea.' He doesn't tell us about those things."
That spirit of generosity is also part of the Rose Hip Barn, where Margera and Wetterlund turn out refurbished pieces that have a funky edge, but fit within a variety of decorating styles. They're also affordably priced. "The joy is people saying, 'This is so cool and I can actually afford it,'" Margera said. While the store is only open a couple of days a month, she's busy the rest of the time finding and fixing items for the displays.
"We're those girls who are at the auction during a blizzard, when everybody else bails," she said. "Dumpster diving, you name it. The idea is to find marvelous furniture and sell it inexpensively, because that's the fun. We have it down to a formula, but essentially we're moving in every other week," she said of the store, where room displays are completely switched out for every month's opening.
Many of the coolest items at the store are original ideas. "We try to bring the unexpected to our customers," Margera said. "For instance, curtains. What we do is take a branch, go over to Home Depot and get grass cloth, which is like larger burlap. We looped it around and stitched it on. The cost was $8 per window, and it looks cool.
"We smash silverware and use it for curtain rods. Sometimes you have to chop stuff up, turn it upside down and make something else out of it. You'd be surprised what you can do.
"We're getting pretty good at building stuff," Margera said. "There's just the two of us. We buy it all, clean it all, paint it all, recover it all, style it all, and we are living here, 12 hours a day."
Upholstery and sewing are also part of the business, and the duo has brought new life to pieces such as a Victorian setee that now looks ready for a home design photo shoot instead of being a musty castoff.
"I like the concept of taking the things that we're finding and making it all look like a home," Margera said.
The store offers wine tastings, samples of hot tea, an on-site psychic and special themes (June will be Vintage Circus at the store), and the barn can be rented for special events on the patio out back and on the large lawn. Margera is planning to have her 40-year high school reunion at the store as well.
Through it all, Margera is a genial host with a sly sense of humor and a clear-headed perspective on her life up to this point. Copies of her 2006 cookbook, "April Cooks: There's an Alligator in my Kitchen," are displayed at the front counter of the store, and she'll happily sign one for customers. And she's happy to talk about her sons with people who stop by to shop, or just to meet her.
"It's been a crazy, crazy ride," she said. "I have learned so much through my kids. I've learned to let go of things that don't matter. The ride they have taken me on ... Well, it's been very hard at times, but I've been to places I would never have imagined I'd be, and met people I never thought I'd meet.
"I remember being at the MTV Movie Awards, and Adam Sandler was walking toward our row," Margera said, grinning. "I said, 'Phil! Adam Sandler must be sitting near our row!' He comes up to us and says, 'I am the biggest fan of CKY and your family. I love you guys.' The whole time, I'm thinking, 'You know who we are?'"
For information about the Rose Hip Barn (371 Glen Mills Rd., Thornton), visit www.rosehipbarn.com.

To contact Staff Writer John Chambless, e-mail jchambless@chestercounty.com.

---
---
---