West Chester author pens novel about life at a shopping network

Apr 07, 2014 05:26PM, Published by Kerigan Butt, Categories: News, Arts+Entertainment, Business
---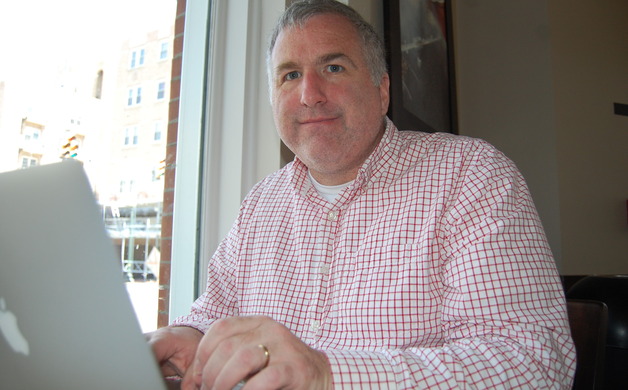 West Chester writer Jim Breslin's new novel Shoplandiais a fictional account of the 17 years he spent as a television producer at QVC.
---
---
(Editor's note: This article first appeared in our Spring 2014 issue)
By Richard L. Gaw
Staff Writer
Jake Meecham has just been hired as a new production assistant at Shoplandia, America's third largest home shopping channel. Its not where he wants to be in life. He really wanted to be working for a major network using the skills he'd developed in college, but okay, a home shopping network will have to do. Soon, he finds himself in an invented, air-climate controlled universe entirely contained within the studios where he works.
It is a world of stuff. The promotion of stuff. The marketability of stuff. The displaying of stuff. The selling of stuff. Out one door goes the sold stuff and in the other door comes more stuff, and along with the stuff comes reality TV stars, beloved country musicians, drunk baseball icons and A-Team actors, each of whom Meecham ushers through Shoplandia to help push more stuff. Shoplandia is a three-ring circus of cameras and headsets and lights and on-air hosts, and in the middle of it all, Meecham searches for his life's meaning and his own happiness.
For every ten employed individuals in West Chester commuting to his or her job every day, it is a safe bet that at least half of them have witnessed the occasional or regular insanity of their workplace and thought, 'I have to write about this place. No one would believe it. It would make a great novel. It would make a great play. It would make a great movie or a television show.'
West Chester writer Jim Breslin just has.
It is often said that which divides fact from fiction can be separated by the width of a human hair, and although Shoplandia is an invented place -- one that serves as the locale for Breslin's novel of the same name -- it is very similar to the one the author inhabited for nearly two decades. For 17 years, beginning in 1989, Breslin was a producer at QVC in West Chester, and the book, told in a series of short stories, dovetails generously with Breslin's experiences while at QVC.
"I joke that the names have been changed to protect the guilty, but every character really is fictional," Breslin said. "Shoplandia is an alternative universe. It's not QVC, but I tried to capture the spirit of the studio and the camaraderie in the studio, along with some of the mayhem."
Shoplandia is the story of life in a shopping network studio, told through not only the character of Meecham but from the view of various network employees. The characters may be fictional but what they do in the book is a reflection of what goes on every day at QVC.
It's like a freight train, Breslin said. Some days everything goes smoothly and other days, it was like mayhem. It's managing inventory, running from green room to green room, making sure the guests are on time, helping to create sets on the fly... and it was all happening fro Breslin, completely live, eight hours a day.
"There were times when I'd produce a show and it would be terrible," he said. "The graphics weren't up at the right time. A demo would be botched, and there would be a typo or two on the screen, but it really didn't matter, because sales would be great. Other days, we'd produce something that was flawless, but the sales weren't there.
"It all comes down to the product," he added. "A lot of people came to work at QVC from other networks and they wanted to produce television as art. At QVC, they eventually realized, television is commerce. The product is the star."
Anything that could happen at QVC usually did. Once, a well-known shoe designer flew from Milan, Italy to QVC, so that he could promote his newest line of footwear. Breslin found out that the designer could only speak broken English at best, and would not be able to communicate with the host, so on the fly, Breslin wrote down four easy questions, gave them to the on-air host, and gave them to the designer's manager to rehearse with his client. The guest plodded through with his four short answers and was quickly led offstage before every viewer had turned the channel.
In between, celebrities came in and out of Breslin's job, all stopping by QVC to hawk their specific products and memorabilia. Annette Funicello. Carol Channing. Mike Schmidt. Milton Berle. Mr. T. Morgan Fairchild. Richard Simmons. Julia Child. Emeril Lagasse. Joan Rivers. Of the many celebrities Breslin met, Willie Nelson was his favorite.
"Willie had these blue eyes behind this craggy face, and he was just so congenial," he said. "I thought, 'This is the coolest person I will ever meet in my entire life.'"
When he was younger, Breslin wanted to go to college to study creative writing, but his parents thought that their son should focus on something a little broader - in preparation for a career. He studied radio and television while in school, and when he began at QVC, he accepted the fact that he had to put his writing career on hold for awhile. He told himself that he would only work at QVC until he was 40 years old.
He ended up staying until he was 43. Breslin left QVC in 2008, and for the next few months, he downloaded all of his memories from his 17 years there, but soon decided that he needed some distance between the experience and the writing. While the idea for Shoplandiabegan to marinate, he wrote and published Elephant: Short Stories and Flash Fiction. His short stories have been published in Turk's Head Review, Molotov Cocktail, Metazenand other journals. He is the founder of the West Chester Story Slam, a monthly live storytelling event and podcast.
The critics have been raving about the book, which was released on May 15. "Shoplandia reveals the absurd world of home shopping networks with rollicking humor and gusto," wrote James Esch of Turk's Head Review. "Compelling and poetic, Shoplandia'stories have all the insight and complexity of the best novels. Breslin gives us a thoughtful meditation on consumerism and the American Dream," wrote Terry Heyman, the author of Greetings From Insanity.
Oxford author and bookstore owner Virginia Beards wrote that Shoplandiais "both moving and entertaining," and that the book "mingles the humor and pathos inherent in the big tent of our consumer obsessive culture."
Breslin said he is anxious to hear the reactions of friends who have worked at QVC to Shoplandia, and in fact, he dedicates the book "for those in the studio and those who watch at home." Although he likes the idea of the book potentially spinning off into an episodic television program -- maybe on HBO -- it's more important for him to spend the next few years continuing to cultivate his writing voice.
"All you can do is do your best work, and try to get better with every project," he said. "Of course, I'd be excited if this novel finds a large audience, but I can't worry too much about that. Writing for me is really about the joy of doing the creative work, taking chances, putting it out there, and getting feedback."
Shoplandia is available at several area bookstores, as well as at amazon.com. To learn more about Jim Breslin, visit www.jimbreslin.com.
To contact Staff Writer Richard L. Gaw, e-mail rgaw@chestercounty.com.

---
---
---