Jonathan Dorf

Apr 07, 2014 05:17PM, Published by Kerigan Butt, Categories: Arts+Entertainment
---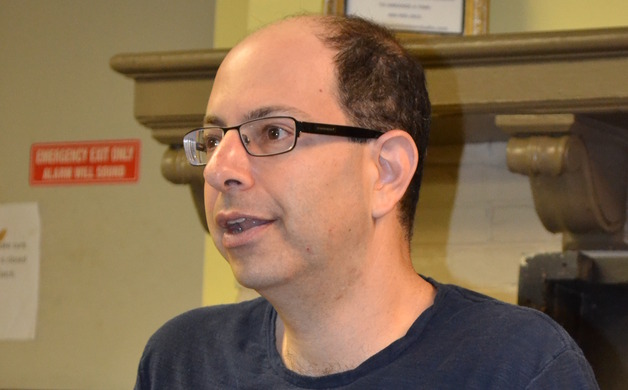 ---
---
(Editor's note: This article first appeared in our Spring 2014 issue)

During recent rehearsals for his play, "Dear Chuck" at the West Chester Studio for the Performing Arts, Los Angeles-based playwright Jonathon Dorf – who grew up in nearby Broomall and graduated from Marple Newtown High School – sat down to discuss his early influences, his writing career and what advice he would give to beginning playwrights.

Where did you grow up?
For a hot minute, I actually lived in West Chester. I attended Westtown Friends for nursery school, went to Glen Acres Elementary School for first and second grade, and then I moved to Broomall.

During your formative years here, can you point to anyone who may have influenced you as a writer?
I had this teacher at Marple Newtown High School whose name was Tom Williams. At the time, I was high school newspaper editor, began to write poetry and short stories, and was beginning to write music lyrics. In my junior year at Marple, Tom told me, 'Well, you've written everything else. Why not try writing a play?' There was a one-act festival, an Tom was a liaison in getting one of my plays to one of the student directors. That is what launched me as a playwright.

Who were some other teachers and mentors you have had?
I had another teacher at Marple named Barbara Georgio, who was always very enthusiastic about my work. At Harvard, I had a professor named William Alfred. I took his playwriting class several times. Later on, after I moved to Los Angeles to attend graduate school at UCLA. There, I had a teacher named Leon Katz, who was another shot in the arm for me. Some of my influences also come from my colleagues. Ed Shockley and I ran the Philadelphia Dramatists Center together back in the 1990s. He's always been inspirational, and has been able to provide help when I've needed it.

Every creative person has a moment when they see their work crystallize, when they decide that what had once been a mere talent becomes a passion. What were those moments for you, and where were you at the time?
The first moment I had was when my first play was performed at Marple Newtown. It was a play called, "The Storm," a bad Eugene O'Neill rip-off, but people liked it. The second moment happened while I was at Harvard. (My teacher) William Alfred sent me the final notes on plays I had written called, "Bench," and "Ben." He wrote in the notes that "Bench" was transitional, but with 'Ben,' he wrote that I had kind of hit it. He wrote that I had an 'atomic load of talent. Take it slowly and carefully.'
The third moment began happened about seven years after that. I do a lot of writing for young people now. It started when I received these commissions to write plays for young people at Choate Rosemary Hall Summer Arts Conservatory. Right around the same time, the Walnut Street Theatre in Philadelphia commissioned two plays for me, to tour to schools. Suddenly, I was writing these plays for young people, and it seemed like it was something I was fairly good at.

It has been said that you can't teach writing, that you can only encourage it. In addition to writing plays, you also teach. What is your approach to teaching and what do you want to get out of your students?
I spent six years teaching drama at the Haverford School in the 1990s, taught graduate school at Hollins University in Virginia, and now do a lot of teaching on-line. I've discovered that you can't teach talent, but you can mentor people and help them to avoid some of the pitfalls that you've notice a long the way. There are technical things that you can teach in writing, like, for instance, understanding the importance of punctuation in writing plays. Writing dialogue is understanding rhythm, and plays are like pieces of music. What I try to teach is for people to have a certain understanding of that music. It's not so much teaching as it is steering. My job is to nudge people in the right direction.

For new playwrights who are looking to produce their first play, what advice do you give them?
I suggest that new playwrights get together with actors and invite them over for a reading. Whenever I have a reading for a new play, I tell my actor friends that when they come to my apartment, they will be well fed. Get the actors together because even though a play may not be on its feet, you get to hear the words, which will get you on the path. The second piece advice is to start with a short play. It's hard to write a 90-minute play, but ten-minute play is basically about one thing, and you can write one in an afternoon.

What writers do you admire?
I think Edward Albee's work is amazing, and "Who's Afraid of Virginia Wolff" is a classic play. Tom Stoppard's "Arcadia" is just genius. I think Harold Pinter is in that same cloth, as well as Tony Kushner. Sheila Callaghan is another playwright I admire. She writes really daring, bold plays.

Dinner guests, living or not.
I would definitely want (my teachers) William Alfred and Tom Williams there, because both have passed away, and I would like to have a moment with them. I'd like Leon Katz there, because it would be entertaining to see them all around the table. I like politics, and I would love to have Barack Obama there. I would like to have a filmmaker there, as well as the members of Steely Dan. I would also like my parents in Broomall to attend, because they're awesome and they should get the opportunity to hang out.

What's your favorite spot in West Chester/Chadds Ford?
I have always enjoyed the downtown, historic area of West Chester. I like small towns with atmosphere. I also like the still-wooded areas in the Westtown area.

What food is always in your refrigerator?
I love cheese, so I'm always well stocked. I'm a foodie, so I always have some artisan goat cheese and organic Gouda varieties on hand. 

---
---
---