At Studio 882, matching people with styles that last

Apr 07, 2014 05:09PM, Published by Kerigan Butt, Categories: Home+Garden, Business
---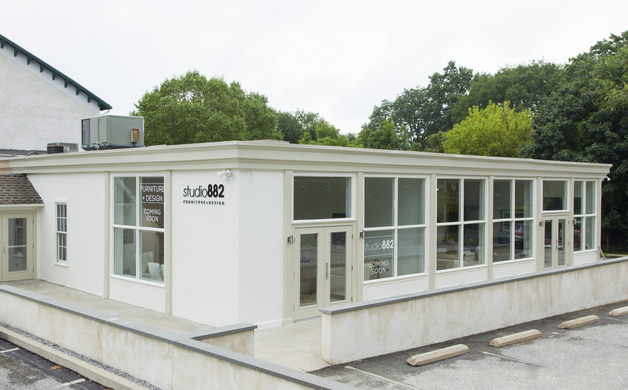 The interior design business opened last September on Route 1.
---
---
(Editor's note: This article first appeared in our Spring 2014 issue)

By John Chambless
Staff Writer
Your home might not look like Studio 882, but as soon as you enter the sleek showroom on Route 1 in Chadds Ford, you wish your home looked like this.
With sunlight streaming in from the wall of windows on one side of the building, the sleek, contemporary furniture blends with art by Peter Sculthorpe and other regional artists. The room vignettes look like an interior design magazine come to life, and the shop invites wandering. At the main desk in the showroom, you'll find Chad and Katie Groves, who run Studio 882 with the relaxed air of people inviting you into their living room for coffee.
Settling onto an immaculate white sofa next to an original Andrew Wyeth drawing, the couple explained what brought them to Chadds Ford after years of globe-hopping.
Katie grew up outside Detroit and, even as a child, she loved design. "I redesigned my bedroom every other week," she said, smiling. "I would take magazines and catalogs and cut out pictures of furniture that I really liked. I'd keep it all in a folder. I was always putting pretend rooms together and playing around. I loved fabrics -- the textures and colors -- as well as paint colors."
Her eye for proportion and design was a perfect match for Chad's extensive background in computers and business management. The couple followed jobs to Baltimore and Australia before they moved to Glen Mills to be closer to their extended families.
"We fell in love with the area," Katie said. "We're close to cities, but this area is so rich in activities for families. There's Longwood, Linvilla, and all of the museums."
"You get the best of all worlds here," Chad added. "I grew up with acreage in the South. There's not a lot of suburbs of major cities where you can get two or three acres that are somewhat affordable."
At Studio 882, which opened last September, it's easy to see why investing in furniture that's going to last is better than making do with something that's mass-produced and held together with staples and glue.
"We've been to our manufacturers' factories and seen these pieces being made," Katie said. "We've talked to the artisans. In Kindel's factory, we've seen them working on the carving and finishing. These products are being touched by hand, by people."
"There's a Kindel chair they were making while we were there," Chad said. "Bill, who was doing the carving of this piece, was going to have eight hours of work in one leg of that chair. So there are four legs, and then you haven't even gotten to the arms or the back of it yet."
Considering how often they've moved homes, the couple has spent a lot of time re-designing their living spaces and lugging around furniture that had to stand up to wear and tear. Their carefully selected list of manufacturers offers a huge range of finishes and upholstery choices, but "we only carry heirloom quality pieces," Chad said. "We make sure that whatever comes into the store, it's going to last forever."
The lines include Baker, CR Laine, Chaddock, and Kindel. They chose Kindel because Katie's grandparents' Kindel couch, from the 1950s, is still in use. Actually, the Groves recommend investing first in a good couch with good upholstery. "When you consider the amount of living that's done on a sofa," Katie said, "you have to consider how it's made, how it supports you, and how it won't break down over time."
The Groves admit they've opened up a pretty contemporary showroom in the midst of an area steeped in country traditional furniture. But they see that as an opportunity to show how antiques can blend seamlessly with contemporary styles. The showroom makes that point.
"It's surprising how well received we've been," Chad said. "As we're building this store and talking with our brands, I don't know how many of them told us we were fools," he added, laughing. "But in every room here, you'll see traditional pieces."
"All of our brands do have a certain breadth to them," Katie said. "You can find some of the more traditional pieces within their collections. They also all do custom work, so if you're looking for a certain silhouette, we can accommodate that."
In addition to working with people who want to buy just a piece or two for their homes, the Groves can take on redesign projects for people who don't quite know what they want.
Studio 882 can also connect homeowners with designers, serving as a hub for anyone updating their decor.
"We've been well received by designers in the area, so now we have a network of designers that are willing to work with people who come into the store, to help them make decisions," Katie said.
"We work with the client," Chad explained, "so the client benefits from knowing exactly what they're getting and how much it's going to cost before they've even met their designer. It's a very transparent process. We handle all the billing, all the logistics, all the paperwork, while the designers get to focus on just doing the design, which they love."
The Groves have two young children, and they're aware that the pristine white upholstery on a dining room chair is a grape-juice accident waiting to happen. The chairs, Katie pointed out, are covered in a material that sheds stains with a swipe of a wet cloth.
"We envision people just hanging out at the store," Katie said, so there's a stereo cabinet full of records that people are invited to play. The Symbol Audio cabinet is for sale, but that's not the emphasis.
"It's not uncommon to come in here and see someone with their shoes off, just kind of lounging on a sofa," Chad said. "You need 30 or 40 minutes sometimes to see if a piece works for you."
The best part of running the business, Katie said, "is meeting all the people and getting to know their personalities and what their needs are. It's helping us learn what this market is after."
The long-term relationships between clients and the Groves are also rewarding, Katie said. "We're just about ready to place rugs and window treatments in one of our first client's homes," Katie said. "We have two more whole-house design clients that are coming into fruition in the next couple of months. It's really exciting to work with these families."
As an introduction to the design process, the store's website (www.studio-882.com) has plenty of how-to sections on buying upholstery, how furniture should be constructed and how it should feel, how to customize anything in the store, as well as photos and explanations of all the brands they offer. Chad, who oversees the website design, feels that the site is an entry point and crash course for people who like what they see at Studio 882 and who want to invest in quality for the long term.
"There's an adage that good design goes with good design," Katie said.
Then, when customers walk through the door and start testing how a chair feels to sit on, they'll find out that Studio 882 is a nice place to visit, and you sure would like to live there.
To contact Staff Writer John Chambless, e-mail jchambless@chestercounty.com.
---
---
---