A walk around the bookstore with Bruce Mowday

Sep 02, 2013 07:21PM, Published by Kerigan Butt, Categories: Local History, Arts+Entertainment
---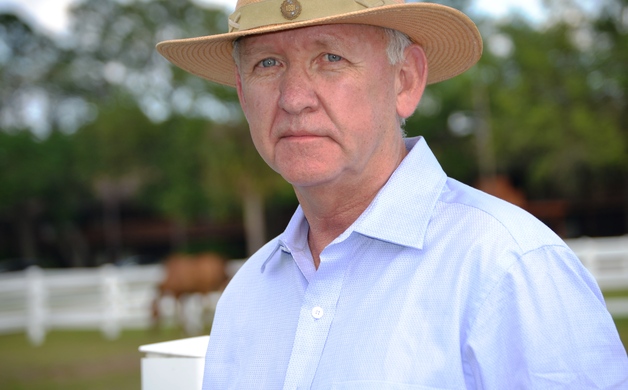 Courtesy photo Mowday's professional career has spanned more than four decades.
---
---
(Editor's note: This article first appeared in our Fall 2013 edition)
By Steven Hoffman
Staff Writer
As a young man, Bruce Mowday had three non-specific career goals: to write for a newspaper, to write for a magazine, and one day to author a book.
A naturally industrious person, he accomplished those first two goals in fairly quick order. He started covering sports for a local newspaper in 1967, when he was just 17 years old. It was the start of an award-winning writing career that continues to this day. Mowday was 50 and the president of the Mowday Group, his own media relations company, when he published "Unlikely Allies: Fort Delaware's Prison Community in the Civil War," a book he wrote with Dale Fetzer. In the intervening years, Mowday authored 14 more books, including his latest work, "Pickett's Charge: The Untold Story," which was published earlier this year. Collectively, Mowday has sold enough copies of his books to exceed $1 million.
Part of the success can be attributed to Mowday's tireless dedication to promoting the books. He has lectured in front of countless civic organizations in Chester County and participated in book-signings at libraries, universities, and bookstores all over the region. On August 15, he traveled to New York City for a talk on the Battle of Brandywine, just one of the subjects that he has written about. The talk, which was recorded by C-SPAN, took place at the historic Fraunces Tavern. West Chester & Chadds Ford Life Magazine caught up with Mowday shortly after he returned from that trip to discuss his career as a reporter and an author.
A story about Mowday's career might be titled "Sitting Down With a Storyteller." After all, the common thread woven into Mowday's work over the last 40 years is the storytelling, whether he was working as a reporter for the Daily Local News or using his journalistic skills to promote clients of the Mowday Group. He has written widely, on topics ranging from sports to true crime to business to local history, but Mowday's stories have always centered on the people. "Life with Flavor" is about Herr Foods, but the reader gets to know the company's founder, Jim Herr. "Jailing the Johnston Gang" is the inside story of the investigators who worked to bring a gang of local criminals to justice. "Pickett's Charge" focuses on the northern soldiers in the fateful battle of Gettysburg.
"They are all books with stories about people," Mowday explained. "They all have such compelling aspects for me."
For the purposes of writing this article, we take a figurative walk around a bookstore with Mowday, listening as he discusses his books and the thousands of news stories that he wrote. Mostly, we listen as he talks about the people behind these stories.
Sports
The first stop in the bookstore is the Sports section, filled with histories about the teams and the games and biographies of the great players.
When Mowday was still in high school, he started covering sports at the Coatesville Record. He was 17 that year—1967—and still in high school. Covering sports at the Coatesville Record gave him the precious opportunity to learn the basics of writing a newspaper story. He liked sports and he understood the unique language that appears on sports pages across the country. Newspapers were already in the family's blood. Mowday's father worked as a compositor at the Coatesville Record, which helped him get his foot in the door. His grandmother had shown him copies of letters that his great great great grandfather had written to the local paper during the Civil War while serving as a member of the 61st New York. Mowday's forebear had enlisted when his brother died in the Battle of the Wilderness and he wrote back small columns that appeared in the local newspaper. Mowday's cousin owned a weekly paper. Once he tried his hand at journalism, he knew that it would remain an important part of his life.
"I've been writing ever since," Mowday said.
***
In 2011, Mowday collaborated with Jim Donahue on "Richie Ashburn…Why the Hall Not? The Amazing Journey to Cooperstown." Donahue met Philadelphia Phillies outfielder (and later beloved broadcaster) Richie Ashburn as a young fan at Connie Mack Stadium. Ashburn even signed an autograph for the youngster. The book, which was published by Barricade Books, details how a professional athlete who was revered by generations of Philadelphia Phillies fans formed a friendship with a young fan. Donahue later began a campaign, "Why the Hall Not?" to get the National Baseball Hall of Fame to induct Ashburn, collecting almost 200,000 signatures for the cause. Ashburn was elected to the Hall of Fame in 1995.
True crime
In the bookstore, we walk from Sports to True Crime.
When an editor at the Coatesville Record moved to the larger Daily Local News in West Chester, Mowday reached out to him for a new job opportunity. The move to a larger paper was a big step for the young reporter. Mowday recalled that one of his first assignments at the Daily Local News was to head out to Elverson to interview a man who was living in a railroad caboose—with no information on where, exactly, the man lived. The assignment was to find the man living in the caboose and then write a story. When Mowday managed this feat, other assignments came his way. Then, one night, a reporter couldn't cover a regular local government meeting and Mowday filled in. He handled this assignment capably for several months until the county courthouse reporter quit. The editor pulled Mowday into the office and asked if he'd be interested in that position. 
"I said 'sure,'" Mowday explained. "I had never been in a courthouse in my life at that point."
He quickly learned how to navigate among the lawyers, judges, and law enforcement officials who were the key players on the courthouse beat.
"The attorneys and judges took me under their wing," he said. He cranked out one or two stories a day for the next 13 years while covering the courthouse beat, which is one of the busiest at the paper. On one particular day, he had five bylined stories on the front page.
"It was just constant," he said.
***
The Johnston Gang appeared on Mowday's radar in the mid-1970s when the criminal crew was intensifying their small-town terrorizing. They stole cars, farm machinery, construction equipment, antiques, guns, and cash totaling millions of dollars. Bruce Johnston Sr. oversaw the close-knit crime family and its extended network of thieves and fences who worked in Chester County, Lancaster County, Maryland, and Delaware. He was helped by his brothers, Norman and David. Bruce Sr. was still a teen when he embarked on his life of crime and served to jail terms for larceny before he emerged from prison as a much more dangerous man.
Determined not to return to prison, Johnston Sr. ran the gang with an iron fist. His son, Bruce Johnston, Jr. joined the family business in 1977 as part of the so-called Kiddie Gang, comprised of apprentice criminals in their teens or early twenties. Junior had been raised by his mother, who was estranged from his father. Father and son bonded through their criminal activities, but Junior had a lot to learn. It wasn't much more than a year after joining the gang before Bruce Jr. was arrested for larceny and facing prison time.
Police offered the young man a deal if he would testify in front of a federal grand jury against the rest of the gang. He reportedly refused initially, although he and his girlfriend, Robin Miller, were determined that he would not continue to lead a life of crime. When Little Bruce was still in prison, Bruce Sr. and another associate took Miller to see Bruce Jr. After the visit, they ended up in a motel where, according to Miller, she was persuaded to drink nearly a quart of whiskey. She also thought that she was raped while she was unconscious. She wrote Bruce Jr. a letter about this and he was infuriated. He decided to get back at his father by testifying about the gang activities.
Bruce Sr. responded by putting a contact out on his son's life.
Bruce Jr. was released from prison and on Aug. 30, 1978, Bruce Jr. and Miller drove to her home so that she could feed the cats. As they got out of the car, two people emerged from the darkness and started firing at point-blank range. Miller was shot in the face and ran into the house where she died. Bruce Jr. was hit three times in the head and six times in the back, but he managed to stagger into the house and call police.
Mowday recalled that he was driving on the Pennsylvania Turnpike heading to Harrisburg when he heard that Miller had been shot and killed.
"There was a big story here," Mowday said. "Things like that don't just happen in Chester County."
Despite the massive injuries, Bruce Jr. lived to testify against his family. Four months after that blood August night, Bruce Jr.'s uncles, Norman and David, were charged with the shootings. The stage was set for the most closely watched trials in Chester County history, and Mowday found himself with a front row seat.
"I was writing something on the Johnstons every day for the next three years," he explained.
It turned out that when gunmen took aim at Bruce Jr. and his girlfriend, it was the culmination of a very violent month for the Johnston gang. Two weeks before Bruce Jr. and Miller were shot, three members of the Kiddie Gang had been killed. Jimmy Johnston, Dwayne Lincoln, and Wayne Sampson were shot and buried in a common grave. When James Sampson, the older brother of Wayne Sampson, demanded to speak with his missing brother or he would contact the authorities, he, too, was shot and killed. His body was supposedly dumped in a landfill in Chester County, but has never been found.
The trial of Chester County's most notorious criminals garnered a great deal of attention. The New York Times covered the trial. A writer from Esquire Magazine did a feature on the case. Reporters from daily and weekly papers in the area attempted to unearth the latest scoops.
"There was real competition among the reporters then," Mowday said. "But the real pressure was to get it right."
Mowday developed sources and carefully reported stories about the case. He recalled a time in the midst of the trial when he received a call from a law enforcement official who he had gotten to know. It was New Year's Day, and the official had had a little too much to drink. He told Mowday that all the newspapers were getting an important fact about the case all wrong. Rumors had been running rampant about which former Johnston gang members were now cooperating with authorities to provide evidence against Bruce Sr., Norman, and David. Ricky Mitchell, a gang member who had confessed to his part in the slayings, told investigators that Bruce Sr., David, and Norman had taken the three Kiddie Gang members out and shot them in a field in Chadds Ford.
 Bruce Sr., David, and Norman were convicted of multiple murders and incarcerated. Bruce Jr. entered the Witness Protection Program but eventually returned to the area—and his family's lawbreaking ways.
In 1986, the saga of the Johnston Gang was turned into a movie called "At Close Range." Christopher Walken starred as Brad Whitewood, Sr., the character based on Bruce Sr. and Sean Penn played Brad Whitewood, Jr. based on Bruce Jr.
"As a movie, it's okay," Mowday said, explaining that he understood why its producers took creative license.
Mowday thought the story would make a good book. But initially there was no interest because it was a story without any sympathetic characters. The movie had played with the truth enough to create sympathetic characters, but a book about what really happened couldn't do that.
Covering the Johnston Gang for so many years helped Mowday hone his reporting skills and it advanced his career at the Daily Local News. He eventually became the paper's managing editor.
Eventually, he decided to put the time in to research a book about the Johnston Gang without having a book deal in place. He was no longer a full-time reporter at that time and he felt like he'd earned the right to take on a labor of love.
"It was such a big part of my life for so long," Mowday said.
"Jailing the Johnston Gang: Bringing Serial Murderers to Justice" was published by Barricade Books in 2010. The 272-page book focuses on the efforts of the law enforcement officials who placed their own lives in danger to bring the Johnston Gang to justice. The book has already sold between 7,000 and 8,000 copies, and Mowday isn't surprised by its success.
"Readers, especially in the tri-state area, have been receptive to the book on the Johnston brothers," he said. "The Johnston murder spree has impacted many families in the area."
"Jailing the Johnston Gang" also ranks among his most popular talks as well. In March 2014 Mowday will be doing a lecture at the Homicide Investigators Conference.
History
After so many years spent doggedly covering the courthouse beat and the popularity of Jailing the Johnston Gang, one might assume that Mowday's favorite place in the bookstore is True Crime. It is not. His interest in history goes all the way back to his childhood, when his parents, Raymond and Ruth, took their three children—Bruce, Barry, and Bonnie—to the Brandywine Battlefield Park on Route 1. He served on the board of the Brandywine Battlefield Park Associates, which sponsored Revolutionary War reenactments at the battlefield in Chadds Ford.
***
Mowday decided that he wanted to write a column about the Battle of Brandywine. He went to the local bookstore to see what books were available on the subject. He was disappointed to find that, despite its importance, there were no books that focused exclusively on the battle. The Battle of the Brandywine was the largest land battle of the American Revolution and was Washington's main defense of Philadelphia. Washington's Army almost ceased to exist after the battle, and the loss led to the Continental Congress fleeing Philadelphia and the long winter at Valley Forge. Larger works on the American Revolution reduce the battle to just a few paragraphs or several pages. Mowday wanted to tell the full story.
He spent six years researching what turned out to be "September 11, 1777: Washington's Defeat at Brandywine Dooms Philadelphia." The book was published by White Mane Books of Shippensburg, Pa. in 2002. It is a rich treasure of information for historians.
Mowday explored another aspect of U.S. history when he co-authored "Unlikely Allies: Fort Delaware's Prison Community in the Civil War." This book details how Confederate prisoners were held in Fort Delaware, located on a small piece of ground, Pea Patch Island, in the middle of the Delaware River. Mowday focused the story on people—the northern guards who were trying to endure the desolate outpost and the southern prisoners who were just trying to survive.
Mowday wrote about the Civil War again when he completed his most recent book, "Pickett's Charge: The Untold Story," which explores what the Union soldiers endured during the fateful effort. The book details the Union defense of Pickett's charge at Gettysburg on July 3, 1863. 2013 marked the 150th anniversary of the monumental Civil War battle. Earlier this year, he went to Gettysburg National Park as part of the 150th anniversary of the Battle of Gettysburg.
"I had a great opportunity to speak at Gettysburg during the celebration ceremonies and also to appear live on the Pennsylvania Cable Network during the festivities," Mowday said.
He explained his goal for the book. "About four years ago, I stood near what is known as the High Water Mark of the Confederacy and looked across the field where the charge took place. I knew a lot about why Lee had to make the charge, General Lonstreet's reluctance to make the charge, and the Confederate soldiers who took part in the charge," Mowday explained. "As I looked to my left, I realized I knew little of the union defenders. They had a gallant story to tell. The books that I saw on Pickett's Charge had 90 percent or more of the book devoted to the south. My book has 90 percent of the information on the North."
Local interest
We move from the History section to the one with books that are on subjects of local interest.
Mowday grew up in Chester County so writing for the local newspaper only deepened his appreciation and understanding of people in the area. He briefly left the area on several occasions for newspaper jobs, but each time he happily returned to Chester County, his home.
Some people venture far away for college, but Mowday decided to enroll at the the Institute of Computer Management in Philadelphia, where he earned a degree in computer programming. He also studied history and journalism at West Chester University.
During his early days at the Daily Local News, he got to know West Chester and its people very well. He got to know so many people, in fact, that when he would walk down the street with his children, they would complain about how long the walk would take because he was always stopping to talk to people.
"I always tell people that my favorite job was being a reporter for the Daily Local News," he said. "I really got to know the town and the people."
Even today, Mowday feels a connection with many people and businesses in the area. He frequently sees people that he knows when he goes to the post office or stops in the grocery store.

"It does make you feel like a part of the community," he said. "That does make you feel good."

It should be no surprise that Mowday has lived most of his life not too far from West Chester.

"I say that I'm like an iceberg. I move east a couple of miles every decade," he joked.

***

Local history has been the subject of a handful of other books that Mowday has written. They include four pictorial history books for Arcadia Publishing that spotlight West Chester, Coatesville, Downingtown, and Along the Brandywine River. He published a book "West Chester—Six Walking Tours" that highlights some of the history and architecture in West Chester, as well as "Republican Party in Chester County, PA," which was researched and written to honor the 150th anniversary of the founding the Republican Party in the county. It recounts those that formed the party and those that supported President Abraham Lincoln, the first Republican president.

Whenever he writes about history, part of the objective is to increase readers' interest in the subject and have them go on to read other books about the same topic.

"Hopefully, I've helped get some people interested in history along the way," he said. "I hope somebody reads my book and then goes to do some of their own research."

Business

After running his own business for 15 years, Mowday feels right at home in the Business section.

Mowday worked his way up to the managing editor position at the Daily Local News. As an editor, his days were filled with various duties, ranging from managing the staff to editing stories to handing out story assignments.

"I was not writing and reporting," he explained.

So in 1997, he decided it was time to try something new so he left the newspaper and founded the Mowday Group, a media relations company.

He laughs at the memory of the early days of his business.

"I didn't do a business plan. For a year, I wasn't sure when the net client was coming. But I'm glad I did it. It gave me time to write. And I like being my own boss."

Today, the Mowday Group handles six or seven assignments a month, with regular clients including the county commissioners, Longwood Fire Company, law firms, and numerous non-profit organizations.

Mowday also offers publishing and consulting services for writers who are seeking publishers, and offers writers guidelines on how to maximize sales and hold successful book-signings. He can also help them find a publisher or agent. Through his Brandywine River Publishing, Mowday offers author services including writing coaching, publishing consulting, book-marketing, proofreading, and book design and printing.

He wrote "The Selling of an Author: A Marketing Guide for Writers to Increase Book Sales" to make other authors aware of the need to work to promote their work, and to provide them with unique ideas to increase sales.

Mowday's own success at marketing his books makes him an ideal candidate to help others. He holds talks continuously, averaging more than one talk a week. He might make 60 or 70 appearances a year.

"I love going around and talking to people," he said. "A lot of writers and authors might want to write the book and just send it off."

Mowday said that doing lectures was easy for him. Whenever he's about to do a new talk, he writes out a script and then evaluates the audience and makes adjustments on the fly.

"Usually, by the third time that I'm talking about a book, I don't take any notes with me," he said. "I never give the same talk on a book."  

***

As a reporter in Chester County for more than 25 years, Mowday knew all about the accomplishments of Herr Foods founder Jim Herr. Herr is a small business legend who started his snack food company with just $1,800 and he steadily grew it into one of the largest and most successful snack food companies in the region. Mowday worked closely with the Herr family as he wrote "Life with Flavor," a history of one of Chester County's largest and most successful companies. Jim Herr believed that small businesses made the country strong, and "Life with Flavor" is filled with the entrepreneur's insights and viewpoints, including his personal beliefs on life called "Chips of Wisdom."

Mowday said that he thoroughly enjoyed learning so much about the Herr Foods founder before he passed away in 2012.

"He was such a good guy and so likable," Mowday said.

The Herr book led to another entrepreneur asking him to work on a company history as Mowday was enlisted to write about the Lancaster-based High Industries. The company, like Herr Foods, is a successful family business. High Industries is well known for its work on high-profile construction jobs like the Tappan Zee Bridge.

"They were open, honest, and fair to work with," Mowday said of the project.

Mowday also wrote "History of A. Duie Pyle Company: The First 85 Years" which follows three generations of the Pyle-Latta family as they built a small company into one that operates 30 facilities and employs more than 2,000 people.

Biography section

Our last stop in the bookstore is the Biography section, a favorite spot for Mowday because here you find nothing but stories about people. What has spent most of his professional life doing other than successfully, skillfully telling stories about people?

His resume is filled with awards and accolades. In 1998, he received a First Place award for Public Service and Investigative Reporting from the Pennsylvania Newspaper Association. He won three Pennsylvania Newspaper Association awards, including one in 1996 for a collection of columns he had written. He was the recipient of four First Place and one Second Place Pennsylvania Bar Association Schneider Awards, as well as a Third Place Temple University Journalism Award. He shared awards from the Philadelphia Press Association and was part of the team that received national recognition for a special feature section. He received a special award from the Chester County Bar Association's Defense Lawyer's Division for reporting on constitutional rights. He directed numerous projects as City Editor that won state awards, too.

In 2008, he was named a Local Author Hero by the West Chester Library. And in 2011, the Chester County Library honored him by including his name on the library mural. The library held a contest for patrons to help select the author names that would appear on the mural and Mowday was among the 27 writers who were selected.





More gratifying for Mowday than the awards was the opportunity to serve the public as a journalist who could keep an eye on elected officials and public servants.

"My biggest disappointment about journalism today," Mowday said, "is that the news staffs are too small and reporters can't be there looking over the shoulders of public officials. The public is really missing out."

He said that his favorite part about his career as a journalist was the chance to write something that matters. He wrote a weekly column at the Daily Local News for 20 years. Some of the columns would be amusing. Others would be informative. Then, sometimes, he write about someone who needed help.

An example: One time, an attorney that he knew shared a story of a grandmother and grandfather who were talking care of a young grand child whose mother had died in a traffic accident. It was close to Christmas, and the grandparents needed financial help. Mowday wrote a column about the family's struggles and a service club took up the cause.

Another time, a woman who had made a lot of mistakes in her life was genuinely trying to turn her life around. She was trying to maintain custody of her child, but couldn't afford a lawyer. Mowday wrote a story and a local lawyer offered to represent the woman.

"What I wrote really helped some people along the way and it's very gratifying when you can see where your writing helped somebody," Mowday said. "Those are the victories that you can look back on and feel proud."

***

Mowday's ideal workday begins at 6 a.m. He starts out by sorting through his emails and reading various news sites before he settles in for that day's writing.

"My best writing time is from 6 to 10 in the morning," he explained. "Usually, by 9 o'clock, I'm getting a phone call or an email that leads me in a different direction. There's a lot of times when I'm working on six or seven different projects at a time, so scheduling is very important and so is organization. My books usually require a lot of research and the organization of a lot of facts. It's a big investment in time."

Even so, Mowday enjoys the process of coming up with a new idea for a book, spending countless hours researching the topic and then verifying the facts.

The reward comes when he sees another one of his books in a bookstore, or when he can talk to a group of people about his latest work. He loves receiving correspondence from his readers. For instance, he received the following email from a reader who enjoyed "Pickett's Charge."

"I don't know as much as I should about the Civil War, just what I remember from Ken Burns' excellent series. I know enough though to appreciate how pivotal the battle of Gettsyburg was to determining the outcome of the war. My interest was again renewed as I read the forward and the first couple chapters of Pickett's Charge. The narrative drew me in and I ordered dessert at the Gap Diner just so I could read further."

It is comments like this that motivate Mowday when the writing is difficult or the research is too daunting. He is proud of the fact that he was able to give the police and investigators their due for jailing the Johnston Gang, and that he helped the Herr family share the message that they wanted to convey—that through faith and hard work, you can succeed. That message will be there for as long as hardback, paperback, or digital copies of "Life with Flavor" exist.

When asked about his talents as writer, Mowday humbly said that his writing style is effective because it allows the reader to easily follow the story.

"I think I stretched my natural talents as far as I could," he said. "I'm good at getting the facts right."

Perhaps another talent is his ability to decide on the subjects that he's going to write about. From the book about the investigators who stopped the most notorious gang in the area's history to the book that helps writers sell their work to the books on local history, every book has a purpose.

So what will Mowday write about next?

"There is one book that I would like to write," he said, explaining that after talking at length to investigators about the case where thieves attempted to steal valuable Wyeth paintings, he would like to write about that incident. He even has a likely title: "Stealing Andy Wyeth."

Betsy Wyeth is a little skittish about the idea, so Mowday isn't sure if he will move forward with the project.

You can bet that he will be hard at work on his next book soon.

"I don't usually just sit back for too long," he said. "I'm always looking for that next book."


To contact Staff Writer Steven Hoffman, email editor@chestercounty.com.
---
---
---