The battle still rages for members of the Civil War Round Table

Sep 02, 2013 07:18PM, Published by Kerigan Butt, Categories: Local History
---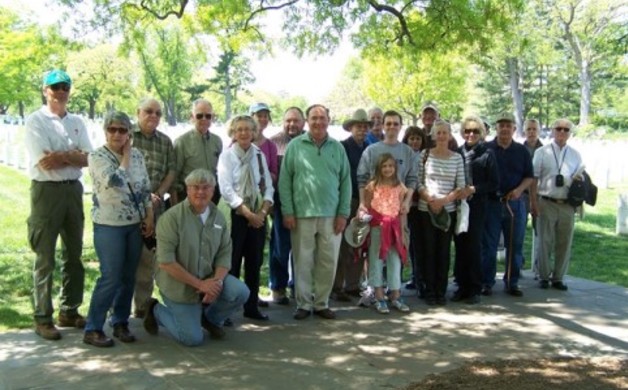 Members of the Brandywine Valley Civil War Round Table took a trip to Arlington National Cemetery this year.
---
Gallery: The battle still rages for members of the Civil War Round Table [6 Images] Click any image to expand.
---
---
(Editor's note: This article first appeared in our Fall 2013 edition)


By John Chambless

Staff Writer

You probably think that the Civil War ended done a long, long time ago.

But you're wrong.

To the 50 men and women who attended the September meeting of the Brandywine Civil War Round Table in West Chester, the epic conflict will forever be a source of fascination and debate. The group, which formed in 1987, meets on the first Wednesday of the month from September through June in the West Chester Municipal Building. Each meeting has a guest speaker, a business discussion, a fundraising book sale table, and a chance for about 100 members and guests to discuss what's new in the vast world of Civil War devotees.

A recent issue of Civil War News, a monthly newspaper, was placed on each seat at the September Round Table meeting. The guest speaker, author Ed Bonekemper, writes book reviews for the paper on aproximately 300 of the books published each year about the Civil War. Bonekemper lives in Lancaster County and has written five books focusing primarily on Ulysses S. Grant, Robert E. Lee and Gen. George McClellan. "If you can understand Grant, Lee and McClellan, you've got a pretty good handle on the Civil War," Bonekemper said in his opening remarks.

For Round Table president Chip Crowe, the Civil War "is a purely American event. It's not something where we went off to Europe. There's also the complexitities of all the personalities."

Crowe recalled how his grandfather would take him to visit Civil War and Revolutionary War forts and battlefields.

That early interest in history has sparked a lifelong passion, particularly for research. While Crowe's ancestors didn't come to America until 15 years before World War 1, his mother's side of the family might have some members who took part in the Civil War, Crowe said. Further research may reveal who they were.

"My thesis in academics was on medieval military fortifications during William the Conqueror's conquest of England," Crowe said, "But I can't go to England every day. I can go to Gettysburg every day if I want to. I mean, the books are great, but you can go to walk the grounds and see what they saw. To me, that's so much more valuable."

Crowe also attends the World War II Weekend held each year in Reading. The strong interest in World War II among historians and authors is helped because there are people alive who can remember the conflict. The Civil War, which was fought in the farm fields and hilltops and back yards of ordinary people, has become a world of its own, where mythology and military maneuvers blur together.

Crowe, who lives in Downingtown with his wife and two young children, works in the pharmaceutical industry. He has taken his kids to visit Civil War sites. "My hope is that someday they will come to appreciate it," he said with a laugh. "Mostly we go to Gettysburg, I drone on and on, and they say, 'Yeah, we know. Somebody died or fought here.'"  

Most of the Round Table members are at or near retirement age, but their zeal for the arcane details of military campaigns is undiminished.

"That's what's so interesting," Crowe said. "Someone may have some valid theories, and then someone else could give some completely different theories, like, 'Lee said that, but he really meant this.'"

The debate can get a little heated in some circles across the country, he admitted. "Southern groups devoted to the Civil War take a different view of the conflict that groups in other areas of the country. And there are thousands of Civil War discussion groups. "Let's be honest, there are still folks fighting the Civil War down south," Crowe said. "And I understand that, to an extent, but I completely disagree with their views. They had ancestors who fought, sure. They think, 'I don't want to go against what my great-great-grandfather did, even though he was fighting to uphold the abhorrent practice of slavery.'"

The primary mission of the Brandywine Civil War Round Table is to raise funds toward preservation of battlefields and other war-related sites. Over the years they've been in existence, they have raised and donated some $32,000 to groups that purchase threatened properties and save them from development. Although it's a team effort, the current vice president, Bob Sprague, has been a key player in the efffort to raise funds. A few years ago, the Civil War Trust named the Brandywine Civil War Roundtable as the "Roundtable of the Year" for its dedication to battlefield preservation.

Crowe pointed to Gettysburg as an area that has lost much of its northern acreage to housing development. The problem with the Civil War is that it covered a lot of ground, and much of it is now prime real estate that someone wants to build on. To those who revere the sacrifices made by soldiers in the Civil War, however, each acre is sacred ground where someone's ancestor died. The Civil War Trust, one of the largest preservation groups, has preserved some 35,000 acres. Crowe is proud that the Brandywine Valley Round Table steps up and makes a difference.

On Sept. 7, members of the group attended the dedication of a state historical marker placed at Oakbourne Road and Trellis Lane in Westtown Township to commemorate the 2,000 paroled Union soldiers who were captured during the Gettysburg Campaign and held at "Camp Elder" for two months in 1863. The marker is a direct result of longtime work by the Round Table and its members, but treasurer Dave Walter was instrumental in getting it placed.

In the world of Civil War devotees, there's plenty of room for everyone. Some people zero in on the military maneuvers and why they succeeded or failed. Some collect artifacts from the battlefield. Some dress up as soldiers and sutlers and take part in re-enactments of key battles. There's an entire industry that supplies everything from tents to hard tack to cannons for re-enactment groups. Other people are armchair historians who enjoy learning about how the personalities of generals clashed or meshed, and the effect that small events had on the outcome of the war.

The Brandywine Valley Round Table says in its statement of purpose, "We are an organization of diverse people brought together by our common interest in the American Civil War. This interest can range from the casual to the obsessive. We intend to tailor our activities and presentations to appeal to all of our members, novice or expert."

Dues are $25 for the year ($15 for students). For more information, and a schedule of upcoming meetings and trips, visit http://bvcwrt.home.comcast.net.


To contact Staff Writer John Chambless, e-mail jchambless@chestercounty.com.
---
---
---