Fit Ryde, wild ride

Sep 02, 2013 07:15PM, Published by Kerigan Butt, Categories: Recreation, Health
---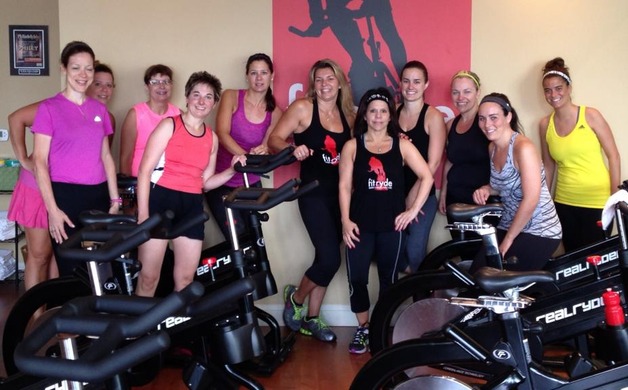 Courtesy photo Erica Burns, center, and some of her students, before a class at FitRyde.
---
---
(Editor's note: This article first appeared in our Fall 2013 edition)

By Richard L. Gaw
Staff Writer
One by one, accompanied by personal towels and water bottles, 13 women of varying ages and sizes enter the FitRyde Indoor Cycling & Fitness Studio in West Chester on an early Wednesday morning, ready to endure a ride on a stationary bicycle that will take them to places that, up until seven months ago, they had never been.
Greeted by FitRyde owner Erica Burns, each woman approaches a bike and adjusts it to their specifications. The early autumn sun shines through the front window, and the mood in the studio is both conversational and enthusiastic. From her own bike, Burns begins the class with an exuberant blast of '70s BeeGees tunes and Michael Jackson songs from the '80s, and very soon, the studio is pumping in time to the music. The energy is infectious. There is no workout drudgery here.
Fourteen pairs of legs churn, and then, suddenly – and here's the beauty of this class – the riders take Burns's directions and, in perfect timing, shift their weight on their steering wheels to the right, and then, just as quickly, to the left. For a minute, they shift from side to side, using the technology of the machine to maximize their workout. They are no longer mothers and students and retirees, but closely resemble a clump of competitors descending a mountainside in the Tour de France.
"Your legs are on fire!" Burns says to her class. "Keep it going.  Make it work ... Fifteeen seconds ... Come on, show me some speed ... It's your ride. Own it ... and four, three, two and one ..."
In the seven months she's owned Fit Ryde, Burns has built up a cult following of regulars, from as far away as students from the University of Delaware, stay-at-home mothers from Wilmington and Greenville, and residents of Chadds Ford and West Chester.
"My clients are real people," Burns said. "The reality is that our population is getting older. I not only have athletes and outdoor riders in top physical shape coming in to take classes, but seniors as well. Two of my older students have heard from their doctors, who have told them that they're knocking on the door of cholesterol and circulation problems, and that they need to do something more than walk around the neighborhood. They come with a purpose, and I'm personally vested in their lives."
If the 13 women at Fit Ryde on this particular morning are able to move with the shifting grace of top professional athletes, it's due in part to the equipment they're on.  RealRyder indoor cycles are positioned on articulating frames which allow riders to turn, tilt and lean, very closely matching the body movements and sensation of actual bicycle riding. Over the course of a typical 45-minute class, riders get a comprehensive, cardio-intensive upper and lower body workout.
RealRyder bicycles have been proven to burn 20 percent more calories per hour compared to traditional stationary bikes, and it's not uncommon for a RealRyder participant to burn in excess of 500 calories during a 45-minute session.
"Regular spin classes give me a workout from the waist down, but these bikes are unique because they move," said Rima Vanhill-Seal, who visits FitRyde four to five times a week. "It's not just bikes here. This studio helps us work on our abs after class, through body scultpting and boot camps. You come here and get the aerobics, as well as the muscle toning."
Eight years go, soon after she had her second child, Burns began conducting stroller aerobics classes on the boardwalk in Long Beach, Long Island, where she lived. The classes were instantly successful, and led to other classes at other area studios. Soon, she obtained her trainer certification, passed all the tests, and began as a fitness instructor at local fitness centers on Long Island.
Charting the course of his wife's journey in fitness, Burns's husband encouraged her to form a business. The family moved from Long Island to Kennett Square last August, and within weeks, Burns put her enthusiasm and experience, as well as her business degree, to work in establishing Fit Ryde Indoor Cycling & Fitness Studio.
One of the reasons the classes at Fit Ryde – Burns teaches 15 per week – have become so successful is partly because of their safety factor.
"The ride is much safer than attempting the same thing on a Chester County side road or around the streets of West Chester, and it's a better experience than just working on a stationary bike at home," Burns said.
When personal trainer Stephanie Teixeira saw that the newly opened Fit Ryde was five minutes from her home, she wanted to know how the RealRyder program would complement her regular workouts. "I was hooked instantly, not only because of the workout, but because of Erica, who is totally off-the-hook enthusiastic and encouraging," said Teixeira, who since then has become a certified RealRyder instructor and teaches classes at Fit Ryde. "Here, we're able to take something that has an athletic foundation and expand it to every population. We see amazing results, and the most important thing to remember is that it's a lot of fun."

For Diane Lynch of Wilmington, finding the Fit Ryde studios and incorporating her visits into her fitness lifestyle has helped to transform her dedication to health. With the help of three visits to Burns each week and a Weight Watchers diet, Lynch has so far lost 34 pounds en route to a desired weight loss of 55 pounds.

"I needed something to continue to kick it up a notch, and I am seeing results," Lynch said. "It's given me back my waistline. I tried yoga, I tried water aerobics, but this studio gives me what I need. You have to find what really motivates you, and once you find that and lock it in, you've got it. Erica is the best motivation. She's upbeat and makes you feel like you can do it."

FitRyde has not only introduced a new era in indoor cycling to the community – it's the only RealRyder center in Chester County – it has not forgotten that for many people, a workout represents only a small portion of their day. To help accommodate busy students, businesspeople, parents and seniors, a quick registration and bike reservation can be done by phone, e-mail or online in advance, so that if a participant is running a few minutes late for class, he or she does not have to worry that there won't be a bike waiting at the studio.  

At the 45-minute mark, damp towels droop from handlebars, and mouths now hang open, panting for breath. Hair, which at the beginning of class was combed and clean, is now limp and dripping. Ten of the 13 women climb off of their bikes and follow Burns to an upstairs loft, and for the next 15 minutes, they use small kettle bells to further improve their upper body strength and define the core.   

"I'm not just selling the RealRyder experience, I'm selling a full-body workout that encourages participants to get toned, burn the calories, build endurance, and get more energy," Burns said. "When I opened my doors for the first time, I told my husband that I didn't want to just own a fitness studio. I wanted to build a culture, in a comfortable setting where everyone knows your name. I see the friendships building, and the accountability not only to me, but to each other."

Visit FitRyde at www.fitryde.com, or call Erica Burns at 516-425-3289. Special packages are available, and the first ride is always free.


To contact Staff Writer Richard L. Gaw, e-mail rgaw@chestercounty.com.
---
---
---