Nicole & Jermaine

Sep 02, 2013 07:09PM, Published by Kerigan Butt, Categories: Health
---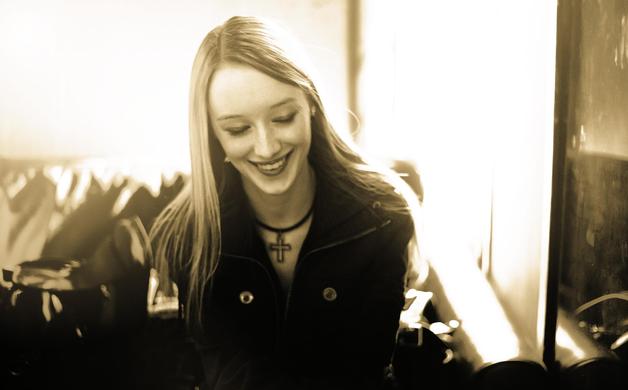 Courtesy photo Local performer Nicole Zell is on the board of directors of the Chester County Suicide Prevention Task Force.
---
---
By Richard L. Gaw
Staff Writer
On the surface of things, it could be said that 20 year-old Jermaine Tonkes of the Netherlands had it made.
A gifted songwriter and musician, his work played out on YouTube for all the world to see, and he was attracting notice from thousands of viral heads who came to love his music -- songs lined with hope and redemption.
In 2008, 4,000 miles away, Nicole Zell of Honey Brook, then barely a teenager, first came upon one of Tonke's on-line videos. The diminutive blonde with the oversized guitar, the heavy lyrics and the soft, lilting voice was already beginning to make a name for herself in Chester County and on YouTube, so finding Tonkes was like encountering a transatlantic friend.  
"A girl from the Netherlands, a huge music fan and a friend of Jermaine's, loved my music, so she connected us together," Zell said. "I was so blown away by the depth of his songwriting, of his voice, that I recorded a harmony to one of his songs and sent it to him.  We immediately connected.  We were like kindred spirits."  
Eventually, they both got Skype in the fall of 2008, and soon after, they were speaking to each other nearly every day. They would write songs together, they recorded and posted a Kings of Leon song together, and over time, they became best friends, without ever having once been in each other's company.
It is often said that in order to find the truth of an artist, one need not search any further than the work he or she creates. Zell loved Tonkes' songs for their intensity; they were personal, visionary and far reaching. They seemed to have hands that reached out and touched something that most popular music never did.  Looking back, she now sees there were warning signs of depression in Tonkes and only wished she would have known then. In 2012, both were about to graduate – Nicole from high school and Jermaine from the local university he was attending. Their last Skype was in April 2012, at a time when Jermaine began a rise to fame through his YouTube videos. He began to perform live shows. Hundreds came to see him. He was reaching a million views on Youtube. When he wasn't performing, he was shooting videos. He was taking beautiful photographs. Art was pouring out of him. He was beginning to enter into the slippery slope of a well-known life. In the spring of 2012, he created a video called "The Last Dream." In it, a teenage girl has a nightmare that she commits suicide by leaping before a train.
Tonkes loved the American Dream, and he wanted to become a part of it. Nicole and Jermaine always planned to be in a band together and pursue their mutual love for music one day.  They planned to visit each other, but school and other commitments kept getting in the way.
On July 9, 2012, he messaged her from the Netherlands after they had spoken for awhile. "Hey, Nikki, long time no see." She quickly messaged back to him. He never responded.
When she arrived home that Sunday night, she saw on Facebook Jermaine had posted a goodbye letter on his page.  Shocked and in panic, Nicole immediately tried to call him and reach his friends in the Netherlands, 4,000 miles away. She stayed awake all night long. Finally, around two or three in the morning, the friend who had introduced them called Nicole and told her he was gone. Jermaine had taken his own life.
"I remember collapsing on the bedroom floor and crying hysterically with my mom," Zell said. "It was an out-of-body experience. I was literally on my knees begging God that it wasn't true."
Nicole wrote his eulogy and sent it to Jermaine's family. It was read at his funeral, before his family, his friends, and his fans.
In the aftermath of the tragedy, Zell remembered a small snippet of dialogue they shared during one of their many Skype phone calls. The deal was that whoever left this life first, the other would spend the rest of theirs helping to spread the other's music.

Shortly after his death, Nicole began the Djurmaine Campaign, a movement that strives to keep Tonkes' dreams alive by helping the people of Africa and battling suicide and depression by creating awareness and prevention knowledge. The Djurmaine Campaign released an online album of some of Jermaine's original songs last October, and proceeds from the sale of the online album have gone towards Heifer International, an organization that provides relief to the citizens of the continent of Africa, as well as to "To Write Love on Her Arms," an organization that helps battle suicide and depression.  "Jermaine always said he knew he was going to help Africa one day.  He didn't know how, but he knew he would.  So Djurmaine Campaign wants to make that a reality," Zell says, now 18. "I know that Jermaine would have wanted something positive to come out of this tragedy. It's no longer 'What if?' but 'What can we do now?'"

For Zell, her mourning had begun to take shape not only through the campaign, but soon after, with the Chester County Suicide Prevention Task Force (CCSP). In the weeks after Hurricane Sandy devastated entire towns along the Mid-Atlantic, Zell performed a benefit concert at the Hood in West Chester. In the audience was Tracy Behringer, CCSP's coordinator. She asked if Zell would like to perform at the task force's Jake Kelleher Liv Live Concert Series, a collaborative performance series between the CCSP and local organizations, schools and businesses throughout Chester County. Since it began in 2005, the series, named in memory of Jake Kelleher, a Chester County resident who took his own life in 2004, has held 15 concerts at venues throughout Chester County, featuring a wide variety of performers.

"In the short time that Nicole has been with us, less than a year, she has thoroughly and completely impressed everyone who has worked with her on our many projects," Behriner said of Zell. "She has incredible insight and maturity, way beyond her years. Talking about suicide is not easy. It's uncomfortable for most people, and we try to get it out in the community and dispel some of the stigma and uncomfortable feelings around it. For Nicole at her age to be able to express herself so eloquently is wonderful."

Zell's involvement with the task force, where she now serves on its board of directors, coincided with frightening statistics but local and nationwide. In 2011 and 2012, 80 Chester County residents died by suicide, one person dies every 15 minutes by suicide in the United States, and 35,000 Americans die each year by suicide. To battle these numbers, the CCSP collaborates with the community to develop suicide prevention strategies and works with them to reduce the risk, stigma and occurrence of suicide in Chester County.

One of the most successful programs the CCSP has accomplished is through its own QPR training -- which stands for Question, Persuade and Refer -- that enables everyday individuals to recognize the signs of depression in others, question them about their illness, persuade them to get help, and then make the proper referrals.

"Research has found that educational programming and training people to understand and know about suicide prevention works," Behringer said. "One of the tragedies of serious depression is that hopelessness is part of the symptoms related to depression. Through QPR, individuals suffering with depression see hope instead of despair."

In addition to cultivating her music career as both a solo artist and with the Nicole Zell Band, Zell hosts a radio show, "Soundstage," on WCHE 1520 AM every Thursday afternoon from 4 p.m. to 5 p.m. On Sept. 19, she devoted the hour to the music of Jermaine Tonkes, as well as to the many local services targeted toward helping those with depression, such as the CCSP.

"I hope he'll be remembered as a guy with a guitar, trying to save the world," Zell said of her friend. "He really did help so many people in his short life. It overwhelmed him, his creativity, because he just wanted to help so many people."

If you or a member of your family is suffering with depression, call the Chester County Suicide Prevention Task Force's Valley Creek Crisis Center, a 24-hour service and mobile outreach, at 610-280-3270, and toll free 877-918-2100. Every phone call is confidential.

To reach the Chester County's Mental Health Crisis Intervention hotline at 877-918-2100, or the National Suicide Prevention Lifeline at 800-273- TALK (8255).

To learn more about the CCSP, e-mail CCSPtaskforce@gmail.com, or visit www.chestercountysuicideprevention.com .

To learn more about Nicole Zell, visit www.nicolezell.com .
---
---
---