Requiem for a tree

Sep 02, 2013 07:05PM, Published by Kerigan Butt, Categories: Local History
---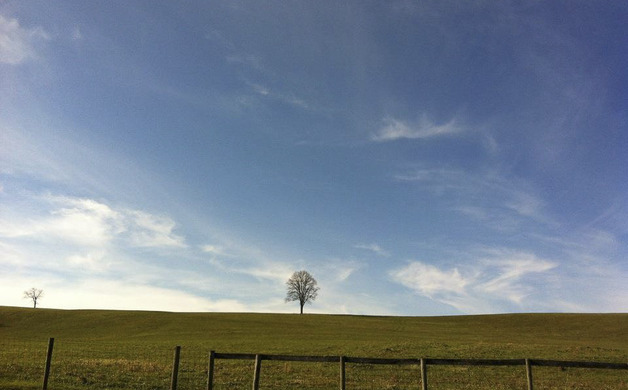 This tree grew for many years in a field west of West Chester.
---
---

(Editor's note: This article first appeared in our Fall 2013 edition)

By Alessandra Nicole
It was early October in 2010 that found me pensively navigating the as-yet uncharted territory that was Chester County in my black five-speed VW with the sunroof open, while the sun dipped below the horizon. 
You see, I do my very best thinking while driving -- a practice handed down to me from my father, and I headed north from Delaware on Route 52 past Winterthur and just kept going.
I knew from art history and regional celebration that I was in N.C. and Andrew Wyeth territory, and I knew that the serenity of those hills and curving roads called to me. I had just completed two of the biggest photography assignments I'd been invited to do up in New York City, and thirsted for solace. 
As I reached Chester County, I drove past enormous farms, unadulterated fields, roaming horses. I felt a great exhale. Somewhere about ten miles west of West Chester, I rounded a curve and magically, poetically, a tree standing alone on the top of a steep hill emerged. 
It was a perfect, unassuming silhouette. I pulled over to admire it and to snap a quick image of it with my iPhone, so that I could do a watercolor of it later, back at home. 
I sat alert and gazed up at that tree until it was barely detectable in the night, and the autumn chill became uncomfortable. Inexplicably affected, I climbed back into my car and drove away.
I had no idea where it was, or how to find it again. Over the course of the next six months, I made regular trips to Chester County, hoping to find the tree again.
Six months later, I posted the only evidence I had of the tree on my Facebook page – one grainy iPhone shot. To my amazement, someone recognized the tree and contacted me about it. A few days later, I was whisked away by motorcycle for a journey of trees, with a guide who knew the county very well. We observed trees at Loch Nairn, we looked at trees around Unionville, north of Kennett Square, and eastward toward West Chester.
Then we rounded a lazy curve and there it was -- the tree, alone and perfect on the horizon. 
Since that rediscovery, I had learned that the tree -- located just a stone's throw from The Whip -- had become a regional favorite of many, and had been photographed countless times. No matter. For me, it had become my Tree Up On The Hill.
Although the tree didn't represent or symbolize anything on an emotional scale for me, I was, as a visual artist, drawn to it, becuase I found its perfect balance very appealing. There was a lot of negative space of field and sky around it, which really made it naturally perfect.
One evening in November of 2011, I was hungering for the inspiration of Chester County and took a drive from Chestertown, Md., to visit "my" trees. Afterward, I ended up decompressing with a glass of wine at Sovana Bistro, when I was introduced to the man who has since become my partner in life. 
Since then, there have been many lazy Sundays when my guy and I have driven by the tree on our way to an early supper at The Whip. At his suggestion, I began a photography project about the tree.
Unfortunately, that project will go unfinished.
A tropical storm pelted Chester County, with flash flooding along the Brandywine River, and ancillary waterways were overflowing from the effects of the torrents of rain that measured more than three inches. I was at my boyfriend's photography studio near West Chester, having lunch with friends, when I received a phone call from another photographer. My Tree Up On the Hill had come down during the storm.
I took a drive early in the evening to see it for myself. Once fierce and independent in the middle of a vast pasture, it had tumbled to the ground.  I stayed on the side of the road until sunset, contemplating the tree and the beautiful adventure it had given me during the past few years. I went over to the Whip, and asked the bartender to pull a draft beer for me. I raised a proper pint to My Tree Up on the Hill. Several surrounding acquaintances commiserated with me. 
Driving away, it occurred to me that I've never grieved for a tree before. It may seem rather silly do so, but that's no concern to me. Tree worship and tree mythology has existed in the world long before I came to be, and humans since the ancient times have revered trees for their strength, longevity, cycle of life and death. 
The landscape around the area just isn't the same without it. I'd really like to see another one planted in its place.
---
---
---