Getting a locomotive ready to roll again

Apr 01, 2013 01:11PM, Published by J. Chambless, Categories: Local History, Business
---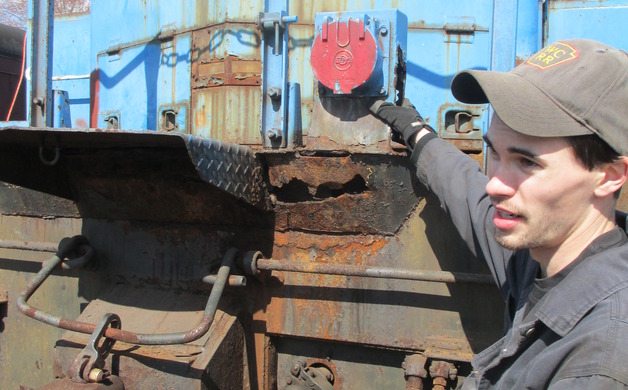 ---
Gallery: West Chester Railroad [4 Images] Click any image to expand.
---
---

(Editor's note: This article first appeared in our Spring 2013 edition)

By John Chambless

Staff Writer
Over the screech of a power grinder on rusted metal, Derek Slifer was proud to talk about the new attraction at the West Chester Railroad yard. It was hard to miss.
The sky-blue locomotive – all 125 tons of it – was donated in November of last year by Exelon  Generation, which is based in Kennett Square. The engine spent 15 years pulling coal cars at the Cromby power plant in East Pikeland, Pa. It was built in 1969 and was purchased new by the Penn Central Railroad. In 1970, Penn Central went bankrupt and it was taken over by Conrail. The engine served as a Conrail car until the 1990s, when it went to the Cromby station.
With some 2,000 horsepower, it can easily handle the 90-minute scenic round trips out of the West Chester station, sort of like it's enjoying a leisurely retirement. But first, it needs a little TLC.
At the West Chester Railroad maintenance area, there are two engines currently out of service, Slifer said, and four in service. There are four passenger coaches on the line that runs to Glen Mills and back, offering theme trips on weekends for families. 
While the new engine is mechanically in good shape, it had been sitting outside for years, and water has taken its toll. "Rust is not our friend," Slifer said, pointing out some of the damage done to the front of the car. "They're giant hunks of metal that sit outside for 50 years," he said. 
The floor of the engineer's cabin was also virtually gone, rusted away by water that came in through a small hole in the roof. It has been replaced with a sturdy wooden floor. The final touch on the engine will be a coat of gray and black paint so it matches the railroad's other elegant engines, but that may be a couple of years down the road. It takes time.
"There are more regulations than you can shake a stick at," Slifer said of the rules governing safety equipment and standards for trains. And trains built decades ago have to be brought up to date.  "There's always things you have to add and check," said Slifer, who is the director of passenger operations for the railroad.
With 80 members but a core group of only about 15 people who come out to fix trains, maintain the wooden ties on the line and do the countless other tasks involved with running a railroad, any project takes a while. The non-profit gets no federal or state funding, Slifer said, "and we have  to take care of 10 miles of railroad and all this equipment, all just from ticket sales." 
The staff is responsible for two bridges, as well as maintaining the road crossings and signals along the way. The line is leased from SEPTA, he explained, but must be maintained by the volunteers.
"We're doing this for fun, but that doesn't make us any less of a real railroad," Slifer said. "We still have to follow all the rules."
The engine is a diesel/electric powerhouse, "so these are actually the first hybrid vehicles," Slifer said. "These are marvels of electrical engineering. There's miles and miles and miles of wire in them. They're actually the most green vehicles you can fathom, if you look at how much they can move, versus how much energy you're using. They're very energy efficient."
Slifer said "I've always been a rail fan. Always into it. My family is in the auto repair business, so we're all mechanically inclinded."
He's a qualified engineer and can drive the trains, he said, "but you kind of get used to it. It's like riding a bike after a while. You're up so much higher than everyone else, and a locomotive it 125 tons. That doesn't stop on a dime. You have to learn to judge distances and be thinking ahead. This train can take a quarter of a mile to stop."
Slifer is in his 30s, as are many of the other volunteers, but railroads are becoming more and more of an ancient anachronism for the public. It wasn't always that way. West Chester was a rail hub, running 24 passenger trains and three local freights each day, Slifer said. With the rise of the highway system, freight began to be shipped by truck, and people were able to drive their own cars, not rely on train transportation. That started the downward spiral of the railroad in America.
"There is a younger crowd that's starting to come out," Slifer said. "But we need to learn from the older guys before their generation passes. It's important that we keep running this railroad. We need kids who are going to take my job when I'm ready to move on to something else. This is a craft, like any other craft, that needs to be learned. And you can't learn it in a day. It takes a lifetime to learn how to work with this stuff. Keeping it alive is important.
"There will always be kids loving trains," he said. "Our biggest obstacle is enticing people to come out and be close to this stuff. Let's face it, on Amtrak, on SEPTA, they don't want you close. Here, you can get close."
To contact Staff Writer John Chambless, e-mail jchambless@chestercounty.com.
---
---
---
---