Good deeds for those in need

Apr 01, 2013 07:27PM, Published by Kerigan Butt, Categories: Business
---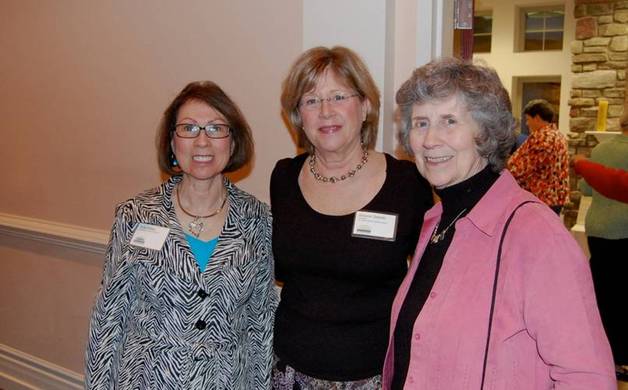 Courtesy photo Anita Bailey, a founding board member, is pictured with current board members Eleanor Zerbato and Fran Homer at a recent event.
---
Gallery: Good deeds for those in need [5 Images] Click any image to expand.
---
---
(Editor's note: This article first appeared in our Spring 2013 edition)
By Steven Hoffman
Staff Writer
In December of 2010, a man walked into the offices of ACT in Faith of Greater West Chester. He needed help. He had just visited the St. Agnes Parish outreach program seeking enough money to pay for a car repair so he could find work. They suggested that he visit a new interfaith ministry in town. St. Agnes would be able to cover half the costs of the repairs if ACT in Faith could pay for the other half.
ACT in Faith's very existence was based on being able to help people like this in their moment of need. The organization was able to help the man pay for the car repairs, which got him back on the road to personal recovery. He was very appreciative of the assistance, so much so that he volunteered to do some maintenance work around the office, which is in the basement of the Church of the Holy Trinity. An ACT in Faith staff member helped the man develop a résumé and they spread the word that he needed work. A pastor helped connect him to an elderly couple in the area who needed someone to do home repairs and chores around the house in exchange for free rent. The man still helps that couple, but he also used the work experience with them to eventually get a job with West Chester University.
"He went from being homeless to having an apartment. We have a lot of beautiful little success stories like that," said Hallie Romanowski, the executive director of ACT in Faith. "There are lots of little victories every day."
ACT in Faith is an interfaith ministry that provides physical, financial, and spiritual support to those in the Greater West Chester area who lack basic human needs—food, shelter, clothing. In just a few short years, the organization has made a tremendous impact on the West Chester community by helping those in need. In 2012, ACT in Faith gave financial assistance to 109 households, prevented 37 evictions and 22 utility shut-offs, provided oil for five houses and resolved medical issues for five others. The organization connected 107 people with social service groups that could provide them with support resources. They filled 69 requests for household and clothing items, provided advocacy and support coordination for nine households, and helped eight people with résumé writing and job coaching services. Two years ago, ACT in Faith distributed 50 bags of groceries. Last year, the amount increased to 649 bags. In total, ACT in Faith helped 294 households in 2012.
"Those statistics are well and good and they tell a story, but we're really focusing on the impact that we have," said Romanowski.
That impact has increased steadily since ACT in Faith was founded three years ago.
In May of 2009, the Religious Council of Greater West Chester, which had been active in the community since the 1970s, felt a calling to find a way to assist the growing number of people who were asking churches for food, clothing, or money to pay a utility bill. At the time, many people in need would have to go from one church to another because the churches in town were overwhelmed with the requests for assistance.
The Faith Connections Committee was formed to explore ways to respond to those needs. By May of 2010 the Faith Connections Committee evolved into the ACT in Faith of Greater West Chester, with the new name reflecting the interfaith mission of Assisting the Community Together—faith communities would work collaboratively to provide more help than any one religious institution could do on its own.
In September of 2010, Romanowski came on board as the executive director to lead a small staff and a dedicated team of volunteers. Romanowski had made West Chester her home after attending West Chester University. She had spent the previous 17 years working in human resources at QVC. Her involvement with the Church of the Holy Trinity's meal program had made her aware of the need that existed in the community and she felt a calling to do more. Becoming the executive director of ACT in Faith was one way for her to do that.
"There are a significant number of people who fall through the cracks because they don't meet the parameters for assistance," Romanowski said. As plans for ACT in Faith developed, State Sen. Andy Dinniman met with leaders of the faith community and agreed that there was a need for faith communities in the area to increase the assistance that they provided because state funding to social service agencies was being stretched further and further. As the state reduced funding for social services, fewer people qualified for assistance. ACT in Faith's arrival was welcomed by social service organizations in the area.
There was a precedent for a network of faith communities working collaboratively in the West Chester area, Romanowski said. In the years before the Safe Harbor of Chester County shelter was able to expand, a network of interfaith churches hosted a traveling shelter on a rotating basis.
Romanowski talked about how the leaders of the local churches supported the creation of ACT in Faith.
"We need to take care of our fellow man," she said. "Those who have need to take care of those who don't have."
The organization's funding comes from individual donations or from contributions from churches or service organizations in the area. A series of fundraisers take place throughout the year, including a popular Chef's Best event.
Romanowski explained the process that takes place when someone comes in for assistance.
"The first thing that we do when we start having a dialog with someone is to look at whether there is another service organization that they can qualify for help with," Romanowski said. She explained that many people don't know what resources are available out there, so education is part of the process.
The ACT in Faith staff and volunteers have mastered the art of accomplishing a lot with limited resources. A team of approximately a dozen volunteers spend time meeting with people who need help or collecting and sorting food at ACT in Faith's community cupboard. A growing number of churches and other organizations in town support the community cupboard as well.
ACT in Faith is always looking for ways to fill in the gaps where social service organizations can't meet a specific need. For instance, people can't use food stamps to buy personal care items like toothpaste or basic household products like trash bags. So ACT in Faith's food cupboard stocks more of those items than a traditional food cupboard.
The organization maintains an emergency fund that can be used to assist people who need money quickly to prevent evictions or having their heat or utilities shut off. Each month, the requests for financial assistance out-pace the money available.
"That money is accounted for within the first week of the month," Romanowski explained.
She added that they also have an e-mail chain of 60 or 70 people who can respond to emergency requests for assistance. For example, the organization was able to help a person who moved into a new apartment but didn't have the money to buy some necessities for the place.
While the faith communities have been extremely supportive of ACT in Faith, as a relatively new organization it still takes a lot of work to get the word out about its services—and the need in the community for those services.
"There are still a lot of people out there who are under-employed or unemployed," Romanowski said. "We need to let people know that this need exists. Part of the job is getting people to realize that there is still homelessness and hunger in the community. Part of our mission is to spread the word about that. The need is not going to go away. There will always be people who are on the cusp. We want to let people know that this need exists and we're doing what we can to address the needs and fill the gaps."
ACT in Faith is constantly reevaluating the services that it provides based on needs in the community. They have a battery of questions that they ask clients to identify areas where needs are going unmet.
"If the gap shifts or there is a new gap, we'll be able to shift," Romanowski said. "We're trying to chip away at these needs. A lot of times, it's like putting a finger on the dam. For example, if a person comes to us because their lights have been turned off, that's just part of a larger story. Ultimately, the goal is to walk with someone until they are at a point where they are whole again."
To contact Staff Writer Steven Hoffman, e-mail editor@chestercounty.com.
Board of Directors

The following individuals serve as members of the board of directors for ACT in Faith of Greater West Chester:

•Zari Abrar - Islamic Society of Chester County

•Denise Antonelli - Gawthrop-Greenwood, P.C.

•Eleanor Fleming - West Chester United Methodist Church

•Rabbi Sue Greenberg - Kesher Israel

•Fran Homer - Baptist Church of West Chester

•Rev. Shelli Latham - Westminster Presbyterian Church

•Dan Milani - Saints Simon & Jude Roman Catholic Church

•Nancy Needhammer - Church of the Holy Trinity

•Rev. David Pickett - First Presbyterian Church of West Chester

•Valerie Reitz-Hector - M&T Bank

•Lark Worth - Birmingham Friends Meeting

•Elspeth Zaayenga - Church of the Holy Trinity

•Eleanor Zerbato - St. Agnes Roman Catholic Church

Ways to take action

There are numerous ways to get involved with ACT in Faith of Greater West Chester. ACT Now Network members sign up to receive email alerts regarding urgent needs—driving a single mom to a job interview or helping a crime victim move to a safer home. ACT in Faith is always looking for volunteers who are willing to put their time and talents to good use. Volunteer opportunities range from driving a cancer patient to a medical appointment to running errands for a homebound person to serving a hearty meal at a church's meal program. ACT in Faith also needs people to serve as advocates—people willing to listen or lend a little time helping a person in need explore his or her options. For people who can make a donation, this is a good way to put your money into action to help the community. ACT in Faith is a 501c3 not-for-profit organization. Donations can help save a family from eviction, keep the electricity on for another month, or provide the infrastructure that allows the organization to serve those in need. For information about how to help, call 484-324-8492, email contact@actinfaithgwc.org, or visit actinfaithgwc.org.
---
---
---