Art that takes viewers on a journey

Apr 01, 2013 07:23PM, Published by Kerigan Butt, Categories: Arts+Entertainment
---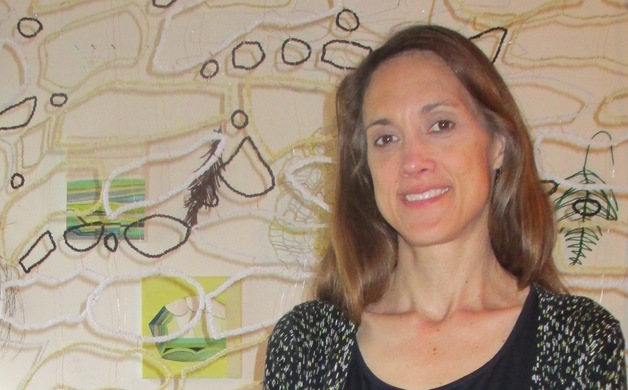 West Chester artist Caroline Lathan-Stiefel, with a new work that's taking shape in her garage studio.
---
Gallery: Art that takes viewers on a journey [5 Images] Click any image to expand.
---
---
(Editor's note: This article first appeared in our Spring 2013 edition)

By John Chambless

Staff Writer

Caroline Lathan-Stiefel's artworks are like undersea worlds, as if drifting fishnets had caught thousands of little castoff bits. They are draped and billowed, seemingly at random, but reflecting a carefully considered point of view. When they fill a gallery space, visitors can be taken aback, confronted by the immersive nature of the work.

With the intricately sewn curtains of her latest piece taking shape in the garage of her home in West Chester, Lathan-Stiefel beamed when describing how people interpret her works.

"I want them to have a feeling of wonder," she said, "to be surprised by something they haven't seen before. A lot of my work is about the viewer being immersed in it.

"Children really respond to it. They know what to do – they run in and start running around in it. I like that," she added. "I think a lot of artists are still children."

Born in Atlanta, Ga., Lathan-Stiefel recognizes that her drawings and installations have a bit of the obsessive quality of outsider artists such as Howard Finster, whose sprawling Paradise Garden installation she has visited. A graduate of the Maine College of Art and Brown University, she has moved frequently with her husband, who is a composer who teaches composition and theory at West Chester University. She has been in West Chester for seven years, and she and her husband have two children, ages 8 and 11.

Starting out as a figurative painter, Lathan-Stiefel found her works becoming more and more three-dimensional, as if they wanted to free themselves from the canvas. In graduate school, she began experimenting with suspending fabric and other materials from the ceiling. "They were drawings in space," she said of the works, "like soft structures."

When she was painting, she said, "I was always worried, does this look right? I had to discover a new way of working that was more open. Something where I was in charge of what the rules were, not someone else."

As an art teacher for the past 20 years, she is inspired by the way young people approach making art with an absolutely open mind. At Upland Country Day School, where she has taught part-time for three years, she expands the students' work in contemporary art, while her co-instructor, Terry Anderson, teaches more traditional methods. The two artists inspire each other as they lead the students.

"Art is so integral to every subject," she said. "You need it in life. It's a great way to problem solve. Especially in this technological age, a lot of kids don't have enough experience working with their hands. I like to do a lot of sculptural projects and collage projects."

Lathan-Stiefel uses the materials around her in her daily life – plastic shopping bags, fabric scraps, pipe cleaners – but combines them so that the message is not merely about recycling.

"I don't mind if people get an environmental message," she said. "I don't want to hit people over the head with a message, but if they think about it, it's in there."

To make her hanging artworks,  Lathan-Stiefel takes pieces about six inches long and sews them to pipe cleaners, which are then linked to form curtains that are as much empty space as they are solid. "It's extremely labor-intensive, but it's gratifying," she said. Viewers can walk through them, viewing carefully placed wall pieces that are meant to be seen in context with the transparent walls.

For her new work, which will be installed in the loft exhibition space of a North Carolina museum, she was inspired by the unique stone work in the home of John Bartram, near Philadelphia. Her extensive research into Bartram's life and work as a botanist is reflected in one panel of the work, in which her castoff items echo stones in a wall that was built by Bartram. Transluscent caps from water bottles will be piled like snowdrifts on the floor, serving as textural elements but also underscoring Lathan-Stiefel's use of everyday materials.

There's nothing message-heavy about these artworks. Lathan-Stiefel is more concerned with giving viewers an experience and letting them formulate their own ideas.

One past project involved draping a historic building with hundreds of feet of material. "It changed over time and I added things to it," she said. "Because it was a historic building, you couldn't put any nails or anything into the bricks. I had to figure out how to attach them so they would not get blown away. I had to attach only around the windows and at the top." Photos of the work look like some sort of alien ivy is growing on the building.

Next May, Lathan-Stiefel will create a piece for the Philadelphia Arts Alliance that will travel up a stairway inside the building, and possibly poke through windows to the outside as well. "It's going to be based on the fern obsession of the Victorian period," she said. "Everybody collected ferns at that time."

An upcoming piece is still only a model, but will eventually fill a 40-foot space in Jacksonville, Fla., with a multi-layered artwork based on intertwined brain systems, Lathan-Stiefel said.

The large constructions have to be assembled in pieces since the family's garage is only average-sized. Lathan-Stiefel laughed and admitted that her children and their friends are accustomed to coming in the front door to find piles of cloth, plastic and pipe cleaners strewn out of the garage and into the living room.

Putting the artworks in place typically involves a week of 16-hour days, Lathan-Stiefel said, and the finished products are not the kind of things that people can buy and take home with them. She receives a stipend from the gallery for the work in advance, she explained, and then the gallery gets visitors who come to experience the work – and maybe buy something else while they're there. She does create wall-size pieces as well as drawings that are more easily purchased.

Lathan-Stiefel has a resume that any artist would envy, with dozens of gallery exhibitions and awards. She has pieces in the collections of museums in New Jersey and in the West Collection in Oaks, Pa., and she has lectured across the country since 2006.

In March and April 2014, she will be featured in "Greenhouse Mix," a major solo show at the Philadelphia Art Alliance. In the historic former home that now serves as the group's headquarters and exhibition space, Lathan-Stiefel will create two gallery installations and an installation project in the grand stairway.

In the larger gallery on the first floor, she will  install her piece inspired by the stones of John Bartram's Philadelphia greenhouse. Visitors will walk through the space, surrounded by the work. In the parlor-style gallery space will be a Victorian-style fernery, including both fiber and real ferns, as well as a series of relief paintings. Up the stairway, a hanging tapestry-style work will echo the patterns, shapes and colors of the original 1905 stained glass window, which features botanical imagery and plant forms.

Lathan-Stiefel's work continues to evolve, blurring the boundaries of painting, collage and sculpture. In her artist's statement, she writes, "I see my work as being in flux – ever-changing, mutable, and replicating various states of proliferating growth."

For more information, visit www.carolinelathanstiefel.net.


To contact Staff Writer John Chambless, e-mail jchambless@chestercounty.com.
---
---
---