An open door for those in need

Oct 01, 2012 12:53PM, Published by J. Chambless, Categories: News Family Features
---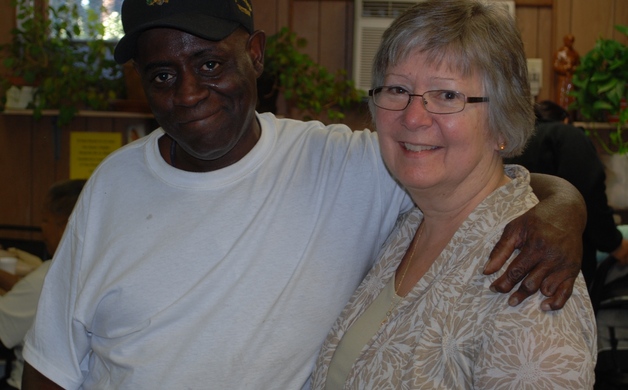 Volunteer Malthious Palmer and Barbara Kirby, director of the St. Agnes Day Room
---
Gallery: St. Agnes Day Room [4 Images] Click any image to expand.
---
---
(Editor's note: This article first appeared in our Winter 2012 edition)

By Carla Lucas

Correspondent
A young woman is dressed in a sweatsuit, thanks the staff at St. Agnes Day Room. In her backpack are the clothes she needs for a job interview. The staff has arranged transportation to the interview. She's smiling and full of hope. For her, the St. Agnes Day Room is the key for her future. 
Each Monday through Friday, as people walk through the door on the lower level of St. Agnes Church on West Gay Street in West Chester, the staff and volunteers at the St. Agnes Day Room are there to help. Guests of all ages and circumstances are greeted with smiles and welcomed with open arms. 
There's an atmosphere of joy as young children play, their happy squeals echoing around the room. As people gather for breakfast, a hot lunch, nursing services, or help dealing with a situation life has thrown their way, they are met with a group of caring staff and volunteers offering companionship, compassion and respect.
"We do what we can to lessen the burdens of our neighbors in need," said Barbara Kirby, St. Agnes Day Room director, who started the center 20 years ago with the parish's then-pastor, Monseigneur Thomas Craven, now deceased. "It was a direct response to a need," Kirby said. 
Twenty years later, they are still responding to these same unmet needs.
St. Agnes Day Room sees between 85 and 100 guests a day. Within a year:
13,200 breakfasts are served;
20,500 hot lunches are served;
2,800 bags of groceries are distributed;
4,000 parcels of clothing are distributed;
4,100 packages of diapers and formula are distributed;
250 families receive holiday baskets;
700 children receive Christmas presents.
"We are a safety net for people who are struggling," said Kirby. Among their guests are the homeless staying in shelters, the elderly, and families struggling to put food on their tables. Many guests are also struggling with English, and need help with translation and direction in dealing within their new lives in West Chester and American culture in general.
The St. Agnes Nurses Center grew from the frustration volunteers witnessed in the level of medical care the guests coming to the Day Room received. Today, seven nurse practitioners volunteer at the center and provide a full range of health services, from screenings, to physicals, to initiating nursing and medical care for common, acute and chronic conditions. The Nurses Center also provides a prescription program, does referrals to other outside agencies, offers translation services for medical appointments, organizes education and support groups, and provides transportation to medical appointments. The center sees more than 700 patients a year.
"Many don't have access to medical care," explained Teresa Berkman, RN, a Nurses Center volunteer and nursing instructor at Delaware County Community College. She brought a group of student nurses to the Day Room with her to conduct blood pressure and blood sugar screenings and to encourage guests to sign up for free flu shots being offered. She said that working with mothers and fathers to help children grow and develop is rewarding. "We become attached to the families we see here," she said.
With preschool children at the Day Room each day, the staff recognized another opportunity to help their young guests. They started a Pre-Prep program for 3-year-old children and a Preparatory program for children 4 and 5 years old. These preschool programs prepare the youngsters for American classrooms. 
There is also an after-school tutoring program and a summer camp program for school-aged children. Parents get support and guidance about what is expected of them in an American classroom, too. All these programs have led to greater success in school for the children who participate in these programs.
"It is an incredible and beautiful thing to see people come from all over to help," Kirby said.
Volunteers and community collaboration are at the heart of what makes St. Agnes Day Room work. It not only gets support from its home parish, but many surrounding parishes and other communities of faith, schools, universities, service organizations, and individuals. 
Cash donations, food drives, formula drives, diaper drives and clothing drives conducted by outside organizations to benefit St. Agnes Day Room are what stocks the shelves. People throughout the community hear of a specific need and stop by with donations. 
"It is such a joy to volunteer here," said Peggy McGinn, of St. Simon and Jude Parish. Now that she has retired from the working world, she comes to St. Agnes Day Room once a week to help as needed.  "People just show up. You never know what they will need. Every day is an adventure," she said.
Malthious Palmer, a veteran from Coatesville and former guest, comes every day to volunteer. "It's better than sitting around," he said.
The hot lunch program requires much planning and community involvement, since the Day Room has no cooking facilities. Volunteers are assigned to a specific day each month to prepare a part of the meal at home and bring it to the Day Room. By lunchtime, there are large trays with warm casseroles, meats, side dishes and vegetables ready for the guests to enjoy. On special occasions, the families at the center prepare their regional foods to share. It is one way the guests can give back.
Griselda Pascual and Nayelli Serafin are the Day Room's bilingual outreach workers. They both grew up at the Day Room and then started volunteering here as teens. Now, after graduating from college, they have returned to help others. 
They help their clients fill out job applications, apply for food stamps, make appointments, and act as interpreters with the schools. They average 30 clients a day. 
"Back in the day, we needed some help," Nayelli said. "We understand our clients and their needs."
"We are walking with people through life," said Griselda, "through the ups and downs. Building a community."
"We are all family here," Kirby added. "We experience the same pain and the same joys. It is just better together."
---
---
---
Family Features St. Agnes Day Room, West Chester
---