Nurturing the arts in West Chester

Oct 01, 2012 11:11AM, Published by J. Chambless, Categories: Arts+Entertainment
---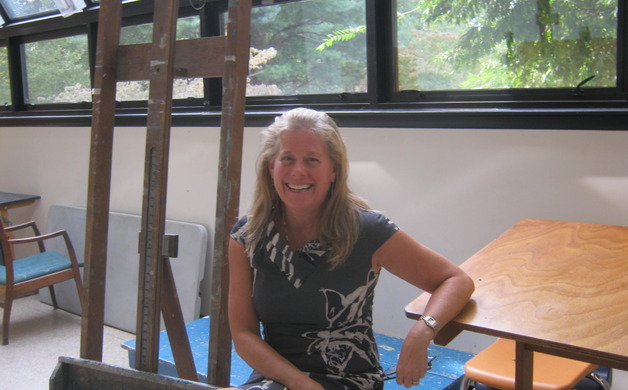 Darcie Goldberg has been at the helm of the Chester County Art Association for 16 years, and is preparing to spearhead the art center's major expansion plan.
---
---
(Editor's note: This article first appeared in our Winter 2012 edition)


By John Chambless
Staff Writer
Patiently posing for a photo in front of the Chester County Art Association, Darcie Goldberg is interrupted as a school bus pauses at a nearby stop sign.
"Hi Darcie!!" a teenage girl shouts through the open bus window.
Laughing, Goldberg waves to the girl and shakes her head. "See? One of my community people," she says. 
...
Half an hour earlier, Goldberg had carefully picked out a table in the Art Association's Allinson Gallery, mainly to avoid the ringing phone on her desk. Sitting down with one of the cups of coffee that help fuel her non-stop days as the executive director, she talked about her 16 years at the art center and proudly announced the expansion plans that will soon transform the 1953 cinderblock building into a showplace. 
Goldberg grew up in a small town on Lake Erie with an older sister and younger brother. The world revoved around their parents, their school, their church and the lake. The family never locked their doors. The nearest movie theater was 35 miles away.
The family was isolated from galleries, but "I always knew I'd be involved in the arts," Goldberg said. "I would draw, but I had limited ability. But I always loved photography. I can still remember my first little camera."
Those youthful snapshots led Goldberg to major in photography at the Art Institute in Pittsburgh, where she supported herself by shooting wedding photos, working for a time in a commercial art studio, waiting tables, and stringing for United Press International as a sports photographer. 
"This was during the heyday of the Pittsburgh Steelers, Terry Bradshaw, the Pirates, the Penguins, Pitt in basketball," she said. "I'm dating myself, but this was the late '70s. I was the only woman in the department."
Covering about 100 miles of territory for UPI, Goldberg was called upon to shoot the sensational murder trial of the Johnston brothers that was being held in Johnstown. She met her future husband, a court-appointed lawyer for Norman Johnston, during the trial.
They moved to his home in West Chester, where Goldberg taught photography at the Art Institute in Philadelphia, "had a couple of kids," she said, and pursued her master's degree in art therapy at Hahnemann University. She worked for several years as an art therapist, focusing on "using the arts as a way of communicating and healing. I worked a lot with adolescents, with psych facilities," she said.
For her masters thesis, she selected Lady Pink, a groundbreaking female graffiti artist who lived in Queens. This was the late 1980s, when the explosion of graffiti artists caught the attention of the mainstream art world. Goldberg applied for a grant to study the graffiti phenomenon through Hahnemann, and while she was waiting for it to be approved, she was asked to join the board of the Chester County Art Association.
"They were going through some transitions," she said. "There was no one running the place at that time."
When the grant failed to come through, she needed a job. The other board members asked her to come in a couple of days a week to help out, and Goldberg agreed.
"I said, 'OK, but I don't want the job. I just want to give the place some stability,'" she said. "And that was 16 years ago. I'm still here, still standing."
She lives in the same West Chester home where she raised her two children, and her dedication to the arts has been a natural fit for her job as the guiding force for the art center. 
"I learned something from my father," Goldberg said. "'Don't ask someone to do something you wouldn't do.' So I roll up my sleeves and get in and do it. In the arts world, you have to be that way to survive."
Goldberg said her role involves overseeing, delegating and creating. "One of the most important things we've achieved," she said, "is to build outside these walls."
Today, the Art Association hosts summer art camps for young people, free art classes in Kennett Square, and an exhibition space in the Exton Square Mall. The building is the meeting place for dozens of community groups. Many young people have their first experiences with art inside the building, and senior citizens come there to explore art classes they may have waited a lifetime to take. 
"It's important to nurture the next generation of artists," Goldberg said. "Our summer camp programs have grown by leaps and bounds over the years. It's important for our children, and the generations to come, to have the arts. From the minute you get up to the minute you go to bed, you're surrounded by the arts -- whether it's color, design, architecture, the shoes you put on, fashion -- everything is connected to the arts. When you start to take them away, you lose  the balance in your life."
After almost two decades of championing the work of other artists, Goldberg will get a rare spotlight of her own in November with a solo show of her photographs. The show, "Exits," will bring out her striking images taken during her travels around the world. "To me, the photography brings back a little piece of that place with me," she said.
She has traveled to Nepal, recently returned from France, and spent a month in India, one of her favorite places. "All your senses are stimulated at once," she said of India. "The sights, the sounds, the smells, the heat. It's exciting. It's a great part of the world."
Goldberg is also awestruck by the Himalayas, and her dream trip would be to Mongolia.
She still carries her Hasselblad camera and continues to work in black-and-white, but lately, "I've been trying to wrap my mind around digital photography," she said with a laugh. Admitting that "I'm sort of behind" the technological curve, Goldberg is taking classes in digital photography in Philadelphia and reconciling herself to the demise of standard film.
"I never thought Kodak would not be here," she said. "It's hard for me to buy 120 film anymore. The whole artform has changed because of technology."
Goldberg especially admires photographers Annie Leibovitz, Ruth Gruber and Henri Cartier-Bresson, all of whom are noted for their work in photojournalism -- a daily grind that Goldberg appreciates from her own early work.
Her solo show will include her large-format travel images, along with some of the "thousands and thousands" of images that have never been seen before, and "maybe a few digital pieces," she said. 
The show will serve as a transition for her as she relinquishes her day-to-day duties and focuses more on the upcoming expansion and renovation project.
Having led the Art Association for so many years, she is well aware of the 81-year history of the organization. It began informally in the 1930s with early acclaim for West Chester folk artist Horace Pippin, whose work was championed by artist N.C. Wyeth. In the 1940s, The Sketch Club, as it became known, had 36 members and met in various places throughout West Chester. Andrew Wyeth was one of the early exhibitors, along with Barclay Rubincam and Pippin.
In the early 1950s, Mary Allinson gave the group an acre of land on the western edge of West Chester. Subsequent donations have expanded the land holdings to five acres. The art center's building was completed in September 1953. 
"We have a great history and a lot of great people have walked through these doors," Goldberg said. "They kept this place floating during very hard times because they all believed in it. So there's this great energy and history. We are staying true to our mission statement.
"We've taken good care of this building, but we've worn it out," she said. "We've done some great renovations to our studios in the back. Now we're looking at the rest of the building. Seven years ago, we were working on a feasibility study. We threw our dreams on the table and came up with this elaborate plan. Then the stock market went. So, we went back to the engineering study. We needed to not overbuild, but really look at what was missing in the community."
Now there's a plan in place for an addition and renovations that will include a ceramics studio and outdoor terrace, a digital media studio, a library and gallery shop. The lobby, galleries and studios will be renovated. The building's footprint will expand over the land the Art Association already owns, making the art center more of a community center.
"It's time for the community to really embrace the arts," Goldberg said. 
Right now, costs are being figured and engineers are working on making the impressive concept drawings displayed in the art center's lobby into a reality. "We'll be combining our strategic plan with our business plan," Goldberg said. "It's sort of like being an orchestra leader. All the instruments make different noises and then suddenly it's music and it's all working together. Same thing here. All these different pieces -- from the art education to the exhibitions to the outreach to the community -- and then suddenly it all comes together.
"A few years down the road, we're going to be there," she said of the lofty goals. "Then I'll figure out something else to do. I'm not done yet!" 
To contact Staff Writer John Chambless, e-mail jchambless@chestercounty.com.
---
---
---