Andrew Wyeth's workplace opens its secrets to the public

Sep 03, 2012 11:35AM, Published by J. Chambless, Categories: Local History, Arts+Entertainment
---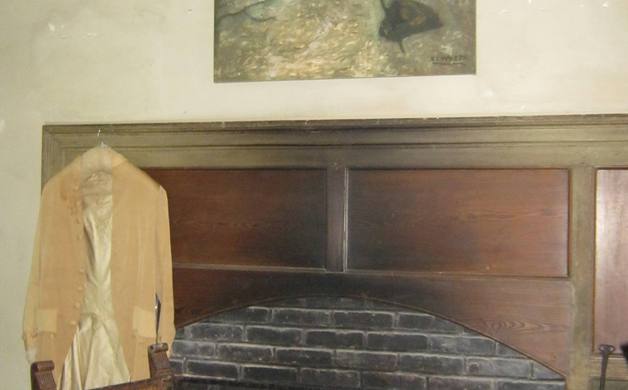 The N.C. Wyeth painting "Blind Pew" hangs over the fireplace, just as it did during many of the years Wyeth worked in the studio.
---
Gallery: Andrew Wyeth Studio [5 Images] Click any image to expand.
---
---

(Editor's note: This article first appeared in our Fall 2012 edition)

By John Chambless

Staff Writer
In 1940, Andrew Wyeth moved into the former schoolhouse that sits a few hundred yards from his father's home in Chadds Ford. He and his new wife, Betsy, lived there until 1961, but he used the white building as a studio until his death in 2009.
Betsy has donated the building to the Brandywine Conservancy, and after painstaking renovations, the studio opened for tours in early July. The opening sheds light on one of the last strongholds of Wyeth's private world. It's a place where his landmark paintings were created, where he cemented his position as the world's best-known living artist, where he entertained friends and family, where he sketched and painted "like a wild man," according to his son, Jamie. And it's where he went to be alone with his work.
The building has a new roof, and a new driveway for the shuttle bus that runs from the Brandywine River Museum. The front door still bears two signs put there by Wyeth. One, in black and white, reads: "I am working so please do not disturb. I do not sign autographs." Beneath it, a store-bought sign warns, "Beware of the Dog." It's a perfect introduction to a place that was a sanctuary for so many years.
Just as they carefully preserved the nearby home and studio of Andrew's father, N.C. Wyeth, the conservators have worked to make the Andrew Wyeth studio presentable, but not too polished. It retains the scuffs, cracks, smudges and paint spatters it has always had, along with the furnishings, books, toy soldiers and costumes that make a tour of the place like a voyage through Wyeth's work.
The guided tour begins in an entryway that is decorated with family photos. There are images of Wyeth's models, an autographed photo of Douglas Fairbanks, Jr., and one of Henry Fonda, pictures of family members Peter Hurd, Ann Wyeth McCoy and Betsy Wyeth, and a collage of Wyeth laughing with his young model, Siri Erickson.
To the left, and down one step, is the kitchen, which was added in the 1950s. The vintage cabinets and day bed near the dining room table have been recreated. The long wooden table and chairs were used by the Wyeths. The space above the fireplace, as docent Mary Nell Ferry pointed out, was used by Wyeth as a showcase for his newest works. Guests and family members could voice their opinions and give feedback during meals by the fire. 
Christine Podmaniczky, the curator of N.C. Wyeth collections for the museum,  worked with the team of conservators. "There are not a lot of pictures taken in this building," she said, "so we are left with people's recollections of  where things belong." She said Andrew and Betsy's sons, Jamie and Nicholas, were instrumental in filling in details about the building.
A narrow hallway holds photos of Wyeth's longtime model and neighbor Karl Kuerner, as well as other family members. At the end of the hall, a small desk holds a telephone, and the wall next to it is covered with scribbled names and phone numbers. It's protected by plexiglass, but you can stand and see things like "LYNCH" written in Wyeth's hand – a kind of memory book of people he was in touch with.
Wyeth's library has been carefully preserved, with a dazzling collection of art books, novels, swords, artwork, personal memorabilia, film canisters, toy soldiers, a full-size skeleton and much more filling the narrow room. 
Across the hall, the large space used as a living room holds the huge kass, or cupboard, seen in many of Wyeth's works. There are swords and helmets on the windowsills and on top of the cupboard, and a military coat rests on a hanger on the cupboard door.
Wooden room dividers enclose the improvised studio space used by Jamie Wyeth when he created landmark paintings of his own, such as "Draft Age" and his portraits of members of the Kennedy family. The space is set up as if he is working on the posthumous JFK portrait, with his easel, paints and sketches filling the space. 
A corner cupboard in the room is also very familiar to Wyeth fans, and it now holds a small screen which displays a short video interview with Jamie, who discusses the importance of seeing the place where an artist worked and recalls his father's working method.
The wooden floors have not been refinished, and the walls have the same green-gray paint they have had seemingly forever. It's tempting to play "spot the artwork inspiration" in this room, with so many iconic props and costumes hanging here and there. 
There are constant nods to Wyeth's influences as well – reproductions of Howard Pyle paintings hang on the walls, casually arranged three or four high. And one huge cupboard holds just part of Andrew Wyeth's collection of military miniatures – approximately 1,200 of them – all posed under plexiglass now, but retaining an awesome presence. The miniatures were a constant part of Wyeth's life, and he collected them from his earliest childhood days.
The last room on the tour is where Wyeth himself worked, and it's both awe-inspiring and drab. The ceiling has been carefully reinforced but not made pretty. It looks as if chunks of plaster will drop at any second. The walls have layers of peeling paint, and the door frame retains Wyeth's fingerprints. There is a large easel in the center of the room, faced by the full-length mirror he used as a reference point while he worked. His  jumbled paints and brushes are in place, and the floor is covered with reproductions of the sketches he had a habit of tossing aside. It's every inch a working artist's studio, not a shrine, and viewers will be taken aback by how utilitarian it remains.
Ferry pointed out that Wyeth's whole world remained essentially two square miles in Chadds Ford. Like his father, he traveled between here and Maine, but never much farther than that. Standing in his studio, with its huge north-facing window flooding the room with light, you are at the epicenter of his creativity.
For those who have wondered about Wyeth's often enigmatic works, seeing where they were made turns us into part of his process. It's as if we really shouldn't be intruding, but we're transfixed by the magic of the place.
To contact Staff Writer John Chambless, e-mail jchambless@chestercounty.com.
---
---
---
Brandywine River Museum of Art Wyeth family
---