Radio for the people

Sep 03, 2012 11:29AM, Published by J. Chambless, Categories: Business
---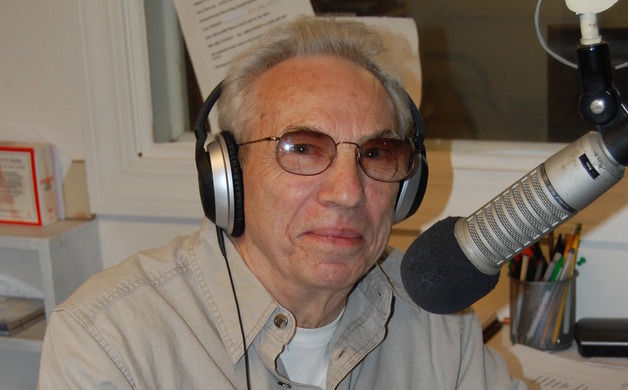 Ron McNiel, host of "Ron's Swap Shop."
---
Gallery: WCHE radio [2 Images] Click any image to expand.
---
---

(Editor's note: This article first appeared in our Fall 2012 edition)

By Richard L. Gaw

Staff Writer
It is very early on a Wednesday morning on Gay Street, and 29-year-old Antonio Rivera of Lower Pottsgrove, a staff sergeant in the Afghanistan conflict, is a guest on the WCHE Morning Magazine with host Bill Mason and announcers Doug Stirling and Mary Lou Doyle. Sgt. Rivera was invited to come on the air by Doyle because she heard about him through her hairdresser, who is Rivera's wife. 
The Purple Heart recipient speaks into the microphone softly, as if the world he is talking about and the atocities he endured halfway across the globe deserve the respect of nothing higher than a whisper. Mason, Stirling and Doyle hang on Rivera's every word. This is our guy, their voices seemed to say. He won the Purple Heart, and you know what? He's one of our own. And that right there -- the early-morning story of an American hero from the community, telling his story to the community -- is the entire definition of WCHE-1520 AM.
There is no denything the fact that we are, for the most part, myopic about what concerns us. Our radar for what is important veers like a homing pigeon's path. For the most part, we are less concerned with what's happening in the Middle East than we are with an upcoming hearing about taxes in our township, or the decisoins of our local school board, or whether a wandering farm animal in Unionville has been coralled back into its barn. 
And yet, flip the radio dial for news of our Chester County neighborhoods, and the nearest news we're able to hear is of Philadelphia. But keep flipping; switch to the AM band. Keep turning the dial. There it is, 1520 on our AM dial, the small station in downtown West Chester whose roll-call of programming is a dizzying array of information, entertaininment and enlightenment. 
For the thousands of listeners who tune in every week for their favorite programs, WCHE has become the Chester County equivalent of NPR, with the same number of personalities and choices. It is a classroom, a press box, a restaurant, a newsroom and a dining room table, all occupying the same sliver of space on Gay Street. 
There's "The WCHE Morning Magazine." "50 Plus Planning Ahead" with attorney Janet Colliton and Phil McFadden of Home Instead Senior Services. "The Avid Reader" with local bookseller Sam Hankin. "Ron's Swap Shop" with Ron McNiel. "Mission Nutrition" and "Wellness 411" with local experts. "Sports Chatter of Chester County" with local broadcasting legend Bill Werndl. "Eat, Drink and Meet Mary" with local celebrity Mary Bigham. "Ram Jam" and "Legal Talk" and "Sound Stage." Local services every Sunday morning from four local places of worship. News director Jennifer Carboni's local news broadcasts. More than 130 remote broadcasts a year. High school football. West Chester University football. 
And all of this with four full-time employees, four part-time employees, and a small army of volunteers. 
"This is kind of like the circus," said Mason, who also serves as the station's general manager. "Maybe those who go to the circus love the acrobats, but they're afraid of the clowns. Maybe they love the clowns, but the find the lion tamer boring. The whole theory of the circus is that there's something for everyone. That's the philosophy of our programming lineup. Maybe you think 'Legal Talk' is the greatest hour of radio you hear in a given week, but maybe you don't care about 'Legal Talk,' maybe you're an animal lover and the hour of 'Passionate About Pets' is a great hour of radio."
Mason said that, as the only over-the-air radio station in Chester County, the station understands its role as a community voice. 
"There was a crying need for community radio in the county, so our business model is that everything we do, it's about Chester County," he said. "Whether it's local sports, news, traffic, sports, weather, or interviewing newsmakers, it's local, local, local. The bedrock of this station is that it's all about Chester County.
"People ask us sometimes how we compete with all those big Philadelphia radio stations," Mason added. "The answer is, 'We don't.' The quesiton is, 'How can they compete with us?' They're involved with news in a larger audience, covering 11 counties in three states. They're not going to pay attention to Chester County like we do. They can't do what we do."
In 2009, Mason helped to launch a new programming schedule. He gutted the existing morning broadcast, placed himself on the air, hired Stirling, and brought in a daily co-host. The result is a breezy three hours of conversation and a town hall-like opportunity for listerners to voice their opinions. 
Doyle came on board at the morning show in February, and serves as the Wednesday host. Nearly every time she occupies her morning seat, there's a special guest on the show who is doing something extraordinary in the community.
 "I love listening to people's stories," Doyle said. "Everyone has a book in them. It's a people business, and you have to love your community in order to be successful.  You can't fake it.  You can't pretend to sound happy."
From 10 a.m. to noon weekdays, Ron McNiel doesn't fake it. He doesn't have to. Rather, he lets his callers do most of the talking. For the last three years, his "Ron's Swap Shop" has been one of the station's most popular programs. The format is simple: Listeners call in with items they either want to sell or buy. 
Sue from West Goshen wants a part-Boxer puppy. Mary from West Chester is selling an electric heater for $20. Ava from West Chester has free firewood. Does anyone need a free bathtub? Call Primo.
"I had a local insurance guy call me once, and he told me, 'Damn you, Ron, every time your show comes on, everyone in my office stops working and listens to your show,'" McNiel said.  
If there is ever a doubt as to whether WCHE has been embraced by its listeners, the proof is seen and heard on an everyday basis. Citizens on power walks in downtown West Chester will, without warning or invitation, stop in just to say hello to Mason and his staff, and offer comments on a particular show. Often, listeners will play a part in the news, as on-the-spot reporters. 
Last year, a regular caller called into the station, saying that the Department of Motor Vehicles on Route 202 had been robbed.  
"The guy called back a few minutes later, and they actually put him on the air," Mason recalled. "He was giving a full description of the robber. He was saying, 'The robber is running up Route 202 and he's now running through a cornfield.' Where else can you hear that, except on a community radio station?"
The proof of WCHE's role in the community is also seen in their broadcasts. Stirling pointed to a series of political debates that the station hosted last year. 
"We had a live debate right in our lobby," he said. "It was very structured, and no one else could do that better than us. There certainly wouldn't have been that without us. That's commuity radio at its best."
"During Hurricane Irene last year, people told us that we were their lifeline," Mason said. "The Daily Local couldn't publish for three straight days, power was out all over, so for many, we were it."
At its finest, a radio station eclipses the role of information provider, and serves as a companion, a constancy in a household, and the voices that it produces become as familiar as those of a member of the family. 
On the day before Christmas Eve a few years ago, an elderly listener called "Ron's Swap Shop" and told McNiel, "I didn't think you'd be on so close to the holiday. I am so glad to hear your voice ... My wife passed away and this is my first Christmas without her. And it was so important for me to hear a familiar voice.'"
"That's the power of local radio," Mason said. "Sometimes when we're sitting here thinking we're just talking to ourselves, we have no idea how much we impact people."
---
---
---