West Chester author publishes second children's book

Sep 03, 2012 11:24AM, Published by J. Chambless, Categories: Arts+Entertainment
---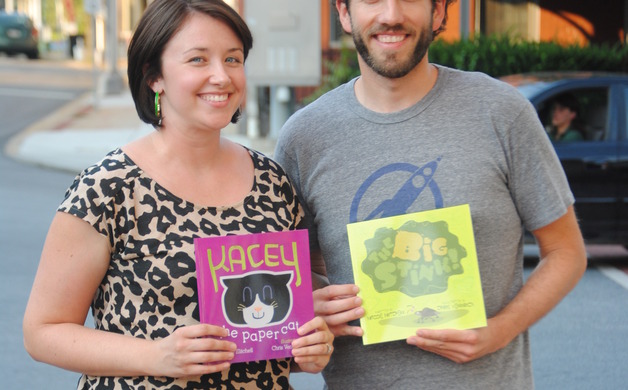 Maggie Mitchell and Chris Vendrick have collaborated on two children's books so far: 'The Big Stink!' in 2011 and 'Kacey The Paper Cat' this year. Both Mitchell and Vendrick are graduates of Oxford Area High School. They participated in a book-signing at Petey Possum's Hangout in Oxford in early September.
---
---

(Editor's note: This article first appeared in our Fall 2012 edition)

By Steve Hoffman

Staff Writer
When Maggie Mitchell saw a series of news reports about bullying in schools a few years ago, she was inspired to sit down and write "The Big Stink!" 
The 2011 children's book featured a powerful and positive anti-bullying message as three friends — a butterfly, a ladybug, and a stink bug — must deal with rumors that are being spread about Hally, the stink bug.
"That book was about all the things I was seeing in the news about kids being bullied in school," Mitchell explained. "I took that serious issue and then I thought it was a good idea to put the stink bug in the position of a child."
It took about six months to complete the book, which was well-received.
Mitchell, a resident of West Chester, had six years of experience as a music teacher before writing "The Big Stink," which is one reason she is able to communicate so effectively with youngsters. After her first children's book was published by eReadia Kids, she knew that she wanted to continue to write children's books.
For inspiration for her second book, the recently published "Kacey the Paper Cat," Mitchell looked no farther than her own living room, where her beloved cat, Kasey, frequently entertains himself with random pieces of paper.
"He really likes various forms of paper products," Mitchell said with a laugh.
"Kasey the Paper Cat" is a story featuring just the one character, and told in rhyme. "It has good vocabulary words to fill out the rhyme scheme," Mitchell explained. 
She collaborated with Chris Vendrick, an illustrator from Conshohocken, for her first two books. Mitchell and Vendrick are longtime friends and graduates of Oxford Area High School.
"Maggie will send me ideas and I will sketch it out," Vendrick explained of the process they use to develop a book. The two trade ideas back and forth as the illustrations are added to the story.
"Nothing is ever final until we both agree," Mitchell said.
She added, "I work hard trying to make the story interesting and clever. Kids like it when they can figure things out."
Becky Smalley is the proprietor of Petey Possum's Hangout in Oxford, which has a large selection of children's books. She said that whenever Mitchell schedules a book-signing, she knows there will be a large turnout of enthusiastic fans. Smalley said that Mitchell's book is "beautifully illustrated and is able to capture the spunkiness and independence of cats in a humorous way."
In between the publication of the first and second book, Mitchell found out that the owner of the company that published "The Big Stink!" had decided that he wasn't going to continue the business. Mitchell decided to step in and take over, renaming the company Bushbaby Press. A bushbaby is a small, nocturnal primate that is native to Africa.
Why did she decide on the "Bushbaby" name? One night when Mitchell was working after midnight, as she often does, it occurred to her that it would be appropriate to name the company after a nocturnal animal. She thought the bushbaby was adorable and would work as the "face" of the company. 
Bushbaby Press currently has about ten books in various stages of production. Mitchell looks for authors and illustrators who are diverse in their styles and interests, so that the books that are produced for print and as e-books are also varied. Bushbaby Press works with authors from all over the country to bring a fresh approach to publishing picture books, middle-grade books, and young adult literature.
"That's the beauty of the Internet," Mitchell said. "We can work with people from all over the country."
The first goal of Bushbaby Press is to produce interesting stories for children to read. The staff takes pride in providing parents with engaging books that they can read to their children. 
As a writer herself, Mitchell also wants to provide authors and illustrators with the inspiration that they need to keep writing, drawing, and sharing.
In addition to being a publisher, Mitchell is a full-time mom and blogger. She keeps track of her life's moments on a blog and contributes regularly to Handmade in PA, the community blog of the Pennsylvania Guild of Craftsmen.
What will Mitchell write next?
"I have a couple of ideas that I am going to explore with Chris," she said.
Information about Mitchell's most recent book can be found on Facebook at Facebook.com/KaceyThePaperCat. Book signings and details about other upcoming events can be found at Maggie-mitchell.com or BushbabyPress.com.
---
---
---