Celebrating 25 years of wit and wordplay

Sep 03, 2012 11:16AM, Published by J. Chambless, Categories: Local History, Arts+Entertainment
---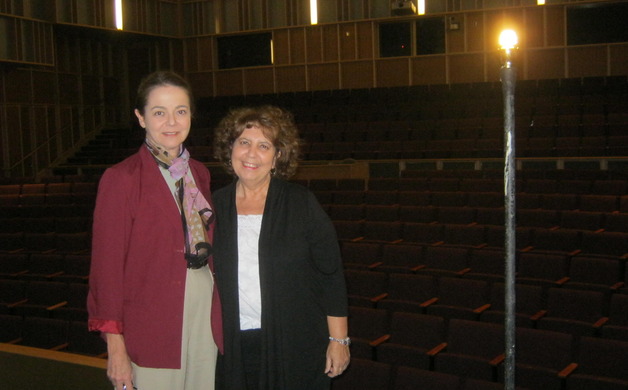 Julie May (left) and Janet Ables have long histories with the Gilbert and Sullivan Society of Chester County.
---
Gallery: Gilbert & Sullivan [3 Images] Click any image to expand.
---
---

(Editor's note: This article first appeared in our Fall 2012 edition)


By John Chambless
Staff Writer
In 1987, dressed as a sailor and waiting on stage for the curtain to open for "HMS Pinafore," Janet Ables was concentrating on getting her songs right. She had no way of knowing that, 25 years later, she'd be taking part in another production of Gilbert and Sullivan's classic operetta for the Gilbert and Sullivan Society of Chester County.
But that's the kind of loyalty the community theater group inspires. 
"It doesn't seem like 25 years," Ables said during an interview in the Adler Theater at West Chester University. 
In that first show, "There was such a huge chorus, and we all had our places set," she said. "When that first curtain opened, the thrill just goes through you. But I really wan't nervous. I found that I just loved doing it."
Ables has been involved in every production since then, either on stage in the chorus, or backstage as the chief makeup artist. Sometimes, both. "I usually concentrate on the makeup since I have about 50 things going on at once," Ables said, smiling. 
For those who don't know, Gilbert and Sullivan's 14 operattas, written between 1871 and 1896, remain popular today because they are sublimely silly. This is not the kind of opera where large people in armor sing in Italian and then die. Sullivan's bouncy, tuneful scores are matched by Gilbert's intricate wordplay and dazzlingly improbable plot twists. Think "Monty Python" set to music and you'll have a good idea of the appeal.
The Gilbert and Sullivan Society of Chester County has been performing one mainstage production a year since 1987, and they always stage the duo's "Trial by Jury" at Christmas time in a real West Chester courtroom. On Nov. 16 and 17, they will present a kind of greatest hits concert at Holy Trinity Church in West Chester. Then, in February, they will stage "HMS Pinafore" in the Adler Theater with a full orchestra.
The first time Ables saw the company, they were doing a concert of Gilbert and Sullivan songs.
"I tried to get other people to go with me and no one would go, so I went by myself," she said. "I sat there and thought, 'I really, really want to be part of this.'"
Never having set foot on a stage before, she auditioned for company founding member Lois Alt and got a spot in the large chorus for "HMS Pinafore." She was hooked.
"It's been like a little family to me," she said of the casts and crews who put the shows together every year. "There have been a few times when I've said I'm going to quit, but that usually passes."
The productions are "town and gown" cooperative ventures that use music students from West Chester University, along with cast members from the community. That tradition began with Lois Alt, who was a vocal instructor at the university and insisted that her students take part in the productions.
"I love the students," Ables said. "They're a joy to work with. When they come to a group like this, they're used to doing high-school musicals, and they realize that this is a little more difficult, a little more advanced. From what I've seen, they appreciate doing this. There's a lot of learning experience, in  addition to sometimes getting class credit."
When doing shows with dozens of cast members, elaborate costumes and sets, something is bound to go wrong occasionally, and Ables recalled one production – "Pirates of Penzance" – when a lamp that an actor had brought into the dressing room caught fire during the show. As the smoke billowed onto the stage, "the director grabbed the fire extinguisher, ran across the stage and made it look like part of the show," she said, laughing. 
Ables said she's particularly fond of Gilbert & Sullivan's "Patience" and "The Gondoliers," and she wishes more people would give their works a chance. "It's a lot of silly fun," she said, "and a lot of wonderful music and dancing. We have very talented people, and we put on very professional shows."
For Julie May, the Gilbert and Sullivan Society is an 18-year tradition. She has played major roles for the company, as well as directing. This year, she's the group's president and director of the 25th-anniversary production, "HMS Pinafore."
This is the first year the company is in the Adler Theater, which is a comfortable, more intimate space that has every modern convenience. 
"Every show, the challenges change," May said. "It depends on the experience level of those in the show. If they're novices, you have to introduce them to it. Trying to get Americans to come up with English accents, and dropping the Jersey -- 'Youse' -- is sometimes hard."
Gilbert and Sullivan's works have sometimes been tweaked – or stretched – to change their time periods. "Pirates of Penzance" has been staged as if the pirates were bikers, for instance.
"I stick to tradition," May said. For this year's show, that means lots of sailor costumes from the 1800s, as well as elaborate gowns for the female characters. And a ship. Fortunately, the company has a warehouse where old scenery is stored for re-use, and the eight regional Gilbert and Sullivan companies often swap props and costumes with each other, May said.
As the leader of the company, May often has to play cheerleader for getting people into the theater seats. Audiences average 200 people, which – along with donations – is enough to pay the bills, which can be around $25,000 for a major production. 
"The biggest challenge is not what happens on stage," she said, "it's keeping the people in the audience, finding the people who will enjoy it. Today, with all the diversions and entertainment that's in your lap, it's a very different world of people who are theatergoers. Not having as many arts in schools, and things like that, isn't building them from youth. 
"Gilbert and Sullivan is the most wonderful family entertainment," May said. "Kids love it. They love seeing adults making fools of themselves up on stage. We've had generations on stage together. In this production now, we have a father, his son, and granddad. That's what it's all about."
May was a close associate of founding member and Gilbert and Sullivan expert Bruce Montgomery, appearing in shows he directed, and serving as producer for many of his shows. The late actor/director was charismatic, "and he wanted things to be done a certain way," May said. "There was a lot of tradition involved in it. He was a lot of fun, but he was very specific. He had a level of expectation of his performers."
It's a point of pride that so many former cast members are taking part in the 25th anniversary concert, May said. Jay Anstey, who was a featured actor in that first 1987 production of "HMS Pinafore," will be singing as part of a program that includes at least one song from all 14 operettas.
Gilbert and Sullivan's entire output as a duo was 14 shows, May said, and the last two – "The Grand Duke" and "Utopia, Limited" – are not often performed because of their large scale and because the works are not as polished as what May called "the big three" in America – "Pirates of Penzance," "The Mikado" and "HMS Pinafore."
When the works were originally performed, they were sensationally popular, May said. A run of 200 to 500 performances was not unusual. 
"When they were doing their shows, everybody in the audience had a libretto in their lap," May said. "They could read it while the show was going on. They came back many times. People would go two or three or four times to see a show. The music was played in pavilions in all the towns. Everybody had a concert band. It was very much a part of the culture in England. At one point, there was a production of 'The Mikado' being performed somewhere in the world every day."
May, who lives in West Chester, said she returns to do a show year after year because "every show has a different life to it. Every time I have a chance to explore a character for the second time or the third time, I find more in that character. And," she added with a smile, "I just love theater."
---
---
---