Dual West Chester restaurants carry on the Giunta tradition

Jul 02, 2012 03:07PM, Published by J. Chambless, Categories: Business
---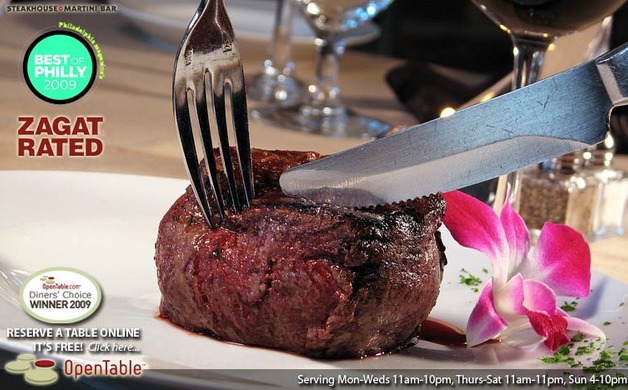 ---
---
(Editor's note: This article first appeared in our Summer 2012 edition.)
By John Chambless
Staff Writer


In 1927, Pietro Giunta came to West Chester and established a small market and butcher shop out of his home at Darlington and Biddle streets. Today, Pietro's name lives on at Pietro's Prime, an upscale steakhouse in West Chester that's owned and operated by his great-granddaughter, Marisa.
In between are some 80 years of Giunta family history, which Marisa knows very well. Sitting at a table at Pietro's Prime during a lull between the lunch and dinner rush, she sketched out how the family has become an integral part of the community.
Pietro and his wife had five sons and three daughters, and his son Frank took over the first store, offering the then-novel idea of home delivery of groceries. In 1971, another son opened the Giunta's Market on Market Street. In 1991, Marisa's father opened Giunta's Thriftway in West Chester, and they operated the landmark grocery store until 2004. Frank Giunta kept busy at the store, greeting customers or even bagging groceries. He passed away in 2010 at the age of 95, Marisa said.
Growing up in the Giunta family, Marisa learned the business side of things. Her future husband, Sean Powell, worked for her father in the Thriftway store. Marisa got a wide range of experience, at one time or another managing cashiers, learning the corporate side of the restaurant business at Chili's, working as a waitress and dreaming of someday running her own restaurant.
Eventually, Marisa and Sean heard that a former deli at 125 W. Market Street was for sale. In 2007, they took the plunge, buying and renovating the property. They opened Pietro's Prime, under her great-grandfather's name, in August of that year. 
"When we first opened, there was no high-end steakhouse in town," Marisa said. "I didn't want us to be a stuffy, white tablecloth kind of place. We have more of a casual atmosphere, we treat everyone like family. And then there are the martinis."
The restaurant ofers some 20 flavored martinis, which are a strong draw in themselves. 
In 2009, the Powells expanded to Gay Street in the borough, opening Nonna's, which is named after Marisa's grandmother on her mother's side. Known for her Italian cooking, she is the perfect namesake for the second restaurant, which specializes in cuisine prepared from family recipes.
With Sean working in the kitchen at Pietro's five or six nights a week, supervising a staff of six, and Marisa dedicated to running two restaurants, the Powells aren't home a lot.
"You never know what's going to happen during the day," Marisa said. "It's definitely not boring. I usually come in here for lunch and work in my office in the back. I do the payroll and all of that. And I also work at Nonna's four nights a week, in the kitchen or wherever I'm needed."
The risks of opening two restaurants were magnified by the recession during the past few years, and the Powells are acutely aware that, statistically, 80 percent of new restaurants fail within the first two years. They've managed to succeed by offering lower-priced entrees and sandwiches along with the spectacular steak specialties at Pietro's, which range up to a 14-ounce filet mignon that is worthy of a special occasion. And the Giunta name – which is displayed on the sign at Nonna's – carries a lot of weight in the West Chester area.
"It's a tight-knit community," Marisa said. "I've lived here all my life. I have 18 first cousins, and we all grew up together and we all still live here."
Her uncle Leonard owns Giunta Enterprises, Inc., a construction and property maintenance company, and he has helped out with the two restaurants. Marisa's father pitches in as well.
"He works one or two days a week, for lunch," she said. "He'll be up front, helping to seat people, answering the phone. He does all the flowers and plantings, decorates both restaurants. He's great, and he's happy to do it. He can't just sit around."
Marisa's mother helps in the office two days a week and prepares two dessert specialties at each location, crafting everything by hand. And the martinis at Pietro's Prime are all named after family members.
Marisa is on the board at the West Chester Chamber of Commerce, and works closely with the YMCA as a community partner, helps the West Chester Film Festival, donates food for the annual Dash for Diabetes, and displays works by local artists at both locations. Pietro's Prime also books entertainers from the region.
Despite the long hours, Sean said he truly loves to cook every day. "I've loved to cook ever since I was little," he said. "I get to come to work every day for myself. I don't have to answer to anybody, except my wife," he added with a grin, glancing at Marisa.
To contact Staff Writer John Chambless, e-mail jchambless@chestercounty.com.
Slug: Giunta family restaurant owner
Photo by John Chambless: Pietro's 003
Caption: Marisa and Sean Powell are the team behind Pietro's Prime and Nonna's in West Chester.
---
---
---