Winning ways

Jun 04, 2012 03:10PM, Published by J. Chambless, Categories: Recreation
---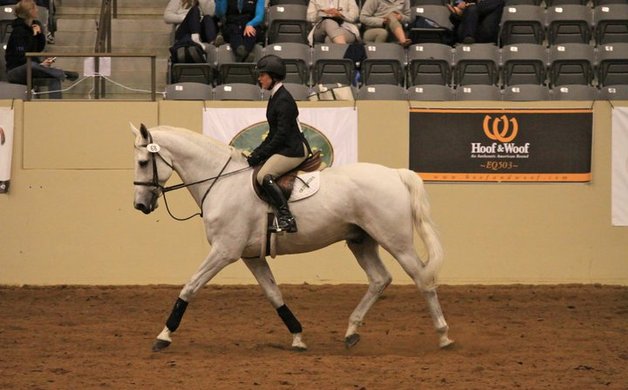 ---
---

(Editor's note: This article first appeared in our Summer 2012 edition.)

By Nancy Johnson

Correspondent
While Missy Cohen definitely had plans to continue to ride and show horses while attending college, she never expected that all her years of riding at her mother's Low Key Farm in West Chester would pay off in her winning intercollegiate riding's most coveted award.
When it was time to choose a college, Missy weighed all her options and chose Centenary College in Hackettstown, N.J.  She says the decision was really not that difficult.
"When I was looking at colleges I knew I wanted one where I could ride," she said. "Then, once I saw the facility at Centenary, met the staff and saw the quality of horses, that made my decision for me."
As the daughter of lifelong professional horsewoman Gaye Goldeman, Missy was always surrounded by horses, but she did not have the showing experience that many of the Centenary's top riders had. 
"Most of the Open riders had done the Medal/Maclay, but I spent most of my time schooling the ponies so they would be ready for the kids to show," she explained. [USEF Medal classes are very competitive classes in which the rider's ability and style is tested with intricate courses over fences 3-foot-6 high; Maclay classes are similar, with added testing riding on the flat. The ultimate goal in competing in both Medal and Maclay classes is to qualify, by winning in one's zone and then region, for the National Finals.] 
Because the level one shows in Intercollegiate Horse Show Association (IHSA) is determined by previous winnings, Missy was able to compete in the Intermediate classes as she hadn't won six blue ribbons over fences at 3-foot-6.
She vividly remembers the first year she competed for the team at Nationals, in 2008, which were held in Burbank, Calif.  "I have never been as nervous as I was at the Nationals," she said. "I was way more anxious than at Pony Finals or Harrisburg [the Pennsylvania National Horse Show]. I guess it is because I was competing for the team and you know everyone is counting on you. If you mess up, it's not just you, it's the whole team."
The experience was very exciting for Missy, since Centenary's team wound up third overall. She emphasized that even to qualify for the finals is quite a feat, as there are more than 300 teams across the country. 
She said that some schools, like Centenary, have very competitive teams with many accomplished riders, while others may have as few as seven members and are more like a club. But either way, she applauds the IHSA for giving students, beginners right through experts, the opportunity to ride and show without a great deal of expense during their college years.
Throughout the school year, intercollegiate riders strictly compete against riders from their region. Among the schools in Centenary's very competitive region are USMA, Vasser, SUNI, Pace, Bard and Drew. 
"Everyone loves coming to Centenary to compete because we have the best facility and the nicest horses," Missy said. She explained the system used to determine which horse a rider will ride in an event. "It's so random, that's part of what makes it so cool," she said.
Basically, the riders in each class, which run the gamut of a Beginner walk-trot to Open over fences, are matched up with their mount by a drawing of names conducted by the show management and then posted. The rules are very strict that riders do not get to ride their mount at all before their class. Walking into a show ring and jumping around a course with no warm-up is very foreign to most riders, who are accustomed to having regular lessons on the horse they show, and also a warm-up over a few practice jumps right before entering the show ring.
Because of her background, riding an unknown horse was not as foreign to Missy as it was for many of the other riders. She also learned very quickly to watch the non-competing riders school all the horses in the morning before the competition began.
"If you know what to look for, you can pick up some clues about the horses and be much better prepared when you draw a particular horse," she said. "Because of my experience riding so many horses at home, I was able to figure out the horses pretty quickly. Some of it really is the luck of the draw, but overall I think it evens out."
2009,  her second year of competing on the Intercollegiate Riding Team, culminated in Cententary winning the team championship in Murphysboro, Tenn. Missy recalled the thrill when her teammate, Lindsay Clark, earned incredible scores in the 90s to win the Open over fences class for team points as well as the coveted Cacchione Cup. Missy herself was a major contributor to the team win, as she claimed the blue ribbon in the Intermediate over fences class.
Missy's junior year as a Centenary IHSA team member was a bit of a transition year. She was in the midst of moving up from Intermediate to Open. She was able to compete as an individual Intermediate rider at the Nationals, again winning the over fences class, but was not eligible to ride for team points. 
"It was a good year for me to support everyone else on the team because I rode in the very first class and was done," she said.
Serving as team captain, Missy admits she found her time very thin in her senior year.
"There were times when it was hard to get all my classwork done and run a team for 80 people," she said. As captain, she was responsible for everything from getting the paperwork in order for the riders to compete to travel arrangements, plus, when they hosted shows, Missy made sure all of the horses were meticulously groomed, braided (at many of the shows) and schooled before the events.
"We had a lot of very talented freshmen on the team that year, so I didn't always get to show for the team," Missy recalled, explaining that only one rider from a college can compete for team points in any given class. 
Points are tabulated all year to determine which teams will qualify to compete in the Zones. Just the top winner from each Region goes on to show at the Zones and from there the top teams move on to compete at Nationals. In addition to the team competition, a similar point system is used to narrow down the field of riders who compete as individuals. Missy's points competing individually throughout the year in the Open over fences and flat classes qualified her for the Nationals. She felt very fortunate to have the opportunity to compete for the coveted Cacchione Cup, whose namesake, Bob Cacchione, was a sophomore at Fairleigh Dickinson University in 1967 when he founded the IHSA.
Thirty-two riders, the largest field in the class's history, were to compete in the 2011 Cacchione Cup held at the Horse Park in Lexington, Ky. Missy laughed as she described the slightly different procedure used to match up riders with horses in this special class.
"They actually had a little duck pond and we pulled rubber duckies out of it. It kind of was a fun thing to do and helped to break the tension of the competition," she said.
"Of course, I drew a horse I never heard of," she added. "But, since there were so many riders, each horse competed twice. Another rider rode him in the class before me, so I had the advantage of seeing him go and he had already jumped around the course."
Missy's coach gave her explicit directions on how to ride the horse – some horses you have to ride more aggressively, while others require a very gentle feel. "The horse went exactly as she said and was really a lot of fun to ride," she said. 
Missy described the course as being "a very good test that really weeded out a lot of riders." Her score of 82.5 put her in fourth place and well within the top 18 that were invited back for the next phase of the class.
After re-drawing horses, the riders were judged "on the flat" – at a walk, trot, and canter with no jumping involved. The judges decided to split the class – put half of the riders through the phases and then the second half would enter the ring and be judged in a similar format.  Missy feels that she was fortunate to ride in the second group.
"The flat is not my forte, but as I watched the first group I thought they were too conservative," she said. "It looked like they were just crawling around the big coliseum. My plan was to ride more boldly, not get stuck in the corners and be seen by the judges all the time."
Her plan definitely worked. Missy was awarded an 87 – the second highest score for the flat phase. After combining the over fences and flat scores, Missy was ahead with a score of 87.5, but now only .75 separated the top three riders.
The judges decided to bring just those three riders back for a final test. This time instead of drawing their mounts, the judges selected the horses for each competitor.
"I noticed that in my case the horse they chose for me, Best Boy, was the opposite of the one I rode in the first round. He was huge, like almost 18 hands, and more of an equitation horse whereas the other one was a hunter-type," Missy explained.
Again, there was no warm-up allowed, but Missy was very thankful to the coach from Skidmore College, which had provided the horse. "She really helped me a lot as to how to get the best ride out of him," Missy said with a grin. "She told me that since Skidmore didn't have a rider in the ride-off, she at least wanted their horse to win."
While Missy did not have an opportunity to watch the other two riders negotiate the course, her teammates all watched carefully. They assured her that her ride was clearly the best. The judges concurred and awarded her the Cacchione Cup.
And if that wasn't enough of a thrill, Centenary's team went on the win the team award, making it the second time in just three years that they had won both the top individual and team honors.
Along with having her name engraved on the Cacchione Cup, Missy won an array of prizes, including a Collegiate saddle, boots, a riding helmet, jackets, and a $1,500 grant to further her education.
"They really encourage you to use the money to go to Europe," she said. Shortly after Missy graduated with a degree in equine business management and a business minor, professional horseman Ralph Caristo arranged for her to work for three months with Gerhard Etter at his sales barn and breeding operation near Bern, Switzerland.
"It was a lot of hard work," she admitted. "But it was so cool to see how different things are there, plus I got to do a lot with jumpers, which I really hadn't had the opportunity to do before."
Shortly after returning from Europe, Missy was offered another great opportunity to work all winter, splitting her time with two top local professional horsewomen, Joanne Copeland and Amanda Lyerly, at the Wellington Equestrian Festival horse shows.
"It was a great experience," she said. "Not only is it a beautiful place to spend the winter, but the quality of the horses is just unbelievable."
Despite her experience and connections in the horse world, Missy is not quite ready to make it her full-time profession. 
"I am taking the GMATS soon and plan to get my MBA. I really enjoy accounting and will probably do something in that field," she said. "Of course, I can always come back to this," she added as she glanced at the horses in a paddock at Low Key Farm.
---
---
---