Moments in time

Jun 04, 2012 03:05PM, Published by J. Chambless, Categories: Arts+Entertainment
---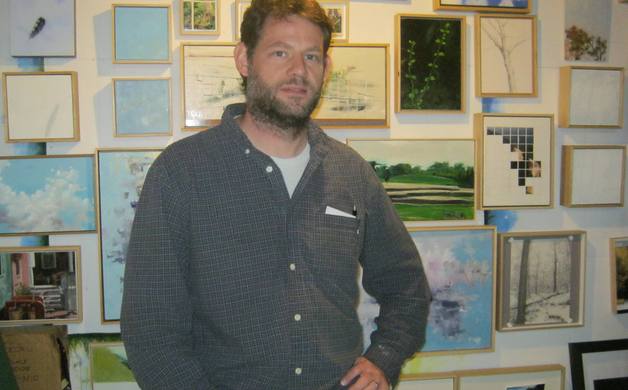 ---
Gallery: Jeremy McGirl [6 Images] Click any image to expand.
---
---
(Editor's note: This article first appeared in our Summer 2012 edition.)


By John Chambless
Staff Writer


The flicker of a bird's wing. The way the sun slants through tree branches in a childhood memory. The faces in a fading snapshot.
For Jeremy McGirl, these moments in time are something to be caught, turned into art and revealed as the imperfect, beautiful fragments that they are.
"I'm thinking about moments in time, and how time passes," McGirl said. "The way we remember that moment is sometimes different from what actually happened. It's about how memory fades, and what we hold onto changes."
McGirl's life is moving quickly while his artwork tries to interpret the past. He lives in West Chester with his wife, Julie, and their two children, ages 1 and 3. They're contemplating a move to a larger place to hold their growing family, but for now, McGirl has partitioned a work space in the cinder block basement that is packed with his small paintings and drawings, as well as works in progress.
He grew up in Colorado, where his father worked for Coors for some 30 years. Dad paints as a hobby, but Jeremy was always drawing. "It was something I always did," he said. "I never knew what I would do with it, though. It was just a hobby for a long time."
McGirl got his BFA in 1997 at Metropolitan State College in Denver, after working since the age of 16 in a movie theater. All those hours spent around movies is reflected in the sequential nature of many of his works -- photos cut into 1-inch squares and laid out like frames in a film, or rearranged into grids.
In 1998, he got married and lived in Lafayette, Colo., for a year before deciding "to change things up" in 1999 and move east with Julie, who was studying to become a teacher. Jeremy was transferred by the movie chain he was working for. They wanted to be near West Chester University for Julie's studies, found an apartment over the phone and moved here, where Jeremy worked for another few months for the movie theater chain and decided that the call of art was winning out.
"I took Bruce Dayton's life drawing class at the Chester County Art Association," he said. "I worked at DuPont in Exton for five years, in the automotive paint division -- desk work, basically. My wife finished school and was establishing herself as a teacher, so there's that stability in our life that enabled me to quit DuPont and go back to school for my master's. I did the post-baccalaureate program at the Pennsylvania Academy of Fine Arts for three years."
There, he took a weekend course with renowned painter Bo Bartlett and loved the school. 
"I was aware of the Wyeths, and Howard Pyle and the illustration background in the area," McGirl said. "We'd always go to the museums."
In May of 2008, his link with the Art Association led to his being offered a solo show.
"I had been going there since we moved here," he said. "I had shown work in the group shows. Darcy (Goldberg, the director of the Art Association) and I talked, and she set up the show for me. It was great. I don't think you can beat having a show at the Art Center, especially with someone like Darcy, who says, 'We want you to show in the gallery. Have fun.' 
"It's not a gallery where they say, 'We want this work from you because we know we can movie it.' It's a non-profit art center, so it's really about the work." 
McGirl arranged the show like an installation, with dozens of small works -- some laid out on wooden molding strips like lengths of film -- examining the nature of memories and the way the environment is constantly being changed by development. The parts all worked together.
The alteration of nature is a constant theme in McGirl's work.
"The environment comes into play, because we manipulate it so much," he said. "Everything happens so fast these days. How much do we miss? We don't always see the long-term effects of what we do. Now we're reacting to our previous reactions, for good or bad. Do we find the right balance?"
In one painting in his studio, a spindly tree is rendered with exacting detail. To the left, a brilliant splash of color on the white background draws attention. "I'll paint a tree like this, and this light is a distraction," McGirl said. "I think how we work through our daily lives, and there are so many distractions that we don't stop and look at the beautiful plant or the colors of the leaves. We have so much that grabs our attention that sometimes we need to slow down and look at things."
Many of McGirl's collages make use of grids that are partially filled in with images -- and partially empty. The gaps are where our memory fails us, or where things once there have disappeared.
A photo collage of a road cutting across a wooded mountainside is actually nothing like the original snapshot, McGirl said. He reconfigured the place into a fictional landscape, like a memory altered by time.
McGirl captures a tangle of trees with gray lines that are as fragile as wisps of smoke. Are they fading away or just coming into view? One small painting is a pale blue square, but when it hangs above a painting of wispy white clouds, it becomes an extension of the sky, with the gap between the frames suggesting a gap in our perception.
McGirl has a gift for astounding detail in his drawings. One wintry woodland view, done in pencil, is framed in a shadowbox, with bits of tape holding it in place. "Like it could be changed," he said, showing a visitor the actual photograph of the scene. It's a lush, green, summertime view. The drawing shows only white where the leaves and moss had been, completely changing the season by leaving something out.
Several small paintings show feathers drifting in empty sky.
"I would collect feathers on hikes," he said. "They're something you come across that's no longer performing its original use. It's something new. It's like a marker of what was."
He also draws birds in mid-flight, or with their wings tipped at angles suggesting they're just about to leave. Rendered on thin, tissue-like paper and taped to artist's board, they are fragile, ephemeral things that are, nonetheless, exquisitely beautiful.
In a couple of recent works, McGirl has incorporated old family photos, painting and then scraping the canvases to suggest the layers of fading memories that underlie the images. One the easel is an unfinished painting of a shark in deep water, its eye regarding the viewer with an icy stare.
"I was thinking about presence and context. Control or power," he said. "About being in an environment that may be uncormfortable. We can't ground our feet in this painting -- there's no land. So the power shifts."
McGirl is now inspiring others by teaching three introductory art courses at Delaware County Community College. His wife is a teacher at Pocopson Elementary. He'll be teaching young artists in a series of free classes at The Garage in Kennett Square this summer, and the shark painting was headed for the Chester County Art Association's Invitational Art Show that ended on May 25. 
"Yeah, it's different," he said. "But I wanted to do something different, something real new."
Jeremy McGirl will be represented in the Chester County Art Association's Members Open Show, which runs from June 1 to 22. 
To contact Staff Writer John Chambless, e-mail jchambless@chestercounty.com.
---
---
---