At Shining Stars Adapted Dance Camp, children dance with no inhibitions

Sep 01, 2011 09:38AM, Published by J. Chambless, Categories: Recreation, Today Family Features
---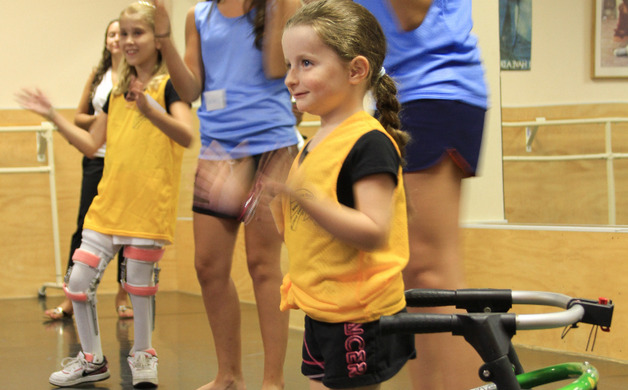 A major goal of Shining Stars is smiles like those of Kate Santangelo with coach Rachel Zajac and Mallie Holman with coach Lindsay Zajac.
---
Gallery: Shining Stars [4 Images] Click any image to expand.
---
---
(Editor's note: This article first appeared in our Fall 2011 issue)


By Nancy Johnson
Correspondent
At any given time one can find dedicated and talented dancers honing their skills at the Diane Matthews School of Dance Arts. But for one week each August, the dance studio truly sparkles with Shining Stars.
In this, the fifth year of Shining Stars Adapted Dance Camp, 15 girls and boys with physical challenges have the opportunity to experience the joy of dance. And thanks to the Samantha Zajac Memorial Fund and many volunteers, the children receive four afternoons of top-notch dance instruction, culminating in a performance for family and friends -- at no cost.
"It's my favorite week of the year," says Carla Zajac with a huge smile. Carla and her husband, Denny, run the camp through the memorial fund they established through the Chester County Community Foundation to honor their daughter Samantha. Despite having a mild case of cerebral palsy, "Sammy" was a very active, enthusiastic, and playful child who never let her disability get in the way of anything she wanted to do. Although she passed away 10 years ago at just eight years of age, Sammy had experienced so much in her short life, including horseback riding, soccer, basketball, swimming, and dance.   
It was Sammy's love of music and dance that inspired her family to launch Shining Stars Adapted Dance Camp. They approached Dr. Monica Lepore, professor and coordinator of adapted physical education, West Chester University (WCU) Department of Kinesiology, with their idea.
 The Zajacs were familiar with Lepore's expertise in adapted physical education as Sammy had participated in an enormously popular program that she has led at WCU for nearly 30 years. Lepore explains that the Wednesday night program grew out of the adapted swimming program. In the current program, the children spend five weeks in the gym playing sports, followed by four weeks of swimming. 
"Most of the kids can't play sports inclusively," Lepore explains. "And sometimes they need a little help. The program gives them a place where they don't have to feel like they are different."
Lepore eagerly agreed to help the Zajacs with the adapted dance program. She reached out to her colleague, associate professor and dance program coordinator at WCU Gretchen Studlien-Webb, who then joined the team. Studlien-Webb continues to teach one of the groups each year.
The first year, 2007, the camp was held at WCU with four dancers participating. The children in the pilot program were all from Lepore's Wednesday night program.  As word has spread through Lepore's WCU class and via the camp dancers, Shining Stars Adapted Dance Camp has grown each successive year.
In 2008, Diane Matthews opened her new studio in the Howard Business Park and graciously offered all three studios for Shining Stars Adapted Dance Camp's use gratis.  
"It is so generous of Diane to host us here free of charge and teach one of the groups," Zajac emphasizes. "She is so gifted and it means so much to our dancers to be in a studio like this."
Matthews, who has taught dance for 30 years, loves hosting the group. "I believe dance enlivens and uplifts everyone. No one should be stopped from dancing because of a disability," she says.
"In just the short time we work with them, you see such growth and appreciation. Dance brings out their imagination and creativity," she insists. "I feel honored that they ask to be here."
Rounding out the team of instructors this year is Carolyn Giles, a physical therapist assistant at A.I. duPont Hospital for Children. It is the fourth summer that Giles has been an instructor for the camp. Her group this year consists of three dancers – Madison Boggs, Sabrina Darpino, and Shannon Ward, all new to the camp. The girls all have cerebral palsy and two of them are non-verbal. Giles' experience makes her the perfect instructor for this group. She is proud of her coaches (each dancer in every class has his or her own coach to assist them). "The coaches have basically had to learn communication styles to work with the girls."
"This is a fantastic program," Giles exclaims. "I am so lucky to be involved. I just love to watch them light up!"
Many of the 15 girls volunteering as coaches this year are also veterans. Emily Crispyn, who helps in Giles' group, is back for her third year. "I've been dancing my whole life and I just love to give them an opportunity to dance," she explains. "And you get so close with the kids because you work one-on-one."
Ashley King is one of several volunteers who are WCU students studying adapted physical education with Lepore. "I have worked with a couple of these kids at [WCU] and just fell in love with them. I jumped at the chance to help here."
Two of the coaches have an extra special attachment to the program. Lindsay, 19, and Rachel Zajac, 14, have worked at the camp founded in memory of their sister.
Lindsay reflects on what the camp means to her. "Now that I have been coaching for a couple of years, I have become even more emotionally invested in the camp. I have seen two of the four original dancers continue to participate every year." She beams as she continues, "One of them, Mallie, is my dancer. I have developed a special relationship with her. But all of the dancers are so inspirational; just like Sammy's attitude, their positive spirit and energy fill the dance studio."
This year marked the first that the camp chose a theme – earth, wind, and fire. It was a clever play on Earth, Wind, and Fire's legendary song Shining Star and led to some great songs and choreography. For the first three days of camp the groups worked intently with their instructor and coaches in their own studios. Then, on Thursday they gather in one large studio and perform, both in their three individual groups and as one large group, for their family and friends.
Mallie's father Greg Holman has high praise for everyone involved in Shining Stars. "We've been in it since the beginning, when Mallie was just four." With a smile he adds, "She was very excited to come back and see her friends this year."
Mallie is afflicted with brittle bone disease which makes her highly susceptible to fractures. While she loves physical activities, she can't participate in the way most children can.
"This is one of the few places she can come and be herself," Holman says.
Dena Boggs and Janine Blythe, mothers of first time camp participants Madison and Shannon, respectively, are thrilled with Shining Stars. The girls, age 11, are best friends and according to Boggs, "are always putting on music and dancing at home."
Blythe chimes in, "They really do everything 11-year-old girls do; just in their own way." Shannon, who, like Madison and the third member of their class, Sabrina, uses a walker, still skis and plays soccer.
"This group of three needs a little more assistance than the other dancers," Boggs explains. "I love that they are separate now during practice, but will come together for the performance."
It's obvious that this camp means a lot to the participants, their parents, the instructors, and the volunteer coaches. Yet, the camp has an even greater meaning to one person – Carla Zajac, Sammy's mother. 
She thoughtfully explains, "Sammy's love for dance inspires us to offer this adapted dance program for children with physical challenges each year. Our camp provides children a unique opportunity to experience dance in a fun and meaningful way, while also giving our volunteer coaches and instructors a rich, hands-on educational experience working with children with special needs. Shining Stars brings our family together, along with our friends at West Chester University and Diane's Matthews' Dance Studio, to honor Sammy for the very special child she was by helping other children experience the joys of dance like Sammy did."
---
---
---
---