Rooted in China, an artist grows in Chester County

Sep 01, 2011 09:25AM, Published by J. Chambless, Categories: Arts+Entertainment, Today
---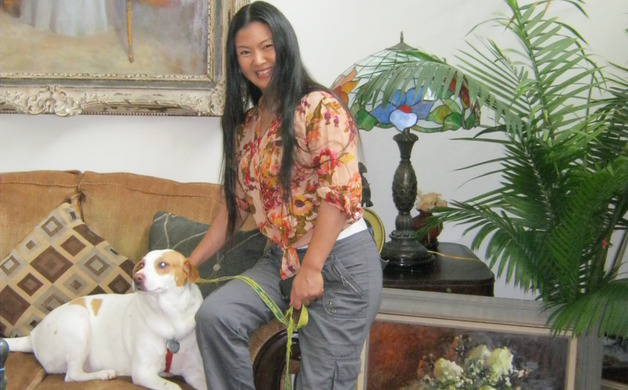 Hong with her dog, Candy.
---
Gallery: Artist Luo Hong [5 Images] Click any image to expand.
---
---
(Editor's note: This story first appeared in our Fall 2011 issue)


By John Chambless
Staff Writer
Whenever Luo Hong needs an inspiring landscape to paint, she just looks out her window.
The clear light that fills her home, high on a hill northwest of Downingtown, makes the whole house a painting studio, and Hong's paintings hang on every wall. A bouquet of flowers sits on the kitchen counter, and a painting of it sits nearby, still unfinished. Small landscapes show the crest of the hill behind her home. 
Hong smiles often over a sumptuous lunch she has prepared for a guest, explaining how she – and her artwork – came to be here. It has been a long road.
"I grew up in the People's Republic of China," Hong said. "I started art when I was very young. I just loved it. First I was studying music, then I came to painting."
Her late father was a musician before he joined the army. Her mother was an actress before her army service and a career as a doctor. Hong herself served in the military and studied under one of China's most renowned artists, Guan Weixing. Her life took a turn in 1989 when, as a student in the Henan University art department, she met an exchange history professor from the United States, Chris Plant. 
"He wanted to marry me, which was a big surprise," Hong said, smiling. She came to America with him in1991 and settled into the role of a senator's wife in Wyoming.
She studied painting at Western Wyoming Community College for three years, gradually perfecting the English she had studied in school in China. Having been born in 1960, Hong spent her youth under the restrictions of the old regime in China, where artists were strictly controlled.
"An artist in China works for the government," she said. "They only pay you a salary, no matter how many paintings you do. There's not much money."
Today, artists are free to sell their work in China, Hong said, and the market for Chinese artists is white-hot in the art centers of the world. 
"Artists are much happier now because they can sell a painting for a very high price," she said. "There are so many many auction houses – Sotheby's has a Chinese contemporary art department. And Christie's also has a department. Some of the prices are higher than the European old masters." 
There are more freedoms for artists in China today, she said, but the old rules die hard, and openly criticizing the government is still not allowed.
When she came to America in 1991, Hong said, she was struck by how large the houses were, and how she was treated as a visiting celebrity. Her husband was a Wyoming senator, and she got a standing ovation when she was introduced on the senate floor.
Along with all the traveling she did with her husband, Hong managed to keep painting. "Every time I entered a contest, I won," she said with a grin. 
Her prints have won national awards and are in the collection of the National Gallery in Beijing. She has sold works to collectors in California, Utah, New York, New Mexico and elsewhere.
But the cold, dry climate of Wyoming was hard to take. "It was too much space for me. I always begged my husband to go somewhere else," Hong said, but her husband was rooted in Wyoming, so the couple amicably divorced after 10 years.
She moved East, where the art mecca of New York City beckoned. She lived in Newark, N.J., had a solo show in 2007 at Gallery 59 in Manhattan, and had her works sold through galleries such as Ambleside Gallery in North Carolina. "Every weekend, I went to gallery openings," she said. Prizes continued to roll in.
But Chester County held special appeal for her.
"I just love this area," she said, "The landscape is beautiful." And it was the home of Andrew Wyeth, "my hero," Hong said.
Her work expanded from delicate, colorful floral still lifes and portraits to include paintings of the land around her. Having supplied paintings to galleries for sale, Hong didn't often hear from buyers about her work. Now she exhibits at regional shows and talks to people.
"Recently, the galleries started doing terribly because of the economy," she said. "I always wanted to go out for art festivals and never tried it before. At an outdoor show, I can hear the collectors say they like my paintings. That makes me feel so good." 
The economic downturn has hit the art market hard, Hong said, and she's looking for more portrait commissions. She has found a niche painting portraits of college presidents, most recently at Harcum College. She hopes that her solo show at the Chester County Art Association in November will showcase her work to a broad audience. The exhibit will be a cross-section of about 30 landscapes, portraits and still lifes.
The exhibit is a good opportunity after a bad few months. In January, Hong slipped on the ice and broke her leg. "There are seven screws in my leg now," she said. To help pay her surgery bill, she painted a portrait of the doctor's daughters and dog. 
She shares her home with her aunt and uncle and her dog, Candy. "I'm a single, starving artist in a rich area," she said good-naturedly, adding that she also works as an art restorer from her home studio. "People say I'm very good at it, better than most professionals," she said, "and I charge very much less."
Having studied only under male artists, she is also looking for a women's art group to join. In many ways, her show at the Art Association will be her local debut, and she's looking forward to the changes it will bring. 
"I've never done anything locally to make people recognize me," she said. "Hopefully this show will change that."
"Asian Elegance: Paintings by Luo Hong" will be on display in the Huston Gallery at the Chester County Art Association (100 N. Bradford Ave., West Chester) from Nov. 17 to Dec. 16. A members' show titled "The Five Agents -- Wu Xing," based on the five Chinese elements, will be on exhibit in the Allinson Gallery on the same dates.  Call 610-696-5600 or visit
www.chestercountyarts.org
 for more information.
To contact Staff Writer John Chambless, e-mail jchambless@chestercounty.com.
---
---
---